Island Real Estate: Stewart Couch Called It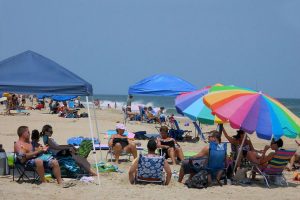 I'd like to introduce myself to the fine readers of the Island Free Press. My name is Stephen Smith, and I lived (and worked) in Avon for several years before eventually migrating "up the beach" to Nags Head. I was the IT Director for Hatteras Realty, and worked for the late Stewart Couch for most of my tenure there. Only within the past few years did I decide to change careers from technology to real estate, and I still use technology all the time as a real estate agent!
There are plenty of stories about Stewart Couch, as he had a big impact on many lives at the beach, and was a beloved figure at all of the Vacation Rental Managers Association (VRMA) conferences and meetings we would attend. But I want to pay tribute to him by telling a story about how intuitive and insightful he was when it came to the real estate and vacation rental markets on Hatteras Island.
I remember being in a meeting with him at the Avon office, and someone asked him what was the #1 thing they could do to grow the vacation rental side of Hatteras Realty. He immediately fired back what I thought was an oddly simplistic answer, and for some reason it stuck with me.
"The best way to grow the rental side is for a wave of new visitors to take a vacation here. We only need them to vacation here once and most of them will want to return every single year."
I didn't know if he was being sarcastic or fishing for ways to accomplish this, but I just remember thinking his answer was a little… weird. Was this really the grand plan to grow the company?
Fast forward to the spring of 2020. COVID cases start ramping up, and much of the country closes to slow the spread. Flying becomes more difficult, foreign travel slows to a crawl, cruise lines are shut down, and people have been shut in for weeks.
I remember when Dare County was closed to visitors for a few weeks in the spring, and wondered what would happen to the summer rental season in 2020. Homeowners were very uneasy about what that summer would be like. What I didn't expect was that as soon as the roads reopened, a flood of first-time visitors decided to vacation in a drive-to destination, rather than a fly-to destination. They could walk out on our beautiful beaches and enjoy the salt air and sunshine after being locked in for weeks.
And now in the spring of 2022, looking back I realize just how prescient Stewart was. It's unfortunate that it happened due to COVID, but it played out exactly like he foresaw it. A wave of new visitors did take a vacation here, and they loved it, and booked a week in 2021, and many will be back again in 2022. Some will be lifelong vacationers and will return here every year.
After witnessing two years of record-breaking occupancy collections, National Seashore visitation records, and vacation rental company revenue growth, I understand exactly what he was talking about now. He knew we had the perfect vacation spot. He knew it would sell itself to anyone who ventured over the Bonner Bridge. They just needed to take a chance and book one vacation to Hatteras Island.
So here's to you, Mr. Couch. It didn't happen exactly the way we wanted it to, but you knew exactly what would happen if it did. You called it.
Stephen Smith is an Outer Banks realtor with Coldwell Banker Seaside Realty.  He was recognized in 2021 as one of the top 10% of Coldwell Banker agents worldwide. He has lived on the Outer Banks for nearly 20 years, and met his lovely wife on Hatteras Island. They currently reside in Nags Head with their daughter, but Hatteras Island is still home in many ways.  For questions on the Hatteras or greater OBX real estate market, you can contact Stephen directly at stephen@cbseaside.com or 252-216-9230.  His website is https://www.stephensmithobx.com or you can receive his weekly newsletter by signing up at https://mailchi.mp/43cd4a4bf1a6/obxnewsletter.