Island Real Estate: Three predictions for the Hatteras Island real estate market for the rest of 2022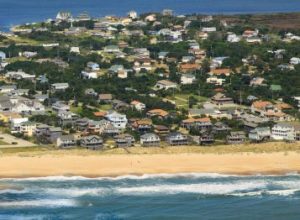 The US housing market has been on a sustained streak of rising prices, shrinking inventory, and increased demand since the spring of 2020. Hatteras Island actually lagged behind other areas "up the beach" in price increases for most of 2020, but quickly caught up in 2021.
Now that we've had a good run, as they say, what's in store for the rest of the year? I have three predictions for the real estate market, and I hope it helps you navigate the next several months.
Demand will remain high. The Outer Banks experienced record visitation numbers and set several records for occupancy. Even in the latest release from the Dare County Tourism Board, you can see that January set a new record for occupancy collections. The typical Memorial Day to Labor Day rental season has been expanded with the increase in remote work – visitors love having a view of the ocean during those boring conference calls! If homes are renting for more weeks per year, (bookings in December, January, and shoulder seasons), they will bring in more money per year, and rental revenues on most homes are up significantly versus the pre-COVID era. On top of that, weekly rates have risen to keep pace with demand as well, and this appeals to investors and second home buyers who want to continue renting out a property.
Inventory will creep back up. It's difficult to see this right now because so many homes go under contract quickly, but so far in 2022, there have been 114 listings on Hatteras Island, and only 66 of them are under contract right now, (as of March 22.) As this trend continues, we will get closer to historic inventory levels. One thing contributing to this trend is the rise in interest rates. The Federal Reserve has already raised their federal funds rate once this year, and is threatening six more rate increases. Just the threat of the first hike, (the first since late 2018), which went into effect on March 17 was enough to send mortgage rates higher. People were locking in second home loans at 2.6% a year ago, but now a typical second home mortgage rate is 4.75%. I can't imagine buyers being as excited about these rates as they were last year. If buyers choose to sit on the sidelines because of the mortgage rate increases, homes will linger on the market longer, and total inventory will rise.
Prices will continue to move higher. I know what some folks are thinking – how? It all goes back to record demand for vacation rentals, and record revenue for rental homes. Some areas in the country might experience a bit of a slowdown in price growth, but investors don't view rental properties as just a home. They are investment vehicles. I talk to clients about the 10% rule, (when 10% of a home's purchase price is the annual rental revenue), as a good way to identify properties that might be cash flow positive. And if a home is renting for more money due to rate increases, and renting for more weeks due to demand for weeks outside of the traditional rental season, it's going to produce more rental revenue for the owner. Even with prices going up, I still see good investment options on Hatteras Island showing up in the Multiple Listing Service (MLS). Median home sale prices in March of 2021 were up 34% versus 2020, and so far for March of 2022, median home prices are up another 9.5% versus 2021. Zillow predicts significant price growth nationwide for the rest of the foreseeable future.
Now, why will this combination of factors on Hatteras Island be different than, say, Raleigh, NC? Because in Raleigh they can expand geographically and build more homes to satisfy demand. People might move to the suburbs or a short drive away from the center of town as new subdivisions and homes are built. There's nowhere for Hatteras Island to "build out" any further.
The real estate cycle is still a very real thing. Prices won't always go up. But for the rest of 2022, it looks like it will be more of the same here on the Outer Banks.
* Based on information from the Outer Banks Association of REALTORS® MLS for the period 3/1/2020 through 3/22/2022.
Stephen Smith is an Outer Banks realtor with Coldwell Banker Seaside Realty.  He was recognized in 2021 as one of the top 10% of Coldwell Banker agents worldwide. He has lived on the Outer Banks for nearly 20 years, and met his lovely wife on Hatteras Island. They currently reside in Nags Head with their daughter, but Hatteras Island is still home in many ways.  For questions on the Hatteras or greater OBX real estate market, you can contact Stephen directly at stephen@cbseaside.com or 252-216-9230.  His website is https://www.stephensmithobx.com or you can receive his weekly newsletter by signing up at https://mailchi.mp/43cd4a4bf1a6/obxnewsletter.