Sherry Birk has a small cat community that lives under her home on Sailfish Lane in Avon.
Protected by three concurrent fences, and featuring a pair of sheds where the cats can find a little extra shelter, Birk inherited the 15-year-old cat colony when she purchased the home about eight years ago.
"The couple who owned the house before us did a terrific job of protecting the cat colony, and we wanted to do the same," she said. "We built a corral within a corral, and the goal was to protect the cats from stray dogs."
Birk is at her Avon home for only a portion of the year, so she partnered with Debbie Martin, Director of the nonprofit Friends of Felines Hatteras Island organization, to provide continual care for the long-term cat residents.
Cat colonies, or cat communities, are not uncommon on Hatteras Island, and there are a number of small groups of feral cats that are provided for and protected by caregivers. These efforts are orchestrated under the Dare County Feral Cat Ordinance, which was passed in 2016, and was championed by Martin herself. The ordinance aims to keep the feral cat and general wildlife population in local neighborhoods under control, by promoting spaying and neutering, and not allowing food to be left out for long periods of time, which can attract other critters.
These feral cats are technically defined in the county's ordinance as a "cat that is not socialized to humans and is not an owned cat," but for Birk, her cats were more like pets, ranging in 5-15 years in age, with some of them living in the space under her home for well over a decade.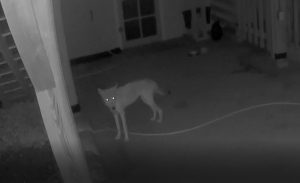 Since Birk started working with Martin and Friends of Felines, there were never any issues with keeping her cats safe, until this summer.
One night, one of her cats – who never leaves the yard – disappeared and didn't return. Shortly after, another cat that always hung around with its best feline friend, Roger, also disappeared and wasn't seen again. "The second one that disappeared was always with Roger," said Birk. "They were always, always together. So that was also very strange."
Then at 1:30 a.m. on July 19, one of the four cameras that Birk installed outside her house pinged, and she watched as a coyote wandered up her driveway, drifted out of view for a moment as it jumped the inner fence, and clamped down on a cat that was next to one of the interior sheds – Roger.
"Roger was our oldest cat," she said. "He was sound asleep, and it killed him immediately, so the coyote must have punctured every organ in his body."
The coyote left the home with a limp Roger in his mouth, but he returned again and again, as Birk paid closer attention to the camera footage that seemed to solve the mystery of what happened to three of her cats.
"I went back and began reviewing previous videos, and the coyote had been there twice before, roughly at the same time," she said. "It has a pattern now. Every four to five days, at around 1:30 in the morning, like clockwork, it shows up. We started picking up the remaining cats and putting them in the shed for the night, just so they're safe, but you can tell they're scared…
"It's pretty daunting and hard for a coyote to get in there, but he did."
Birk and Martin are devastated by the loss, but for them, it raises a larger issue about coyotes, Hatteras Island, and the several million visitors who come to the area every year.
"The community cat issue has been debated over and over again – not everyone [approves] of the community cat colonies," said Birk. "But this is a much bigger public issue than that. There has to be some mechanism to alert people that coyotes are here, and to create public awareness. It's a huge safety issue on many levels."
"I've stopped people on the street on Sailfish Lane and I have said 'Please, be careful, because there are coyotes in the area," said Martin. "When I tell them, people look stunned. One man even said to me 'Are there coyotes down here? I left Nags Head because there were coyotes there, and I thought this area was safe.'"
"Our concern is not just for the animals, but for the visitors, who are totally unaware that we have a coyote population," added Martin. "The animals are one thing, but as everyone I've talked to said, 'What if a small child gets attacked?' We are concerned for the visitors that come to Hatteras Island."
An island-wide problem that's growing, or a surge in attention?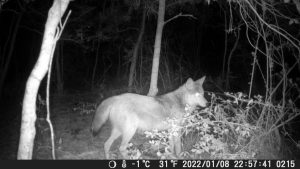 A few years ago, coyotes were a hot topic in the northern Outer Banks communities. In 2017, the Town of Nags Head hosted a public workshop on managing and reducing conflicts with the local population of coyotes, and the Town of Southern Shores did the same several years later after homeowners expressed concerns in 2019.
Closer to home, many local residents attest that coyote sightings have not been a frequent occurrence on Hatteras Island until the last few years.
There have been reports, pictures, and videos of coyotes on all corners of the island, (in neighborhoods, on the beach, or even crossing N.C. Highway 12), and residents in Birk's northern Avon neighborhood have reported multiple cats and other wildlife missing – pets or feral residents that had been around for years.
However, the evidence of an increasing coyote population is, so far, anecdotal. Social media helps spread these sightings like never before, and unless there is video evidence like in Birk's case, there's no way to say with certainty whether a beloved outdoor pet went missing because they were killed by a coyote, or because of other factors.
But many of the local stories of coyote sightings are recent ones. As one Avon native who captured two different videos of a coyote in his yard stated, "Both of the videos were taken in the last six months, and I never heard of anyone seeing a coyote until the last 10 years."
First, a quick primer on the nature of coyotes
Coyotes have been documented in North Carolina beginning in the 1980s, but they are found everywhere in the United States.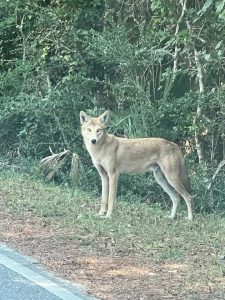 Per the North Carolina Wildlife Resources Commission (NCWRC), the coyote is native only in North America, and of all of the wild canine species, the coyote has the widest range in the country.
Coyotes in North Carolina look similar to red wolves, but coyotes are smaller, have pointed and erect ears, and long slender snouts. Their tails are long, bushy and black-tipped, and their color is typically dark gray, but can also be blonde, red, and even black. The size is also variable, but a coyote averages about two feet tall at the shoulder, and four feet in length.
Adult coyotes are about the size of a medium-sized dog, and tend to weigh between 20 and 45 pounds.
The coyote is classified as a carnivore, but it is an opportunistic feeder, meaning that a coyote will feed on a variety of food sources, depending on what is most readily available and easy to obtain. Primary food sources include fruit, berries, rodents, rabbits, birds, snakes, frogs, and insects, but they will scavenge on animal remains, including roadkill, as well as garbage and pet food left outdoors. Like many wild animals, the coyote's diet varies with seasonal changes.
Coyotes are monogamous, meaning they mate for life, and female coyotes can actually adjust their litter size depending on the availability of resources in their territory. If there is an abundance of food and/or little competition from other coyotes in the area, they will have a larger litter of pups, and more pups will survive to independence. Otherwise, the birth rate inherently slows down.
Coyotes survive anywhere there are abundant food sources. Like other wildlife, coyotes are adapting to the urban-suburban environment, and are opportunistic in finding food and resources available in these places, which includes Hatteras Island. Attacks on people, including children, are extremely rare. Normal coyote behavior is to be curious, but wary, when close to humans.
What we definitively know about coyotes and Hatteras Island
David Hallac said he has fielded questions about coyotes since he started his job as the Superintendent of the Cape Hatteras National Seashore (CHNS) in 2015.
"The presence of coyotes is not new," he said. "We hear anecdotal reports that there may be more coyotes on Hatteras and Ocracoke islands, but we don't have data to support that, because we don't have the population numbers."
"But the coyotes can become somewhat comfortable in an urban area and in neighborhoods, and when they are seen more often, it can cause concern for the public."
Chris Turner is the District 1 Biologist Technician for the NCWRC. His territory consists of 13 counties, which include both Dare and Hyde counties.
Coyotes are adaptive animals, and they have been on the Outer Banks since at least 2009, per Turner.
"We know there are coyotes from one end of the Outer Banks to the other, but we don't have a population estimate for the Outer Banks, because it's so dynamic – it is changing all the time," said Turner.
"Some years are better or worse for the coyotes. There may be more survival of the pups, so there may be more coyotes heading into the fall. But there can also be diseases and other issues that help regulate the population. It's a question mark of how many there are, because it's a number that is always changing."
In addition, while some coyotes are territorial and stick to a particular range, others have a more nomadic lifestyle.
"There are transient coyotes that never settle down," said Turner. "They are traveling all the time. Certainly, that contributes to coyotes showing up in places you might not normally see them, or contributes to seeing them more often."
As for how the coyotes get to Hatteras Island – which is bordered by two inlets – the answer is just like everyone else: by bridge or by water.
"They can travel almost anywhere, and there are very few barriers," said Turner. "They can use bridges, but they can also swim, and they might get times at low tide where things are more accessible, and they can take advantage of the spoil islands."
"They are survivors, and they are really good at finding what they need almost anywhere."
What comes next when it comes to coyotes on Hatteras Island
In the fall of 2023, these questions about the local coyote population may begin to be answered.
Per Hallac, a group from North Carolina State University will be heading to Hatteras Island to conduct a coyote population and density study, which may provide some more concrete data in the months ahead of local numbers, and the characteristics of the population.
There are no plans in the works to do a mass eradication of the coyote population by the NCWRC, CHNS, or Dare County, simply because a mass trapping of coyotes would likely be impossible and ineffective.
Generally speaking, coyote reproduction levels are somewhat dictated by how many coyotes already exist in a given area. By trapping them in mass but not substantial quantities, they may end up reproducing faster.
This means that unless you can trap the majority of the island's entire coyote population all at once, (from Pea Island to Hatteras village), you likely can't change the population numbers over the long term.
"Coyotes have come up in the past in other areas of Dare County as well," said Dare County Manager Bobby Outten, who has been working with the N.C Wildlife Resources Commission for years whenever this issue comes to the surface. "We've been in touch with [NCWRC] to see what to do if you have a coyote population, and you really can't trap your way out of a problem."
Coyotes have presented a problem for the Cape Hatteras National Seashore in the past as well, occasionally invading sea turtle or protected bird nests along with other species that target these areas, including feral cats.
"We do targeted animal control when a specific animal is targeting a nesting colony," said Hallac. "It's surgical, instead of widespread… We do not have, and have not had, a massive program that targets an entire species, whether they are native or nonnative."
"A lot of people feel these animals should be eradicated if not eliminated," said Hallac. "That's impractical, because these are adaptable animals that produce well, and they are very mobile… Coyotes are here to stay, and we have to learn to live with them."
There is not a simple or obvious solution for addressing large quantities of coyotes on the Outer Banks. But this does not mean that there are zero options for cases like Birk, and other residents who are worried about the coyotes in their own backyard.
"When it comes to problem situations, we can look at that on a case-by-case basis and figure out the best solution," said Turner. "If people are having specific problems with an animal, we can help with those issues."
Dare County and Hyde County are two of five N.C. counties with special coyote-hunting regulations and restrictions in place, which ties in with the counties' mainland red wolf populations. (Basically, it's very easy to mistake a coyote for a North Carolina red wolf, which is one of the most endangered animals in the country.)
As such, special depredation or hunting permits must be issued by the NCWRC before actions can be taken by homeowners to address coyotes that are causing an immediate problem, but there are licensed trappers across the state who can help individuals with local concerns, and the N.C. Wildlife Resources Commission serves as the frontlines for problems with coyotes in local neighborhoods.
"Dare County is unique, but if a property owner has an issue and requests a permit, we can put a second party on the permit that can do the work on their behalf, and most of the time, that person will be a [NCWRC] wildlife control agent," said Turner. "There's a toolbox out there to help people prevent issues, and resolve issues."
The toolbox, in many locals' minds, begins with spreading awareness that coyotes exist on Hatteras Island.
"I feel very strongly that residents on Hatteras Island, and visitors on Hatteras Island who do not know the situation exists, need to be aware," said Birk, who still spots the coyote that killed Roger every 4-5 days on late-night security camera footage. "I see people heading to the beach and back at all hours of the night – families returning late, or fishermen getting up early…. And there has to be some mechanism to alert people and create public awareness. The public safety issue is unimaginable to me."
What you should know, and where to get more information.
Residents and visitors that are having a close-to-home issue with a coyote should first contact the NCWRC Wildlife Helpline at 866-318-2401, (which is available 8 a.m. to 5 p.m. Monday through Friday), or email wildlifehelpline@ncwildlife.org. "This is a great resource for homeowners and visitors who need to discuss specific wildlife issues or questions," said Turner.
In addition, the NCWRC website has extensive information on regulations, management, and what to do if there is a problem. Highlights of this information are listed below.
Coyote Prevention Measures
Secure garbage in containers with tight-fitting lids. Coyotes and other wildlife will scavenge trash when it is available to them.
Don't feed or try to pet coyotes. Feeding a coyote rewards that animal for coming in close proximity to people. Once a coyote becomes habituated, it loses its natural wariness of people and may become bold or aggressive.
Install coyote-proof fencing around your home to protect unsupervised pets. Fencing should be at least 6 feet tall and provide a full barrier along the ground that prevents animals from digging under.
Keep bird-feeder areas clean. Use bird feeders that keep seeds off the ground. Coyotes are attracted to the small animals that congregate to eat fallen seed, and will sometimes eat the bird seed directly. If coyotes are frequently seen in the area, remove all feeders.
Feed pets indoors or remove uneaten food and bowls when your pet is finished eating. Coyotes and other wildlife are attracted to pet food left outdoors.
Close off crawl spaces under sheds and porches. Coyotes and other wildlife may use these spaces for resting and raising young.
Cut back brushy edges in your yard, which provide cover for coyotes.
Don't be intimidated by a coyote. Maintain its natural wariness of people by throwing a small object such as a tennis ball toward it, making loud noises, or spraying it with a water hose. Let coyotes know they are unwelcome near your home.
Clear fallen fruit from around fruit trees. Coyotes are omnivorous and regularly consume fruit as part of their diet.
Request a free Coyote Management Workshop. Workshops feature basic trapping information to address problem coyotes and a Q&A session with agency biologists. These workshops have been held in the past on the northern Outer Banks, and Outten and Turner both stated that they would be happy to stage one on Hatteras Island to spread awareness.
For more streamlined information on coyote management via the NCWFC's "Co-existing with Coyotes" brochure, click here.
For more information on Friends of Feline Hatteras Island, which is dedicated to improving the lives of feral and community cats, and humanely reducing their numbers over time by utilizing the TNR method, (in addition to helping low-income residents with medical expenses and other needs), click here.