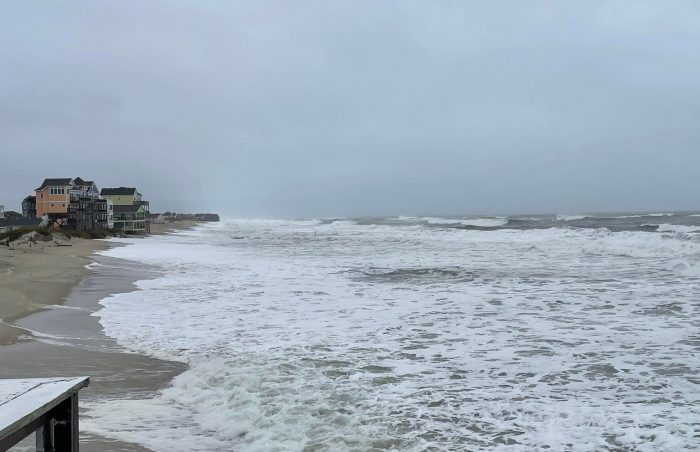 2022 was an interesting year that brought us a hefty dose of good news, like the brand new Jug Handle Bridge and the arrival of the Miss Katie dredge, but it also had its share of challenges.
Unexpected stories like the loss of the Frisco UFO and the collapse of three homes in Rodanthe garnered international attention, while longstanding problems like the housing shortage and Hatteras Inlet shoaling remained on our collective radars.
Now that we are digging into 2023, it's clear that there will be some carryovers from the previous year, (like housing and the Buxton-Frisco pathway), but there are some potential new reasons to look forward to the future as well.
From the long-term plan for N.C. Highway 12, to the 200th anniversary of one of the Outer Banks' most recognized landmarks – (nope, not the Cape Hatteras lighthouse, but you're close) – here are the stories to keep an eye on in 2023.
Rodanthe, erosion, and N.C. Highway 12
In February and May of 2022, three homes collapsed into the ocean along the Rodanthe oceanfront, which brought new attention to this delicate stretch of shoreline. As of August 2022, there were approximately two dozen homes in Rodanthe in imminent danger of collapsing if another strong storm targets the area, and erosion in the region is becoming increasingly problematic, as is debris, exposed septic tanks, and all the issues that accompany an eroding shoreline.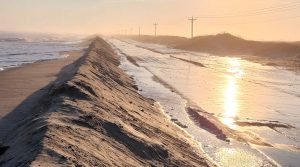 After the 2022 home collapses, Rodanthe property owners began to float the idea of launching a beach nourishment project in the affected area, but as County Manager Bobby Outten explained at a packed January 2023 community meeting, a beach nourishment solution is not as feasible or straightforward as it may seem.
For one thing, the cost of a beach nourishment project is expected to be prohibitive, and for another, Rodanthe is not the only Hatteras and Ocracoke Island area in danger.
The beach nourishment projects that were performed in Avon and Buxton were orchestrated to protect N.C. Highway 12, and there are at least three other segments of the highway – the only way on and off the islands – that are in need of attention. Northern Ocracoke Island, northern Hatteras village, and the "Canal Zone" just south of the Basnight Bridge all flood regularly with ocean overwash during moderate to severe storms, and if and when there are funds available for a new beach nourishment project, determining the top priority of shoreline to address first will be tricky.
A survey for the precise cost of a Rodanthe beach nourishment project is underway, and the N.C. 12 Task Force, (which was formed in 2020), will meet in February for the first time since 2021 to take a closer look at these ongoing issues. The primary mission of the N.C. 12 Task Force is to collaboratively develop a long-term and prioritized plan for N.C. Highway 12 that identifies vulnerable highway locations (a.k.a. "hotspots"), recommends location-specific solutions, and finds funding strategies and a timeline for implementation.
So as we drift into the spring nor'easter season and the summer hurricane season, expect some new developments in 2023 on erosion, potential beach nourishment, and the ongoing effort to protect N.C. Highway 12 in Rodanthe, and miles beyond.
Ocracoke Lighthouse's 200th Anniversary
In 1822, for a charge of $50, the federal government purchased two acres at the south end of Ocracoke Island as the site for a new lighthouse. Constructed by Massachusetts builder Noah Porter and finished in 1823, 2023 marks the 200th anniversary of this Outer Banks icon.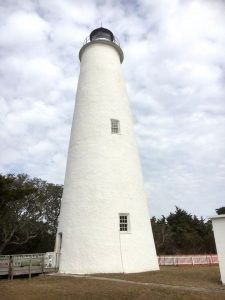 This will be the third significant lighthouse anniversary in recent years, as in 2022 the Bodie Island Lighthouse celebrated its 150th birthday, and in 2020, the Cape Hatteras Lighthouse also had a 150th birthday celebration.
What's unique about the Ocracoke Lighthouse, however, is that there is not a concrete date when the structure was completed and illuminated, unlike its Bodie Island and Cape Hatteras neighbors, so an exact date of the upcoming celebration is not yet known.
The National Park Service expects to announce the details of the 200th anniversary in the spring, (which will include an event date), and based on the prior lighthouse celebrations, expect the Ocracoke Lighthouse's birthday to be another big and exciting occasion.
Long-term housing and staffing
The housing and staffing shortage has been simmering on Hatteras and Ocracoke Islands for years, and with Outer Banks real estate prices at an all-time high, this topic is arguably more in the spotlight than ever before.
In fact, housing on the Outer Banks has been one of the primary focuses in three recent government and/or community meetings: The annual State of the County presentation on January 25, a 2023 N.C. General Assembly forum on January 18, and an Outer Banks Visitors Bureau meeting soliciting public feedback on an upcoming Long-Range Tourism Management Plan, which was held in Buxton on January 24.
At the State of the County Presentation, Dare County Board of Commissioners Chairman Bob Woodard stated that "the number one priority for us is essential and workforce housing," and that the county is working toward its current goal of building a total of 400 to 500 units in the county, north of Hatteras Island.
In the meantime, however, employers and residents will likely struggle for yet another season in 2023, as staffing shortages become the norm, and precious few new housing developments surface. But the silver lining is that housing is in the county and community-wide conversation like never before, so it will continue to be a hot topic that demands attention in the months to come.
Hatteras Inlet
Could 2023 be the year that the channels of Hatteras Inlet remain clear and navigable all spring and summer long? It looks like this is a definite possibility, as there has been a wave of good news in recent months regarding the future of Hatteras Inlet dredging.
Dare County's own and new-in-2022 dredge, the Miss Katie, arrived in Hatteras village for the first time at the end of January in order to conduct a maintenance dredging event in Hatteras Inlet's Connector Channel.
Though her exact 2023 dredging schedule for Oregon and Hatteras Inlets is unknown, Dare County Waterways Commissioners hope that she'll return again in late March to conduct another maintenance dredging event before the visitor season gets into high gear.
In addition, (and after nearly two years), the realignment of the Hatteras to Hatteras Inlet Channel was approved on November 30, 2022, which means that federal dredging can now occur throughout the entire horseshoe route in Hatteras Inlet. The signed Environmental Assessment and Finding of No Significant Impact allows for maintenance of the horseshoe route by shallow draft dredges between October 1 and March 31, except for Sloop Channel North and Hatteras Connector Channel, which can now be maintained any time of the year.
Considering that at this time in 2022, the shoaling in Hatteras Inlet was so bad that it was affecting ferries and the U.S. Coast Guard, 2023 is already shaping up to be a much-improved year for navigating Hatteras Island's waterways. (And now that Hatteras Inlet is in better shape, expect some news on another troublesome spot – Avon Harbor – in the weeks ahead, as well.)
Visitation
2022 was the third busiest year on the Cape Hatteras National Seashore, with a total of 2,862,844 visitors to Hatteras and Ocracoke Islands. Granted, this total was smaller than 2021, which saw a record of 3,206,056 visitors, but it's a sign that the Outer Banks' newfound popularity during the Coronavirus pandemic wasn't a flash in a pan.
Now that the world is returning to a version of normal after the height of the pandemic, it will be interesting to see how these visitation numbers fluctuate, (or not), in the months to come. Considering that Avon village recently had one of the highest increases in online searches in the world as a 2023 summer vacation destination, there's a good possibility that 2023 will once again be a record-breaking year for Hatteras and Ocracoke Islands.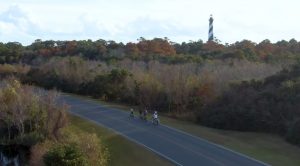 Pathways for Buxton and Frisco
2023 may be the year that we see two pathways coming to fruition in two of Hatteras island's busiest villages: Buxton and Frisco.
A multi-use pathway for these communities has been in the works for years, (if not decades), but for a long stretch of time, there was little forward movement.
Now, however, there are two concurrent efforts to install multi-use pathways in different regions of Buxton and Frisco, and both projects are gaining steam.
One project is being managed by the National Park Service, in conjunction with the non-profit organization Outer Banks Forever, to create a pathway that eventually extends from N.C. Highway 12 to the entrance of the Cape Point Campground – a popular part of the Cape Hatteras National Seashore which includes the Cape Hatteras Lighthouse, the historic Buxton British Cemetery, and multiple hiking and walking trails.
The CHNS pathway is in the very early stages of development, but is on track for construction in 2023, per a June 2022 meeting on the project.
The other project is spearheaded by the Outer Banks National Scenic Byway Committee for Dare County and the Frisco-Buxton Pathway Committee, and it focuses on a 7.6-mile pathway that will run parallel to N.C. Highway 12, and which will extend from the Valero Gas Station in Buxton to the Frisco Bathhouse, just south of Frisco village's borders.
The Frisco-Buxton pathway is a little trickier, and relies on multiple factors to move forward. The pathway needs to be awarded a grant from the National Scenic Byway program, (which is likely, as this is the grant that funded previous Hatteras Island pathways), which will provide 80% of the roughly $2.48 million required for the first 4.41-mile phase of the project. This leaves 20% that the community needs to come up with, and a significant chunk of this amount – $400,000 – will be provided by the Dare County Tourism Board.
In the meantime, Hatteras Islanders have been hard at work trying to raise the remaining $95,000 to get the pathway rolling, through fundraising events and donations.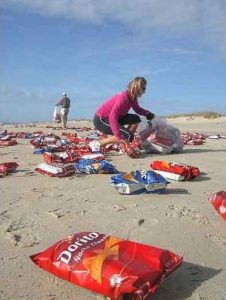 As of the end of 2022, roughly $77,500 has been raised for the project, and there is lots of optimism that with upcoming 2023 fundraising events, this goal line will be easily reached by the end of the year, if not sooner.
What else is next?
Keep in mind that the above stories are just the crest of the wave when it comes to events, topics, and issues that will grab our attention in the months ahead.
At the beginning of any year, you can have a solid grasp on the stories to expect, but you can't account for the unpredictable.
There could be a major hurricane or another disaster in our future to be certain, but there could also be good news ahead – like the time thousands of unopened bags of Doritos washed ashore in Buxton in 2006. (I reference this event a lot, but only because it was one of the greatest moments of all time for carb addicts like myself.)
Regardless of what the future has in store, the Island Free Press will continue to do our diligent best to provide all the top headlines, and the unbiased facts and details that come with them.
Here's hoping that your 2023 has more than its fair share of positive news and that you'll continue to check in with the IFP to see what new stories float to the surface in the months ahead.