One of the more unique aspects of living on a barrier island is that your hometown tends to make the international news on a semi-regular basis.
Five years ago, the Outer Banks graced the global headlines for the happy formation of a new and very temporary island – Shelly Island – which appeared off of Cape Point in Buxton.
Three years ago, Ocracoke Island and southern Hatteras Island had a more ominous rotation in the international news cycle with the onslaught of 2019's Hurricane Dorian.
And in 2020 and 2021, there was a wide range of worldwide attention that ranged from the Outer Banks' popularity as a tourism destination during the Coronavirus pandemic, to a Rodanthe house collapse in May of 2020 that led to miles of beach debris, (which should sound familiar.)
It's momentarily fascinating to be at the center of these big stories, and to realize that we just received another 15 minutes of fame, but one could argue that all of this previous coverage is minimal compared to the viral sensation that occurred last month.
Sometime before dawn on Tuesday, May 10, a house in Rodanthe fell into the ocean. Then, roughly 12 hours later, a second house also fell, all during the height of a multiple-day nor'easter.
The Cape Hatteras National Seashore shot a video of the second home collapse, while it was occurring, which was posted to their social media channels.
Then the world went nuts. In about 48 hours, the video had reached more than a million people. In fact, the video has had over 20 million views across Facebook and Twitter, with 14.8 million views on Twitter as of June 9.
Newspapers and media outlets around the world latched onto the story of "the house that fell into the ocean," all with slightly different perspectives. Meanwhile, on social media, the public weighed in heavily on the video, and not all of the online comments were terribly nice, (imagine that!)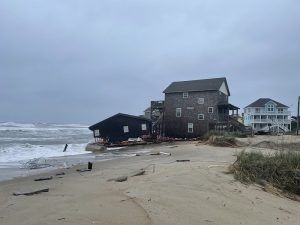 (Side note: During this frenzy of attention, I had the genuine pleasure of being interviewed by journalist Jeremy Markovich for a piece he wrote on the topic for the North Carolina Rabbit Hole. It's a brilliant article, and to be honest, it's one of the most digestible explanations I've ever read on the subject… and I include my own articles in this assessment.)
In any case, many folks who were effectively introduced to the Outer Banks the moment they saw the home collapse wondered how our community could allow building that close to the ocean, how we were so irresponsible to not recognize the phenomenon of sea level rise, and how we, (as an island community), even exist to begin with.
But the story of why two homes collapsed into the ocean within a 12 or 24-hour period isn't condensed into a 90-second video. Instead, it's a decades-long story that reached a natural conclusion last month
Millions around the world may have been shocked by the homes' collapses, but locals were not at all surprised.
While the world shouted "WOW," Hatteras Island muttered "meh," with a familiar undercurrent of "This is going to be a bitch to clean up."
So, why was the island community blasé or shell-shocked, (depending on what you read), while the rest of the world had their mouths agape?
Let's start with a timeline of the inevitable viral video…
1930s: Sand dunes are constructed along Hatteras Island by the Depression-era Works Progress Administration (WPA) and Civilian Conservation Corps (CCC). Roughly 1,500 workers were recruited to build dunes as tall as 25 feet, fortified with vegetation and sand fencing.
1962: N.C. Highway 12 is built, to coincide with the opening of the Bonner Bridge. This allows for more tourism to Hatteras Island, and the development of vacation homes along the oceanfront. This is important, because once this concrete highway is in place, we can't really allow the island to naturally move and reshape at its will. (More on that in a moment.)
1980s: Development along the Hatteras Island oceanfront booms, and so does investor and second homeowner interest. In addition, property management companies that specialize in vacation homes start to thrive along the southern Outer Banks. This template of constructing weekly vacation homes, owned by individuals who can help pay for their properties with rental income, becomes the norm.
1999: The Cape Hatteras Lighthouse is moved to a new location inland, due to erosion at its former oceanfront locale, and the widely-recognized belief that it would topple into the ocean if left in its original spot.


The "Nights in Rodanthe" house, right before it was moved in 2010.

2008: The movie "Nights in Rodanthe" is released, which showcases an oceanfront home, Serendipity, in the midst of a nor'easter.

2010: The "Nights in Rodanthe" house, Serendipity, is moved in January, so it won't collapse into the ocean.
2011: Hurricane Irene happens, ripping the highway to shreds from Rodanthe to Oregon Inlet, and effectively inspiring this amazing 2011 article by Anne Bowers about potential house collapses in the surrounding area. (It also forced our community to take an emergency ferry from Rodanthe to Stumpy Point for weeks – a route that is continually inspected by the North Carolina Department of Transportation, because unfortunately, we may have to use it again.)
May 2020: A house in Rodanthe, which was built in 1977, collapses into the ocean.
February 2022: A house in Rodanthe, which was built in 1980, collapses into the ocean. The National Park Service (NPS) sends letters to other homeowners in danger in early 2022, after the first house collapse of the year.
March 4, 2022: A meeting is held regarding the February 2022 home collapse and debris field, which attracts a huge crowd. Basically, this is the moment where NPS and county officials tell the public that there are 11 additional homes that are in a similar predicament, and which will fall in at any moment.
Early May 10, 2022: A house in Rodanthe, which was built in 1980, collapses into the ocean.
May 10, 2022: A house in Rodanthe, which was built in 1985, collapses into the ocean.
Hopefully, the above timeline gives a little insight as to why local residents weren't necessarily surprised by the viral video that grabbed the world's attention, but there's a lot more to this story, and legitimate answers to the "what were they thinking?" questions posted by social media fans.
Let's root through some of the most popular questions that have been posed since our island made the latest round of international headlines:
Question 1: Why do you live somewhere that is disappearing into the ocean?
Answer: Enh, because technically, we don't. There have been people living on Hatteras Island for hundreds if not thousands of years, starting with a small and non-violent branch of the Algonquins. In fact, new research suggests that we were a sunny haven and an escape route for the famed Lost Colonists of the late 1500s.
If you look at historic maps from a century or two ago, most of the villages were concentrated on the soundside, and effectively located in the widest sections of Hatteras Island.
There's a reason for that. There have been generations upon generations of locals living here, and very few lived on the oceanfront.
In fact, one of my favorite stories ever from Hatteras Island County Commissioner and historian Danny Couch revolves around this theme, as he once told me that in the 1950s a smart Avon resident traded 30-40 acres of "useless" oceanfront property for a used stove in exceptional condition.
Simply put, not all of Hatteras Island is disappearing into the ocean, and some corners of the landscape have been high and dry for centuries. It's just these more delicate communities at the ocean's edge that are garnering attention, and which are in more immediate danger.
Question 2: Yeah, but seriously. Why in the world do you live somewhere that is disappearing into the ocean? Didn't you see this coming?
Answer: Yes, we saw it coming, but not in the mass-destruction way that one might think after seeing the viral video.
Barrier islands are inherently dynamic. Storms roll in, and typically move the island(s) west, as sand is shuttled from the ocean-facing section of the island to the sound-facing side of the island.
Portsmouth Island and the greater Cape Lookout National Seashore are both exceptional examples of this phenomenon. They have endured the same storms that we have, but they have not become as narrow or fragile as a result, simply because the islands are allowed to readjust with the distribution of waves and sand, as needed.
Not so on Hatteras Island. Once N.C. Highway 12 was built, we could no longer allow storms and inlets and sand and whatever to naturally flow from one side of our island to another.
As such, and because we are literally trying to bar the ocean from encroaching on our terrain, our island can't make a natural drift westward.
With that being said, we're not just disappearing because we're trying to keep our infrastructure, while other uninhabited islands aren't. Sea level rise is legitimate, based on every thread of scientific research available, and that is certainly contributing to our demise along the oceanfront, and throughout the island in general.
But how much sea level rise and more intense storms will affect us is anyone's guess. As I've told multiple friends, colleagues, and fellow reporters since the viral video made international waves, "I can worry about the future, but no matter what happens, I'll be here as long as the island is, and I think most people around here feel the same way."
Question 3: When these homes fall into the ocean, doesn't it make a mess?
Yes. And it sucks.
Question 4: Why isn't the county/state/homeowners/insurance paying to remove these homes before they are destroyed?
We've covered this before, so I don't want to beat a dead horse that has been deceased for some time, but here's the basic lowdown:
Back in the 1990s, there was an amendment to the National Flood Insurance Program called the Upton Jones Amendment, which essentially paid 40% of the property policy to relocate the home, and paid 110% of the policy to demolish the home. Naturally, people went with the financially smarter "demolish" option, which is why it stopped existing five years later. As a result, there really isn't a financial incentive, insurance-wise, to demolish your house before Mother Nature decides to do it for you.
Also, Dare County tried to force homeowners of condemned dwellings in South Nags Head to demolish their homes before they became a public nuisance a decade ago, and they lost, and it resulted in a $1.7 million expense for the county. No wonder they don't want to try it again.
So, based on the above criteria, the current answer to "Who is paying for this?" is as follows:
The homeowner is asked to pay for a good chunk, and many have been willing to help. They hire their own contractors to assist with the cleanup, and the NPS contacted each of the 11 property owners in the Rodanthe danger zone in early 2021, (now 9 homeowners), to work with them in order to formulate a plan.
The NPS, as stewards of the Cape Hatteras National Seashore, have an inherent responsibility to keep the Hatteras Island beaches clean. If the homeowners' or the contractors' efforts don't thoroughly restore the beach, then the NPS tends to step in.
David Hallac, National Parks of Eastern NC Superintendent, effectively said at that aforementioned March meeting that the NPS will likely present an absentee homeowner with the bill, if they don't give a crap. But that hasn't happened yet, as far as we know.
Note that the one thing missing from the above technical list are the local residents.
Volunteer efforts are instrumental. I honestly don't know if this is sad or inspirational, but maybe it's both.
It's sad that we have to hike up our waders and help other peoples' problems, but it's inspirational that we don't register these cleanups as "other peoples' problems" to begin with.
In the last four weeks, I've talked with dozens of local residents who have been volunteering with both organized and informal beach cleanups associated with last month's home collapses.
We can argue all day long about whether homes should exist in that area, who should pay for their destruction, who should pay for the cleanup, and whether our island will exist at all in 50 years. But while these online debates are happening, everyday islanders are picking up trash from these home collapses in Rodanthe, Waves, Salvo, Avon, Buxton, Frisco, Hatteras, and probably Ocracoke. And that cycle will continue until the trash bags are empty.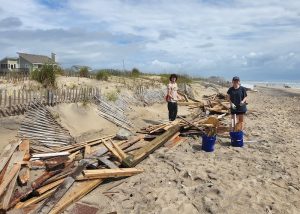 It's exciting to be a blip on the international news cycle. On this latest go around, it was a negative blip, which may have put our island in a less-than-flattering light.
But man, we sure are used to island-life things happening that seem unusual to the rest of the world, but which are normal to us. And this too shall pass.
Will we be internationally famous again in the not-so-distant future? You betcha. There are still nine more houses on the imminent fall-into-the-ocean list. Also, hurricane season started on June 1, with offshore Alex already bringing some heightened rip current risks to our shores.
But none of the past month's notoriety is necessarily news to islanders. We'll deal with the most recent home collapses, and keep patrolling and cleaning the beaches, and will continue to do so for both the imminent and the long-distance future.
The whole world is watching… Until the next interesting video occurs, and then the watching will stop.
In the interim, we will work on cleaning our beaches, and keeping our restaurants and accommodations and stores and attractions wide open and enticing for visitors, because that is how we roll, and how we have always operated.