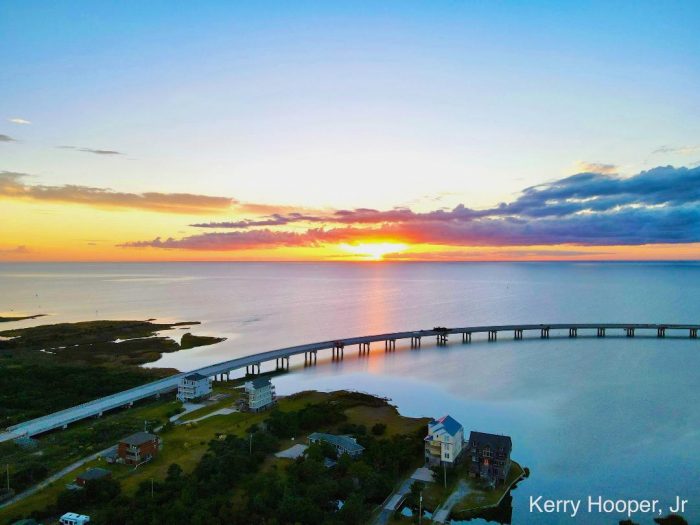 Our Co-Founder and beloved Editor, Irene Nolan, would always do a wrap-up of the top stories of the year as her December "Editor's Blog." Since she passed away in March of 2017, it's one of her many traditions that we have carried on, because we always want to remember her, but also because she seriously knew her stuff. (If you are going to copy someone's style and modus operandi, you copy from the best, after all.)
And to say that writing the 2020 "Year in Review" wrap-up was a depressing endeavor is a massive understatement. Wine was required to weed through the Coronavirus pandemic section alone, and the islands – especially Ocracoke – were still digging out of the wreckage that was 2019's Hurricane Dorian.
So imagine my surprise when I realized that most of 2021's top headlines weren't stories about hurricanes, or pandemic closures, or other awful topics that would put a damper on the holidays. Instead, many of our top story contenders for 2021 were stories that were debatable, neutral, or even borderline positive.
Now, this isn't to say that everything is all peaches and cream on our islands. 2021 is a year that had continued flooding on N.C. Highway 12, massive staff shortages, an ongoing pandemic, short but life-interrupting storms, and other headaches that we've all grown used to over the past several years.
But a number of these topics had either a positive backbone, or a silver lining hovering just outside of the margins. So without further ado, let's take a look at the stories that grabbed our attention in 2021, starting with a story that's a carryover from 2020, and a topic that I'm sure we're all tired of by now.
The Coronavirus Pandemic, Year Two
Arguably, the biggest story of the year for every corner of the country was the Coronavirus pandemic, and the Outer Banks was no exception. In 2021, we saw a continuation of mask mandates and social distancing for a good chunk of the year, although unlike 2020, a number of beloved annual events returned after taking a COVID-related hiatus, like the 4th of July fireworks show off the Avon Pier, or the Hatteras Village Christmas Parade.
Although island life seems to be returning to an edited version of normal, there were still some unpleasant milestones during 2021 related to the pandemic. In August and September, when the Delta variant was in full-force, the Outer Banks reported its highest number of weekly COVID-19 cases since the pandemic began, with a record-breaking 279 cases reported during the week of September 7-14 alone.
The Coronavirus will surely carry over into 2022 as well, as health officials and researchers keep tabs on the new Omicron variant, so this is a story that will unforunately remain in the headlines for some time to come.
Record-Breaking Visitation
Many locals have attested that Hatteras and Ocracoke Islands seemed busier than ever this past year, with the islands bursting at the seams during the prime summer months, and the tourism season extending to November and beyond.
Turns out, this crowded feeling was wholly accurate, as it was announced in early November that the Cape Hatteras National Seashore experienced the highest number of visitors ever recorded – a record that was broken at the end of October.
By October 31, Hatteras and Ocracoke Islands had a total of 2,937,998 visitors, which exceeded 2002's previous record of 2,923,894 visitors for the entire year.
(For reference, estimates are collected by counting southbound vehicles just north of the Basnight Bridge and using a multiplier to estimate the total number of passengers, combined with the number of passengers going to Ocracoke Island from Cedar Island and Swan Quarter. This method has been the same for decades, making it an apples-to-apples comparison.)
The reasons behind this sudden increase are a little muddled, but there are a couple of big factors to point to. For one thing, with international travel restricted, folks took vacations closer to home. In addition, during an era of social distancing, an isolated destination like the Cape Hatteras National Seashore was far more alluring for most vacationers than, say, an amusement park or a busy community like Myrtle Beach.
With these factors in mind, the Outer Banks was highlighted in a number of national media outlets throughout 2020 and 2021 as a great place to visit during the pandemic, including Forbes Magazine and the Washington Post. (Hatteras and Ocracoke Islands also earned top spots on the annual Dr. Beach's 10 Best Beaches list in 2021, with the Ocracoke Lifeguarded Beach ranked as the #3 best beach in the country, and the Old Lighthouse Beach in Buxton ranked as the #5 best beach.)
Will this steady increase in visitation continue in 2022? It's a little early to tell for sure, but looking at advanced occupancy rates and reservations for the coming year, it's likely that 2022 will be just as busy as 2021, and the record may be broken yet again.
Island-Wide Staffing Issues
The prophetic Notorious B.I.G. had it right when he mused that the more money we come across, the more problems we see, as while business was booming in 2021 for accommodation providers, restaurants, grocery stores, and shops, staffing was a prominent and year-long issue. Some businesses had to modify their hours of operations to give their overworked employees a break, and others offered sign-on bonuses to attract new personnel from a very limited pool.
The reasons behind the employee shortage are pretty clear-cut and easy to identify. The visitor population set record-highs, but the number of residents who lived and worked on the islands had a minute increase. Housing has been a perpetual problem on Hatteras and Ocracoke Islands, and the problem has only been made worse by the conversion of former long-term rentals to Airbnbs or weekly rentals, which has been steadily occurring more often in recent years. And as the Outer Banks' popularity goes up, so do real estate prices and monthly rental rates, which makes living on the islands more and more out of reach.
Arguably, it's not all bleak and dire news on the housing front. The Dare County Board of Commissioners has had their eye on the housing shortage for years, and new building initiatives are in the works to hopefully ease the year-round housing strain – most notably, the new multi-family housing development planned for Avon.
But there is no silver bullet solution for the housing and staffing shortage, so this is a problem that will likely be prominent as we head into the 2022 visitor season as well.
Avon Beach Nourishment
Every year has a controversial topic that results in constant social media sparring and bar debates throughout the islands, and this year's winner for the title of "Local Story Most Likely to Cause Arguments Among Friends and Loved Ones" was the Avon Beach Nourishment Project.
The Avon Beach Nourishment project came to fruition after years of concern about regular ocean overwash affecting N.C. Highway 12 in the Ocean View Drive area. Essentially, the project will deposit 1 million cubic yards of sand on approximately 2.2 miles of Avon shoreline in 2022, from Due East Road to the southern village border. (A concurrent Buxton beach nourishment maintenance project will also occur in 2022, which will add approximately 1.2 million cubic yards of sand to the northern Buxton beaches.)
In February, the Dare County Board of Commissioners held a virtual public meeting on the project, and the proposed tax increase for all Avon property owners resulted in dozens of questions and comments at the meeting itself, as well as nearly 300 emails on the subject prior to the meeting.
The formation of the new Avon Tax Service Districts was approved in the summer of 2021, and there are now two service districts in Avon to help fund the endeavor. Service District A includes all 2,261 properties in Avon, and the tax rate is $.05 cents per $100 dollars of the property's Dare County tax value. Service District B includes properties east of Highway 12 and south of Due East Road, (the oceanside properties directly adjacent to the project), and the tax rate is $.20 cents per $100 of the county's tax value.
Once the project begins in the summer of 2022, it is expected to take about 90 days to complete, but the timeframe is very dependent on the weather. For example, the initial Buxton project was delayed by a few months due to a number of storms that impacted the area in 2017.
Now on to the arguments! This project raised so many different debates that it is hard to list them all, but some of the most common launching points for trash talk were the equality of the taxes, the cost of the taxes, whether beach nourishment would work, whether other alternatives would work better, and whether we should just saw "screw it" to any option for widening the beaches, and let Mother Nature do her thing.
So is the Avon Beach Nourishment project a good idea?
I'm not touching that question with a 10-foot-pole.
But the future will most certainly answer this question for us, and we'll continue to follow this project as it heats up in 2022, (and follow the ensuing debates), and we'll do our best to explain the different viewpoints and operations as the Avon beach nourishment project progresses. (In the meantime, if you are feeling debate-y, you can check out our blog on the varying tax rate arguments here.)
Lots of new and ongoing projects
Unlike 2020, which seemed to deliver one pandemic-related blow after another, or even 2019, when Hurricane Dorian stopped the islands in their tracks, 2021 had more than its fair share of good news stories.
And the majority of these stories were centered on new projects, initiatives, and other enticing additions to our local landscape. Some of these projects are complete are already open to the public, like the new Hatteras Village Pathway or the Bonner Pier at the southern end of the Basnight Bridge, while others are a work in process, such as the Frisco Bathhouse or the lighthouse restoration. (More on that in a moment.)
In any case, expect the 2022 news cycle to be full of grand openings and project updates as these endeavors churn towards completion in the months to come, giving us all a little something to look forward to.
Lighthouse Restoration
Speaking of big projects, the Cape Hatteras Lighthouse had an unusual year, as although the lighthouse was closed for the entirety of the 2021 climbing season, big progress was made on an ongoing enterprise to restore the more than 150-year-old structure to its former glory.
The preliminary restoration work was completed over the summer, with the interior of the lighthouse stripped bare to the original red bricks, but how the project moves forward is still a bit of an open question.
In late September, the Cape Hatteras National Seashore hosted a public meeting that explored several possibilities for the lighthouse's future, such as re-installing the original 1854 Fresnel lens, (which is currently on display at the Graveyard of the Atlantic Museum), or replacing it with a replica constructed by historical architects.
The next phase of the project is expected to be underway by the fall of 2022, (and will take a couple more years to complete), so this story will most certainly linger for another year or more. In fact, considering that there are multiple options for moving forward – and everyone has a personal connection to the Cape Hatteras Lighthouse – this story is a strong contender for being our "Local Story Most Likely to Cause Arguments" title holder in 2022.
Jug Handle Bridge
There's one more major project that was a headline regular in 2021 – the Jug Handle Bridge.
With 95% of the Jug Handle Bridge project finished as of December 2, the new bridge is expected to be complete by early 2022, with traffic shifting onto the structure in February or March. Once complete, the Jug Handle Bridge will connect the southern portion of the Pea Island National Wildlife Refuge to northern Rodanthe, bypassing the S-Turns section of N.C. Highway 12, which is highly susceptible to breaches and ocean overwash during storms.
Conversations are starting to occur on a local level about how this grand opening will be celebrated. Will there be a Community Bridge Day, like when the Basnight Bridge opened in 2019? Will the Jug Handle Bridge eventually have a more prestigious and official-sounding name? (One of our readers suggested the "Irene Nolan Bridge," which I'm clearly a fan of.)
We'll have real answers to these questions in the not-so-distant future, as well as an answer to the question of whether visitors and locals can successfully navigate a roundabout on a regular basis without incident.
(One final side note: I just have to share my all-time favorite social media comment on the bridge, and the subsequent roundabout, since we first started covering the Jug Handle Bridge in the mid-2010s. The comment is as follows:
So it's just decided that it's going to be called "Roundabout?" Not "Traffic Circle" or "Rotary?" This is one of those things that has different regional names… I would fully expect the Outer Banks to come up with their own name for it. "Tourist twirler?" "Chevy-go-round?" "Dizzysection?" Come on, Outer Banks!)
What's next, 2022?
Adhering to tradition, we'll start the year with a peek at the stories we expect to be big news in 2022 with a new Editor's Blog, but count on topics like the future of Hatteras Inlet dredging (another big topic in 2021), erosion and N.C. Highway 12, and of course, the grand opening of the Jug Handle Bridge.
In the meantime, all of us at the Island Free Press hope that your 2021 was a resounding success and a banner year, or at least elicited a feeling of "meh, it could have been worse." (Considering the dumpster fire that was 2020, having a so-so 2021 is an astronomical improvement in my humble opinion.)
Happy holidays to you, our dear readers, and here's hoping that 2022 also has more than its fair share of positive stories, so we'll all have something to look forward to!