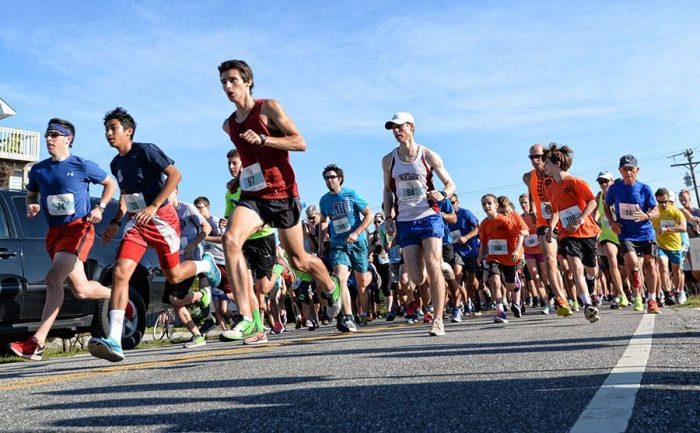 Memorial Day Weekend is just around the corner, and while the unofficial start of the summer season tends to feature stop-and-go traffic on N.C. Highway 12, dizzyingly crowded stores, and back-ups at the island's ORV ramps, there's also another annual Memorial Day tradition that's far more appealing.
2019 marks the eighth year for the annual Shore Break 5K, which is one of two primary fundraising events for the Hatteras Island Youth Educational Fund. (The other is the Surfin' Turkey 5K & Puppy Drum Run which, as the name aptly suggests, is held in November.)
And if you have never heard of the Shore Break 5K before, the event – as well as the organization itself – is definitely worth a closer look.
The Hatteras Island Youth Educational Fund (HIYEF) is a relatively new organization that was established in 2011, and it's unique because it provides grants and funds directly to Cape Hatteras School teachers and students to provide an array of requested equipment, materials, and experiences that would otherwise not be available to our local students through public funding.
As Director Jean-Louise C. Dixon puts it, when it comes to going beyond the basics, the HIYEF steps up to fill in the gaps.
"Essentially, the idea behind the Youth Foundation is to fill that void," she says. "There's a lot of money that goes to kids for scholarships for college, but this gives them a greater chance for success as students, and gives them more opportunities while they are still in school."
Teachers have an opportunity twice a year to submit their applications for funding, and the HIYEF Board of Directors, (who are community members that volunteer their own time), review these grant applications and proceed accordingly, funding a wide array of requests.
Just as an example, in 2017, the HIYEF purchased assembly kits for CHSSCS science, technology and engineering students to be able to 3-D print prosthetic hands, contributed supplies for the CHSSCS Science Olympiad competition allowing students the opportunity to compete statewide, and contributed to the CHSSCS Marching Band, Concert Band, Jazz Band, and Colorguard trip to the Outback Bowl in Tampa, Florida to participate in a nationally televised performance in the Halftime show.
The above initiatives are the tip of the iceberg, and you can see a complete list of the many programs, projects and educational trips that were launched due to HIYEF's contributions here, (and it's a long list.)
This far-reaching yet targeted support is the reason why the HIYEF generates so much generosity from local businesses and individuals across the board. In fact, REAL Watersports donates money that stems from their annual June Triple-S Invitational's concerts and events to the HIYEF, with a record-breaking $66,872.73 raised in 2018 alone.
The Memorial Day Shore Break 5K is no exception when it comes to local support, and numerous businesses step up to the plate to sponsor the race, which attracts upwards of 500 active visitors and locals every year, (generally depending on the weather.) The 3.1-mile route winds through a scenic section of Kinnakeet Shores, before culminating with an inspired view of the Atlantic Ocean and a post-race party with a pancake breakfast and Carolina Brewery beers for runners over 21 years of age. (Because what's better than pancakes? Pancakes with beer!)
The race fee covers a swag bag, T-shirt, and a custom designed medal, and Kinnakeet Clay Studio & Showroom provides unique and locally handmade race awards. The top three male, female, and Veteran overall runners receive an award, as well as the top male and female finishers of each age group category.
But even if you prefer a leisurely pace on the long early-summer weekend, you're still more than welcome to attend. Runners, joggers, walkers, and meanderers all participate in the annual event, and there's also a non-competitive Tide Pool 1/2 Mile Fun Run for folks who want to just take it easy, and get to the pancake breakfast at the finish line that much faster.
Both races are held on Memorial Day Monday in Avon, rain or shine, and online registration is available up to the date of the event at http://www.hatterasyouth.com/shore-break-5k/.
And considering that the proceeds go to support an organization that is continually doing a world of good for our island's kids, regardless of age or interest, it's an event that's certainly worth a closer look.
So dust off your sneakers, (or just grab your most comfortable flip flops), set the alarm on Memorial Day Monday, and come join one of the HIYEF's two main events that generate the bulk of their funds every year. The more donations raised, the more that students and teachers in our own island community can benefit from field trips, supplemental equipment, educational materials, competitions, and an unending list of projects that simply provide a better education on a local scale.
Because the annual Shore Break 5K attracts an estimated 400-500 people every year, you won't be able to escape the Memorial Day Weekend crowds by participating, (albeit you'll only have to contend with foot traffic – not vehicular traffic.) But by signing up and enjoying a Monday morning run, jog, or stroll, you will be making a big difference that's felt close to home.
FOR MORE INFORMATION
You can learn all about the Shore Break 5K and sign up for the Monday, May 27 race at http://www.hatterasyouth.com/shore-break-5k/.