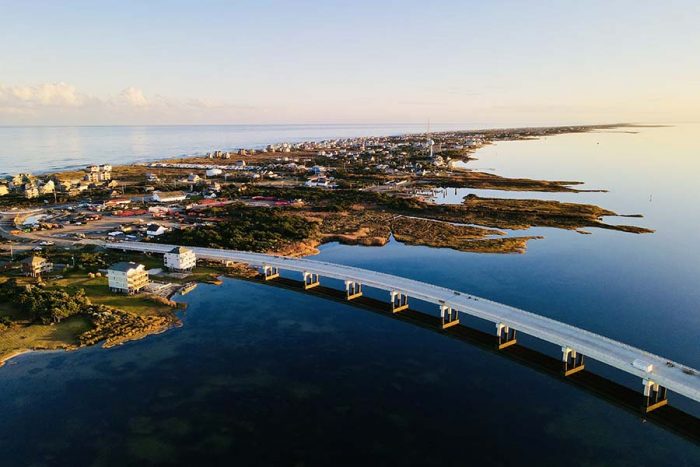 2022 marked the Island Free Press' 15-year anniversary, and it's also our 15th year of analyzing the stories that grabbed our islands' attention and left a permanent mark.
Our Co-Founder and beloved Editor, Irene Nolan, would always do a wrap-up of the top stories of the year as her December "Editor's Blog," and since she passed away in March of 2017, it's a tradition we have been proud to continue.
Our most recent "Year in Review" editions were arguably straightforward – 2019 was the year of Dorian, 2020 and 2021 were the years of the Coronavirus pandemic. The big stories were obvious, and it wasn't hard to pick them out and put them on the list.
2022 is certainly different.
This was a year where massive projects were achieved after years of expectation, like the Jug Handle Bridge, the Avon and Buxton beach nourishment projects, and the arrival of the Miss Katie dredge.
This was also a year where unprecedented events resulted in international interest, like the collapse of two oceanfront homes in a 12-hour timespan, or the destruction of the Frisco Futuro house. (In my 20 years working with the Island Free Press and its predecessor, the Island Breeze, I never expected to cover a "UFO fire.")
Wading through a year's worth of headlines and determining the most important ones is no small feat, and you'll notice that there are surely some big stories that were overlooked, like our spring and fall nor'easters, or the overall return to somewhat normal after several years of pandemic closures and cancellations.
But this is an article and not a novel, (all evidence to the contrary), so without further ado, here's a look at the stories that grabbed – and held – our attention the most in 2022.
THE JUG HANDLE BRIDGE OPENS!
There's a reason why this story is first on the list, and why it's in all caps with an exclamation point, and that's because this was easily our most anticipated story of the year.
Back in 2021, the expected opening date for the Jug Handle Bridge was February or March 2022, as the project had reached 95% completion by December 2. However, there was a series of unexpected delays that keep pushing this date further and further into the year, with the weather playing a key role.
It started with damage to an expansion joint in the spring, which needed to be replaced, followed by storms and a particularly rough mid-May nor'easter that brought all work to a standstill. Then, in early June, the pavement markings that were installed by a subcontractor needed to be redone, which prolonged the project into the middle of summer.
But even though the delays were slightly grating, building a 100-year bridge from scratch is no small venture, and the folks at the North Carolina Department of Transportation (NCDOT) were hard at work from start to finish.
The bridge could have technically been utilized in the spring and summer months if a hurricane cut off access to Hatteras Island, (which it didn't), and it's better that NCDOT made sure that every aspect of the construction was right before opening the bridge to the public at large.
And open it did!
On July 28, the traffic switch to the new bridge was made, and we all got to enjoy a new perspective of northern Hatteras Island that we had never seen before.
In hindsight, it's understandable why we were all so eager for the bridge to open as soon as possible, because the April Community Day and Run the Rodanthe 5K gave us a taste of what to expect and amped up our excitement.
Also – and this is the most important aspect of this story – the Jug Handle Bridge works.
In September and early October, we had nor'easters four weeks in a row, which flooded the Mirlo Beach area that our new bridge now bypasses. During these multiple storms, N.C. Highway 12 remained open, except for one three-hour period on October 3, due to flooding on northern Pea Island.
Prior to the Jug Handle Bridge opening, N.C. Highway 12 would close for several days on end, and a closure was almost expected when those strong northeast winds started to pick up. But in our new post-Jug Handle Bridge era, we are better protected, and the NCDOT crews who routinely clear the roadway in the worst possible conditions when these storms occur now have one less hot spot to worry about.
Will we continue to have flooding issues in other areas of N.C. Highway 12 that result in road closures? Of course, we will. (There's a reason why they call that northern stretch of Pea Island the "Canal Zone.") But surely, we can take a moment to be grateful that at least one of our island's most notorious and delicate stretches is now bypassed completely.
Rodanthe homes collapse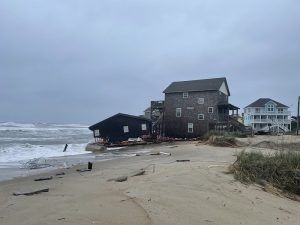 The Rodanthe landscape was clearly dynamic in the first half of the year, as while a new structure – the Jug Handle Bridge – was added, several other structures were suddenly and chaotically removed.
2022 was the year that millions of people around the world first heard about Hatteras Island, (and it wasn't a favorable impression), due to a viral video that was posted in May.
Sometime before dawn on Tuesday, May 10, a house in Rodanthe fell into the ocean. Then, roughly 12 hours later, a second house also fell, all during the height of a multiple-day nor'easter. The Cape Hatteras National Seashore shot a video of the second home collapse while it was occurring, which was posted to their social media channels.
Then the world went nuts.
In about 48 hours, the video had reached more than a million people, and within a month, the video had over 20 million views across Facebook and Twitter, with 14.8 million views on Twitter alone.
Newspapers and media outlets around the world latched onto the story of "the house that fell into the ocean," all with slightly different perspectives. Meanwhile, on social media, the public weighed in heavily on the video, and not all of the online comments were terribly nice, (imagine that.)
But the story of why two homes collapsed into the ocean within a 12-hour period isn't condensed into a 90-second video. Instead, it's a decades-long story that reached an inevitable conclusion in 2022.
The homes that collapsed, (and there were three total in 2022 – the two homes in May and a third in February), were all built in the early 1980s, and were more than 400 feet away from the ocean when they were constructed. But years of erosion and storms took a toll, and there are a number of additional homes that are currently in the danger zone.
In an August 24 meeting, National Parks of Eastern N.C. Superintendent David Hallac stated that the National Park Service and the county had communicated with two dozen homeowners to formulate a plan, and a paved portion of Seagull Street in Rodanthe was permanently closed in September to allow up to 12 oceanfront homes to be moved. However, in this race against time, it's likely that a home collapse will occur again in the not-so-distant future, with all of the attention, debris, and mess that comes along with it.
Avon and Buxton Beach Nourishment projects commence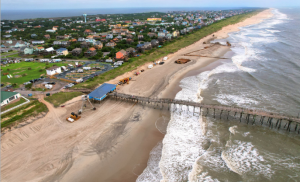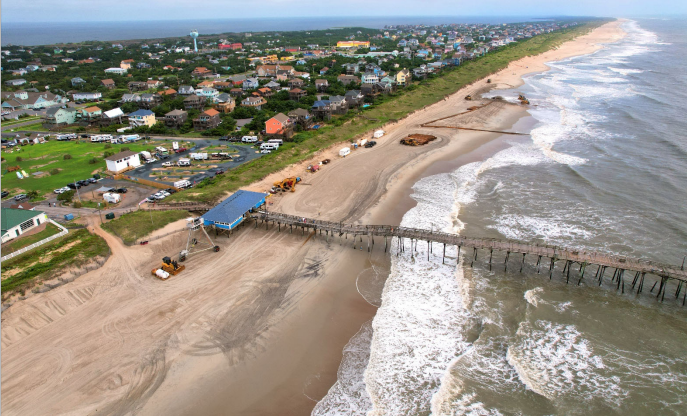 Speaking of changing landscapes, stretches of the Avon and Buxton shoreline were widened this past summer, due to two concurrent beach nourishment projects that wrapped up by the middle of August.
The Buxton project was a beach nourishment maintenance project, which added approximately 1.2 million cubic yards of sand to the northern Buxton beaches. (The original beach nourishment project, which was completed in February of 2018, deposited a total of 2.6 million cubic yards of sand on the designated 2.9-mile stretch of Buxton shoreline.)
The Avon Beach Nourishment project was a new endeavor that deposited 1 million cubic yards of sand on approximately 2.2 miles of Avon shoreline, from Due East Road to the southern village borer. In 2021, the Dare County Board of Commissioners voted to create a new service tax district in Avon to help fund the initiative.
Like many projects that came to fruition in 2022, this was one of those endeavors that took years to accomplish, but it's also a story that will pop up in the headlines again. Beach nourishment is not a one-time deal, and maintenance projects for both Avon and Buxton will be required in the next five years to keep the shorelines wide and N.C. Highway 12 open and passable, so expect to see another round of beach nourishment stories sometime in 2026 or 2027.
Hatteras Inlet problems and solutions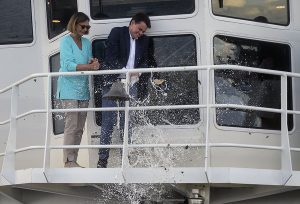 Securing safe navigation in the channels of Hatteras Inlet is not a new issue. Ever since a series of storms in the early 2010s reconfigured the channels in the inlet, (including 2011's Hurricane Irene and 2012's Hurricane Sandy), the need for timely and effective dredging to keep the channels open has been constant and crucial.
These issues have been simmering and reverberating for years, but in the spring of 2022, they reached a boiling point.
In February, charter fishermen, commercial fishermen, the U.S. Coast Guard, and other mariners who use the channels of Hatteras Inlet as their highway to work started to warn that the channels were unnavigable. Then in Mid-March, the Hatteras-Ocracoke vehicular ferry service was impacted, with reduced schedules and cancellations in high-wind conditions.
The problems were eased by the time the busy summer season rolled around, and two things occurred later in 2022 that will hopefully help address these problems in the future.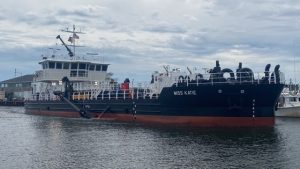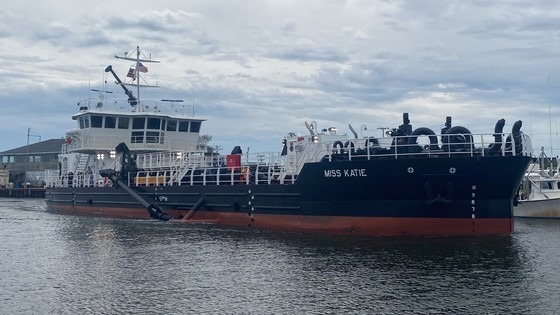 For one thing, the county's own shallow draft dredge, the Miss Katie, made its public debut in October, and immediately started working in Oregon Inlet. Although the Miss Katie has not been assigned to conduct any dredging events in Hatteras Inlet's channels yet, hopes are high that this local resource will be put to good use soon.
In addition, (and after nearly two years), the realignment of the Hatteras to Hatteras Inlet Channel was approved on November 30, which means that federal dredging can now occur throughout the entire horseshoe route in Hatteras Inlet. The signed Environmental Assessment and Finding of No Significant Impact allows for maintenance of the horseshoe route by shallow draft dredges between October 1 and March 31, except for Sloop Channel North and Hatteras Connector Channel, which can now be maintained any time of the year.
Hopefully, these two milestones will prevent the massive shoaling that occurred in early 2022, but it's certainly a story to keep an eye on, as it's too early to determine if dredging in Hatteras Inlet will be noticeably or marginally easier in the future.
Frisco UFO burns down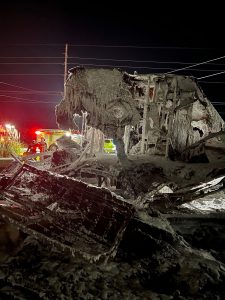 The loss of the Frisco Futuro House on October 19, (also known as the Frisco UFO), was a hard blow for the island community, as it was considered an unusual but universally appreciated fixture of Frisco village.
The Frisco Futuro House was originally bought in 1972 by a couple who used it as a beach retreat along the oceanfront in Hatteras village, and starting in the 1980s, the UFO was sold and moved to several locations, (including the Scotch Bonnet Marina), until it was relocated to its current site in the mid-1990s.
In the past four decades, the structure was leased as a gift shop, a newspaper office, and even an "Out of this World" hotdog stand, but eventually developed a reputation as an interstellar photo backdrop, and the spot where you may have a close encounter of the third kind, thanks to in-house alien greeter, Leroy Reynolds.
The cause of the fire remains unknown, (although Reynolds suspects it was intentional as there was no electricity to the UFO at the time), and the outpouring of grief was substantial, despite the fact that the uproar – at its bare bones – was for a prefabricated structure that could have been purchased by anyone with $12,000 in their pocket, back when the Futuro house was first introduced in the late 1960s.
As of 2022, there were less than 20 Futuro houses in the United States, (and around 60 left in the world), but this might change by the time 2023 rolls around, and a new Frisco UFO may land on the island in the not-so-distant future.
Anthony Corpora of the recently-established Futuro Houses is helping to launch the first mass production of Futuro houses in 50 years. In an early November interview, Corpora said that the idea of having the first new UFO land in Frisco was a tempting prospect, stating that "we would love the opportunity to bring something back that was taken away beyond your control, and to replace something you love."
A GoFundMe page was launched to help raise the estimated $179,500 for a new UFO, (not a bad price tag for an interstellar spaceship, all things considered), and with the first Futuro houses hitting the market in early 2023, the island will likely find out soon if the very first Futuro house in five decades will land close to home.
Frisco and Buxton Pathways come closer to fruition
Hatters Island has multi-use pathways running parallel to N.C. Highway 12 in five of its seven villages. Rodanthe, Waves, Salvo, and Avon had a pedestrian-and-bike-friendly pathway installed roughly a decade ago, while Hatteras village wrapped up its pathway project in late 2021.
But what about Buxton and Frisco?
A multi-use pathway for these busy villages has been in the works for years, (if not decades), but for a long stretch of time, there was little forward movement on making a new pathway come to fruition.
Now, however, there are two concurrent efforts to install multi-use pathways in different regions of Buxton and Frisco, and both projects are gaining steam.
One project is being managed by the National Park Service, in conjunction with the non-profit organization Outer Banks Forever, to create a pathway that eventually extends from N.C. Highway 12 to the entrance of the Cape Point Campground – a popular part of the Cape Hatteras National Seashore (CHNS) which includes the Cape Hatteras Lighthouse, the historic Buxton British Cemetery, and multiple hiking and walking trails.
The other project is spearheaded by the Outer Banks National Scenic Byway Committee for Dare County and the Frisco-Buxton Pathway Committee, and it focuses on a 7.6-mile pathway that will run parallel to N.C. Highway 12, and which will extend from the Valero Gas Station to the Frisco Bathhouse, just south of Frisco village's borders.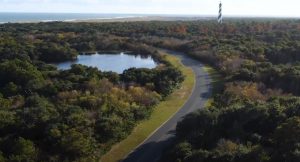 The CHNS pathway is in the very early stages of development, but is on track for construction in late 2022 or early 2023, per a June meeting on the project.
The Frisco-Buxton pathway is a little trickier, and relies on multiple factors to move forward. The pathway needs to be awarded a grant from the National Scenic Byway program, (which is likely, as this is the grant that funded previous Hatteras Island pathways), which will provide 80% of the roughly $2.48 million required for the first 4.41-mile phase of the project. This leaves 20% that the community needs to come up with, and a significant chunk of this amount – $400,000 – will be provided by the Dare County Tourism Board.
In the meantime, Hatteras Islanders have been hard at work trying to raise the remaining $95,000 to get the pathway rolling, through fundraising events and donations. Stakeholders hope that this amount can be raised by the end of the year, and that the ongoing Christmas Light Festival, (which runs until December 14), will help put a dent in the deficit.
What's next, 2023?
Adhering to tradition, we'll start the year with a peek at the stories we expect to be big news in 2023 with a new editorial, but we're optimistic that there will be a few positive headlines in the coming months, like the 200th anniversary of the Ocracoke Lighthouse, a new UFO landing, and new pathways for Buxton and Frisco.
In the meantime, all of us at the Island Free Press hope that your 2022 was a banner year, or at the bare minimum, elicited a feeling of "meh, at least we're getting back to normal."
Happy holidays to you, our dear readers, and here's hoping that 2023 also has more than its fair share of positive stories, so we'll all have something to look forward to.
Thank you for reading the IFP, and we truly look forward to sharing the island stories that matter the most in the months, years, and decades to come.