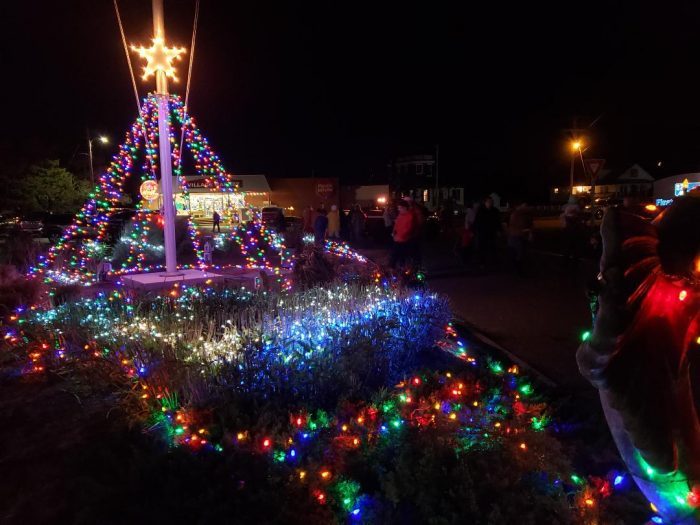 While there is a long list of holiday-themed events on the horizon, like the Elf the Musical Jr. debut and the annual Hatteras Village Christmas Parade, Hatteras Islanders can get a jumpstart on their Christmas celebrations with two tree lighting events that will occur in the not-so-distant future, and on opposite sides of the island.
Rodanthe Holiday Tree Lighting
The Rodanthe Holiday Tree Lighting is celebrating its second year in 2022, and the event, (which is sponsored by the Rodanthe-Waves-Salvo Civic Association), will feature four crab pot trees, a community sing-a-long and music by Sam on Sax, hot cocoa and refreshments, a special visit by Santa himself, and plenty of good cheer to go round.
"Last year we had over 80 people attend the event, [and] we expect that to double this year," said RWS Civic Association President Tom Amatucci. "[And] we have a few BIG surprises never before seen."
The festivities start on Saturday, December 3, at 5:30 p.m., and the community at large is invited to join in the fun.
Hatteras Holiday Tree Lighting
On Tuesday, December 6, at 6:00 p.m., Hatteras Village will host its own tree-lighting celebration in the village's center, next to the Hatteras Volunteer Fire Department and the Village Red & White grocery store. The decades-old tradition, which was revitalized in 2019 as a public event, will feature the official lighting of the community Christmas tree in the village triangle, followed by a free take-out soup and salad dinner at the nearby Hatteras Village Community Building.
Both Hatteras Island-based tree lighting events are free and open to the public, and everyone is welcome to stop by and join in the celebrations.
Stay tuned to the Island Free Press for continued updates on holiday events throughout the 2022/2023 season.