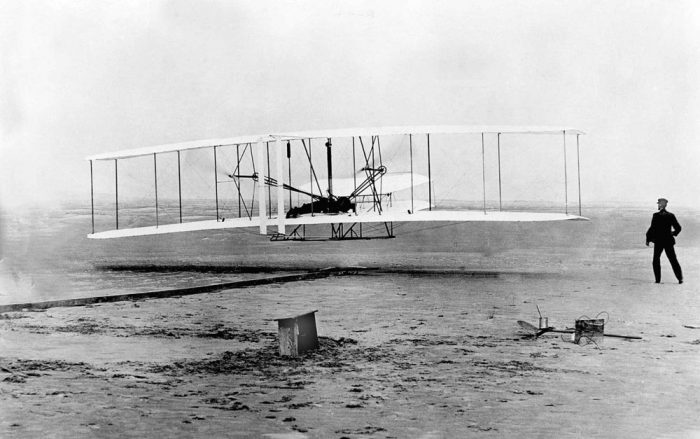 The two most common mistakes in Outer Banks history are arguably referring to the Old Oregon Inlet Life-Saving Station as the Pea Island Station, and the history surrounding the Wright brothers. From long debates over whether North Carolina or Ohio could claim the title of being the "Birthplace of Aviation," to the concept of who was the first to fly to begin with, there are a lot of errors surrounding the Wright brothers' story, which now includes the recent unveiling of the new Ohio license plate with a backwards banner. (More on that mistake below.)

Ohio's First Wright Brothers Mistake
Ohio's first mistake was engaging in the debate about where successful aviation began. After all, we celebrate our birthdays as the day we were born, and the place. We do not generally know when or where we were conceived, and thus, do not celebrate it. That would be silly.
There is no doubt about where the first successful heavier-than-air, powered flight controlled by a pilot took place: the Kill Devil Dunes, (which became the town of Kill Devil Hills as late as 1953), which was a barren area four miles south of the nearest village, Kitty Hawk. This is the Birthplace of Aviation.
Yes, the idea was conceived of in Ohio, so perhaps Ohio could claim that it was where these inventors was born… but even that wouldn't be completely correct. Orville was born there on August 19, 1871, in Dayton. But arguably the real genius, Wilbur, was born on a farm near Millville, Indiana, on April 16, 1867.
So the new license plate's slogan could be "Well, they did eventually move here and most of their future developments occurred here… although they did return to Kitty Hawk for a number of improvements and record settings."
The Second Outer Banks History Misconception Corrected
With the help of these "Indispensable Men" of the United States Life-Saving Service Station No. 13 Kill Devil Hills, (per a Coast Guard publication), the Wrights made around 1,000 glides in their 1902 season. What did this extensive practice and experience teach them? They learned how to control an aircraft in the air in all three dimensions. They could make it go up and down (pitch), make it turn from right to left (yaw), and maybe best of all, how to bank into a turn, just like a racing bicycle would do – no coincidence! The NASA website says of the 1902 experience, "For the first time in history, a craft could be controlled in three dimensions."
This is why all previous claims of "I flew before the Wright brothers" are meaningless; The Wrights didn't claim to be the first to fly. They were the first to control an airplane in flight in a heavier-than-air machine operated by a pilot, and could turn and land where the pilot directed it, and no previous claim could match that. Flying is easy. An arrow flies. A baseball flies. A kite flies. A car can fly if it is driven over a cliff. But none of those are controlled. None of those can go up as well as down once in flight. None of those can land where they want to. All of those characteristics applied to previous flights conducted by Whitehead, Maxim, Herring, Jatho, Cannon, Pearce, Spratt, Huffaker, Chanute, Langley, or anyone else. In addition, none of the above names ever flew again after making the first claim. The Wrights flew hundreds of times after the first attempt. There is simply no debate.
The Second Ohio Wright Brothers Mistake
Ohio unveiled its new license plate on Thursday, October 21, depicting the Wright Flyer as a symbol of the state's place in aviation history.
The only problem: The banner is attached to the wrong end of the plane.
As with the Old Oregon Inlet Life-Saving Station, this very common mistake is very understandable. The Wright's 1903 machine had the horizontal stabilizers in the front, so the pilot could see his inputs. To our eyes, however, they look like the tail of a modern airplane, so many of us envision that flying machine backwards, just like Ohio's new 35,000 license plates, which were unveiled dramatically by the governor of the state
The North Carolina Department of Transportation (NCDOT) had a little fun with this tweet: "Y'all leave Ohio alone. They wouldn't know. They weren't there."
Luckily on the Outer Banks, we know what's right with those brothers!