70 truckloads of debris have been removed from site of collapsed Rodanthe home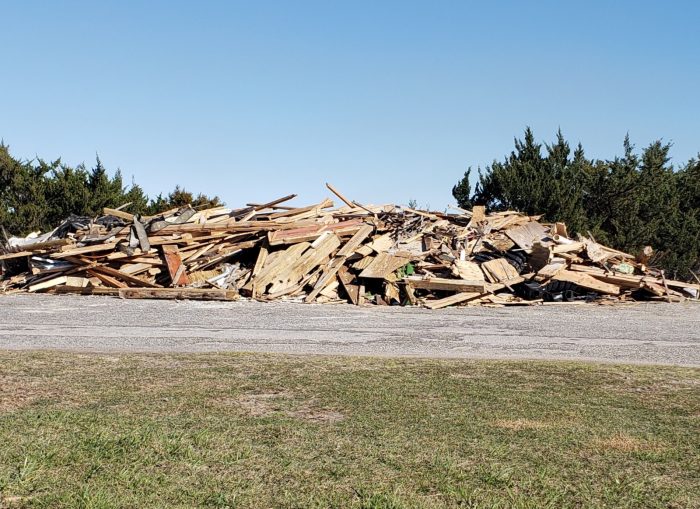 An estimated 70 truckloads of debris have been removed from the shoreline over the past three days, following the collapse of an oceanfront home in Rodanthe on East Point Drive on Monday, March 13.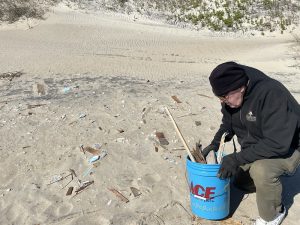 "On Wednesday, we had 40 National Park Service employees [helping in the clean-up] and on Thursday we had 20 employees," said Michael Barber, Public Affairs Specialist for the Cape Hatteras National Seashore (CHNS). "This is in addition to the many volunteers who have been helping all week."
A formal beach clean-up was held on Thursday, March 16, with supplies distributed by CHNS personnel, and while no additional formal clean-up events are currently scheduled, efforts by CHNS, as well as residents and visitors, continue.
"Even without a formal clean-up, people are still out there and cleaning the beach, and we know that happens every day," said Barber.
The majority of large pieces have been removed and sent to a staging site at ORV Ramp 23, just south of Salvo, where the piles of debris are then collected by dump trucks.
The focus is now on the remaining micro-debris, or the smaller pieces of plywood, wood trim, and other particles from the former home that may still have embedded nails or sharp edges.
In 2022, following the May Rodanthe home collapses, the National Park Service used a surf rake along the beaches to identify and collect these smaller pieces of debris, and the surf rake will be used again in the coming days to thoroughly clean the shoreline.
"The [National] Seashore appreciates the time and effort given by volunteers at [Thursday's] beach clean-up event," stated CHNS in a social media update. "We're also thankful for the many Dare County residents, Seashore visitors, and National Park Service Volunteers-In-Parks that have supported clean-up efforts as early as minutes after the March 13 house collapse. We appreciate the help."