Bids being accepted for construction of new multi-use pathway from N.C. 12 to Cape Hatteras Lighthouse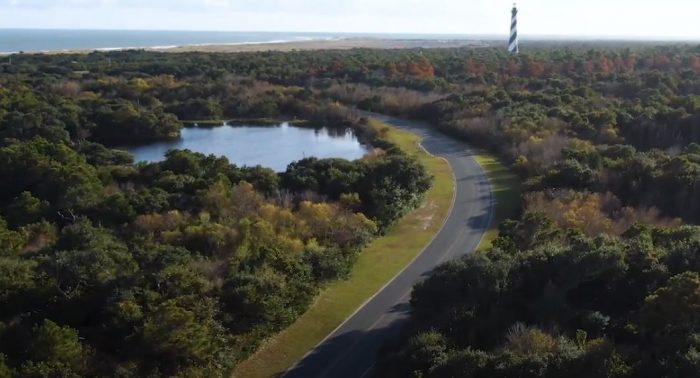 The National Park Service is accepting bids on a federal government contract to construct a paved multi-use pathway from the intersection of N.C. Highway 12 and Lighthouse Road in Buxton to the Cape Hatteras Light Station. Interested businesses have until 4 p.m. on Aug. 21 to submit bids via the System for Award Management (SAM.gov) website.
Contract Details
Contract Name: Cape Hatteras Lighthouse Road Trail
Site Visit Date: 11 a.m.-1 p.m. Tuesday, Aug. 8, 2023
Site Visit Location: Interested businesses can attend a virtual site visit by sending an email to damon_griffin@nps.gov. Read page 49 of the solicitation for details on what should be included in the registration email.
Summary of Work: Construct an approximately 1.25-mile multi-use pathway that runs parallel to Lighthouse Road in Buxton and along the Cape Hatteras Lighthouse's move path toward the current location of the Cape Hatteras Light Station. The project will also integrate several locations for educational exhibits and rest areas along the pathway.
Notice ID: 140P2023R0038
Bids Due: By 4 p.m. Monday, Aug. 21, 2023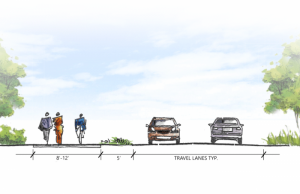 For questions on this contract solicitation, contact Damon Griffin at damon_griffin@nps.gov.
"The construction of a multi-use pathway to the Cape Hatteras Lighthouse will improve visitor safety along a busy park road," said National Parks of Eastern North Carolina Superintendent David Hallac. "Cape Hatteras National Seashore appreciates the public feedback it received in advance of this important project, which is expected to be finished by next summer."
About the new Lighthouse Road Multi-Use Pathway
In 1984 the Cape Hatteras National Seashore (CHNS) prepared a General Management plan which featured a number of proposed projects in the Buxton area, including a multi-use pathway on Lighthouse Road. Nearly 40 years later, this project is coming to fruition.
Currently, Lighthouse Road – which connects with the Cape Hatteras Lighthouse, Cape Point, and the popular Old Lighthouse Beach – has no sidewalks for cyclists and pedestrians. The proposed multi-use pathway will make this popular stretch of roadway a safer area for the hundreds of thousands of visitors who head to the lighthouse and adjacent beaches every year.
The pathway will be installed in several phases. The first phase covers the stretch from N.C. Highway 12 to the lighthouse, with a 10-12-foot-wide paved multi-use pathway in two segments. The plan also includes other visitor amenities and improvements.
On May 15, 2023, National Park Service (NPS) South Atlantic-Gulf Regional Director Mark Foust signed a Finding of No Significant Impact (FONSI) for Cape Hatteras National Seashore's Construct Multi-Use Pathway in Hatteras Island District environmental assessment (EA), allowing the project to move forward in earnest.
For more information on the pathway, including detailed illustrations, click here.