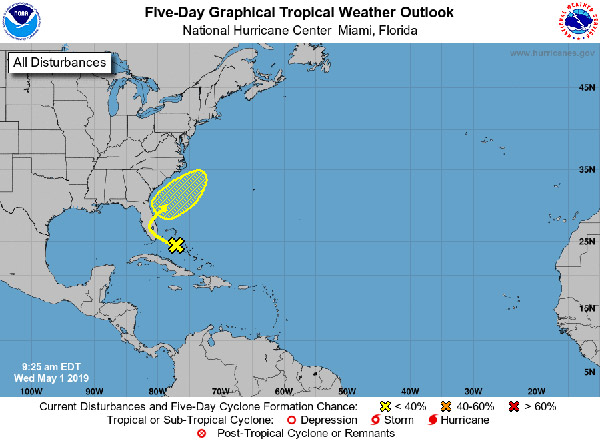 A tropical disturbance has formed in the northwestern Bahamas, roughly a month before the official start of Hurricane Season on June 1. The disturbance has low probability of development over the next several days, but some increased swell and coastal showers may be possible along the Outer Banks as the system moves up the coast.
A trough of low pressure that extends from South Florida northeastward over the western Atlantic for a few hundred miles is producing disorganized shower and thunderstorm activity.
Environmental conditions are not expected to be conducive for significant development of this system while it moves northwestward, and then northward over the Florida peninsula and near the southeast United States coast during the next day or so. However, a Special Tropical Weather Outlook was issued by the NWS National Hurricane Center Miami for the Atlantic basin.
Formation chance over the next five days is low at 10%, per a Thursday morning update from the National Hurricane Center.
For more information on the local forecast, visit www.weather.gov/mhx for weather information, or the National Weather Service office in Newport / Morehead City's Facebook page at https://www.facebook.com/NWSMoreheadCity/.