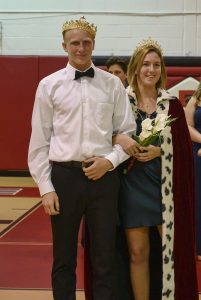 Cape Hatteras Secondary School recently held their 2020 Homecoming, and announced their Homecoming court representatives during the event.
The court consists of ten couples chosen by CHSS peers to represent the student body, and the 2020 Homecoming Court included the following students
Freshmen, class of 2023:
Garland Midgett and Chloe Flythe
Sophmores, Class of 2022:
Hobson Freye and Clara Oden
Juniors, Class of 2021:
Daymon Stump and Catherine Rebollo
Seniors, Class of 2020:
Chaz Mackenzie and Rubie Shoemaker
Austin Hooper and Hailey Quidley
Charlie Conner and Eliza Quidley
Dylan Gray and Claire Williams
John Contestable and Lexus Meekins
Justin Chandler and Peyton Mugford
Jose Cirisa and Sophie Waterfield
CHSS also welcomed back 2019's Homecoming King and Queen to crown the new Homecoming royalty, Class of 2019 alumna Jillian Webster and Class of 2022 Teddy Harmon.
The Homecoming Court also includes three royal couples – the Duke and Duchess, the Prince and Princess, and the King and Queen – who are voted for by the student body.
This year's royal court members are as follows:
Homecoming King and Queen:
Dylan Gray and Hailey Quideley
Homecoming Prince and Princess:
Hobson Freye and Chloe Flythe
Homecoming Duke and Duchess:
Jose Cirisa and Lexus Meekins