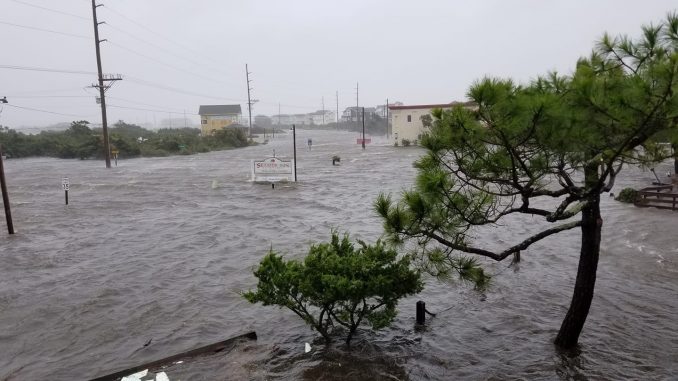 The Cape Hatteras United Methodist Men (CHUMM) will be hosting two training sessions in July for new and existing volunteers who want to contribute to the organization's island-wide response after a hurricane or devastating storm hits the Outer Banks.
Per Dennis Carroll of CHUMM, one of the greatest barriers to the organization's disaster response is a shortage of assessors who play a pivotal role in determining what work needs to be done in the immediate aftermath of a storm.
"Every time we have a storm, the bottleneck is getting the site assessments done, and we need primarily local people that can arrive pretty quickly to start doing the assessments," said Carroll. "So the purpose is to have the assessments done, and have work orders written by the time the volunteer [Emergency Response Team] crews come. It makes it so much more efficient, as we can then assign volunteers or early response teams directly to the priority projects."
No prior experience is needed to volunteer as an assessor, and the upcoming training sessions will cover all of the basics of what is expected.
"[New volunteers] don't have to be construction experts, because we're just doing early response," said Carroll. "We're not rebuilding –we're just finding out what the urgent needs are, and locating the owners, and getting the owners to sign a release and provide contact information."
In addition, Emergency Response Team (ERT) members are needed to help with storm response, and volunteers are also needed to work at CHUMM's help desks at the island's fire stations.
Training sessions for both new assessors and for re-certification of ERT members will be held on Saturday, July 10, at the Our Lady of the Seas Catholic Church in Buxton.
Details of each of the training sessions are below:
Assessor Training
Time: 9:00 – 11:00 a.m.
You don't need to be ERT qualified in order to complete the Assessor training. Immediately after any serious storm, there is always a critical need for qualified assessors, before the ERT teams respond.
Re-Certification of ERT Members
Time: 12:00- 3:30 p.m
This is not basic ERT training, just a three-year recertification course.
Lunch will be served between 11:00 and 12:00 for all who attend either, or both sessions. Coffee, juice, fruit, and pastries will be available by about 8:30 a.m.
Folks who want to volunteer but who are unable to participate in the in-person meetings can also attend a Zoom training session, which will be scheduled at a later date. For more information or to sign up as a volunteer, email CHUMM at chmethodistmen@gmail.com, or call Dennis Carroll at (252) 305-4925, or Jeff Kloss at (814) 241-0718. Please note which session(s) you would like to attend when contacting CHUMM regarding training.
Donations and support are also continually needed on a local level to keep all CHUMM initiatives going, and the public can donate via the Cape Hatteras Unites Methodist Men website at https://www.hatterasmethodistmen.org/.
Supporters can also donate by mail. Checks should be written to United Methodist Men and mailed to Cape Hatteras United Methodist Men, P.O Box 1591, Buxton, NC 27920.