Couple trying to reunite wedding band found on Cape Hatteras with its owner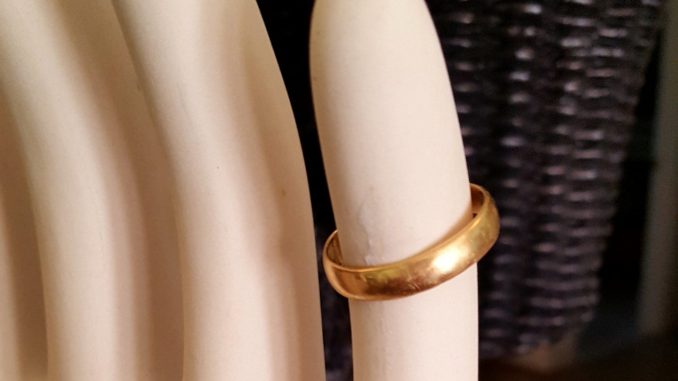 Did you lose your wedding ring near The Point at Cape Hatteras National Seashore? A Northern Virginia couple found a men's gold band on the beach back in 2019, and they've been trying to return it to its owner ever since.
If the ring is yours, you lost it on Friday, Nov. 1, 2019, between Ramp 43 and the Point. It was the final day of vacation for Robert and Kathie Menuet and they'd been out surf fishing.
"I noted in my daily journal entry that only hardy folks were out on the beach that day dressed warmly against extremely windy conditions out of the north, with pounding surf. It was late afternoon, midway between high and low tide," Kathie Menuet said in an email to OBXToday.
Here's Kathie's memory of the rest of the lost ring story:
"Rob was fishing and I was in the cab of our truck taking a break from the wind. I noticed out of my sideview mirror three men walking between the truck's tailgate and Rob at the shore line. They were heading south to the Point. I turned to observe them and noticed as they moved away from our truck that one man (closest to the tailgate) was barefoot, wearing shorts and a jacket. the other two men were dressed in warm clothing.
"Several minutes later while I was still in the truck cab, I observed them walking north. they moved past the truck tailgate, in the same order as they had walked south – the man in the shorts was closest to the tailgate. I remember this because I thought him very hardy to be in such light clothing on a chilly, windy day. As I existed the truck cab, I saw them get into a white truck that was parked near us and drive north toward Ramp 44."
When Kathie got out of the truck to grab her fishing rod, she noticed a gold wedding band sitting on the sand.
"I assumed it was Rob's ring, and took it down to the surf to return to him. When I held it up, he showed me his left hand, where his wedding ring was still on his finger!" she said.
Since then, the Menuets have tried to spread the word about the lost ring on social media, they've contacted local realtors and left word at fishing tackle shops around Hatteras Island, to no avail.