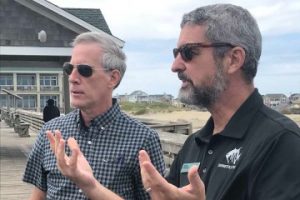 Says funds for some local projects depend on budget outcome
North Carolina Department of Natural and Cultural Resources (DNCR) Secretary Reid Wilson spent two days on the Outer Banks this week visiting DNCR's sites while in town for this year's Surfalorus Film Festival, which is being sponsored by DNCR's North Carolina Aquarium and hosted by the Dare County Arts Council.
Wilson, who took the helm of the department at the beginning of this year, was at Jennette's Pier on Friday, Sept. 24, the fifth of six sites he would visit in Dare County that fall under the umbrella of his department. Other sites included the Graveyard of the Atlantic Museum, Roanoke Island Festival Park, Jockey's Ridge State Park, the Outer Banks History Center and the North Carolina Aquarium on Roanoke Island.
"Our department is a lot of things, and the Outer Banks is a microcosm of this," he told reporters during the tour. "I like to say we're the Department of all the things people love about North Carolina from A to Z."
While at the pier, Jennette's Pier director Mike Remige gave Wilson a tour of the facility on a day when fishermen were steadily pulling up red drum from the ideal conditions of heavy surf as the Eastern Surfing Association championships were being held on the beach below. Since taking his post in January, the secretary estimated that he has visited about half of DNCR sites in the state.
Speaking about the local DNCR sites, Wilson said that the pending 2021-22 state budget, if adopted as it stands, would provide needed funds his department and locally, for the Graveyard of the Atlantic Museum, which would be the recipient of $4.2 million in state funds to redo the interior of the building. As for Jockey's Ridge State Park, he said there is money now being spent to remodel the park's visitors center. But whether or not the park can fund the replacement of its deteriorating boardwalk depends on what is appropriated in the upcoming budget.
Two of DNCR's funds, the Parks and Recreation Trust Fund and the Land and Water Fund, were slated to do well this budget year, but are now subject to seeing smaller increases than anticipated.
"So, whether or not Jockey's Ridge can fund a boardwalk and fund better restrooms comes down to how much money is approved in the budget," he said.
On a larger scale, he noted, "If [the legislators] do enough, then that project and a bunch of others in our state parks and local parks will get funded. And if they don't do much of an increase over the current amount, a whole lot of really important, urgent popular projects won't happen…But these decisions being made in Raleigh have real effects on the ground."
When it comes to climate change, Wilson said that his department has a role to play at the state level. "I think our department has a role to play in providing objective, scientifically-based information to the public about climate change and to do it in a non-confrontational, objective way," he stated. "What is climate change, what's the evidence for it, what causes it, the effects."
When asked about the potential of wind power in North Carolina, Wilson said that "it seems to me, clean energy has to be what our future is about, and wind is part of that. Our department has no authority over that, but it does look like, if we're going to successfully fight climate change, we have to transition to a clean energy economy."