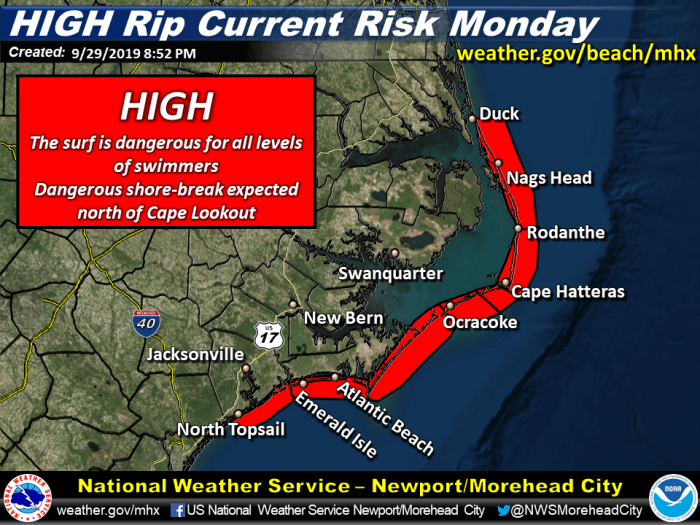 Swells from offshore Hurricane Lorenzo will increase today, leading to a high risk of rip currents all along the Outer Banks beaches, per a recent update from the National Weather Service (NWS) Newport / Morehead City office.
Dangerous shore break is also expected north of Cape Lookout, with breaking waves in the 4 to 7 feet range. Minor ocean overwash was reported in north Buxton as of Monday morning, however, N.C. Highway 12 is passable throughout. Beachgoers are advised to use extreme caution in the surf on Monday, and to drive with care in case of standing water and sand.
Lorenzo is a large hurricane, and elevated swells are expected to continue along the East Coast over the next several days, however, Lorenzo is expected to remain well offshore until it dissipates by the end of the week. As of 8 a.m. on Monday, Lorenzo was located 1,045 miles WSW of the Azores with maximum sustained winds of 105 mph.
Above normal temperatures will also continue this week, per the NWS, and record highs are likely by Thursday in eastern North Carolina, as inland area temperatures reach the mid-90s.
To check the updated beach forecast from the National Weather Service, visit www.weather.gov/beach/mhx. Beach-goers can also text "Join OBXBeachConditions" to 30890 to sign up for text alerts from local Outer Banks Lifeguards on beach conditions.
For more information on the local forecast, visit www.weather.gov/mhx for weather information, or the National Weather Service office in Newport / Morehead City's Facebook page at https://www.facebook.com/NWSMoreheadCity/.