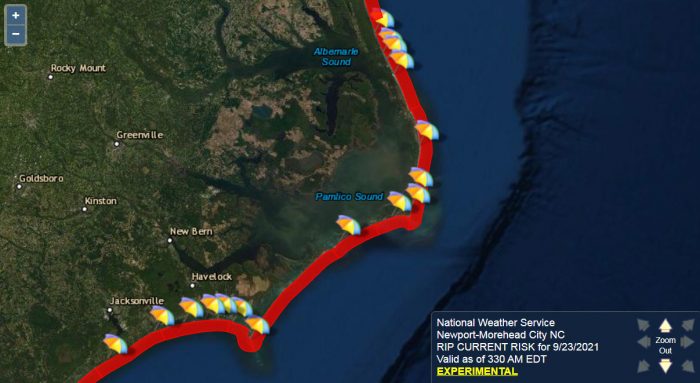 A high risk of rip currents continues on Thursday, September 23, for all beaches along Hatteras Island and Ocracoke Islands, per a recent update from the National Weather Service (NWS) Newport / Morehead City office.
A high risk of rip currents means that the surf zone is dangerous for all levels of swimmers, and beachgoers should stay out of the water. The most likely time for strong rip currents to occur is a couple of hours on either side of low tide, which will be at around 4:00 p.m. on Thursday.
Additionally, a cold front will slowly crawl through the region today, providing some areas with wet weather. Periods of rain, which will be heavy at times, will persist through late Thursday evening.
The public should check surf and swimming conditions before heading to the beach, and the daily beach forecast at www.weather.gov/beach/mhx includes rip current risk levels, and information about other hazards along the beach. In addition, visitors are encouraged to sign up for text alerts from Dare County, ocean rescue agencies, and the National Weather Service by texting "OBXBeachConditions" to 77295.
For more information on the local forecast, visit www.weather.gov/mhx for general weather information, or the National Weather Service office in Newport / Morehead City's Facebook page at https://www.facebook.com/NWSMoreheadCity/.