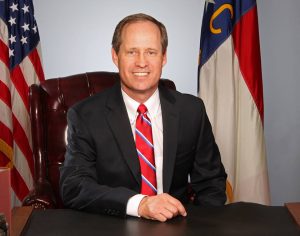 Greg Murphy beat Joan Perry in the special July 9 runoff election for the GOP primary, and will go against Democratic candidate Allen Thomas in a special general election for the U.S. Representative for North Carolina's Third Congressional District seat on September 10.
The special election is being conducted to fill the seat of the late Walter Jones, who passed away in February 2019 at the age of 76.
Murphy, a physician and State Representative, beat the pediatrician Joan Perry by a nearly 20% margin with 21,444 total votes to 14,472 votes in all 17 counties. Roughly 11.51% of registered Republican voters cast a ballot, or 35,945 out of 312,345.
In Dare County, Murphy was a clear winner with 62.61% or 839 votes compared to Perry's 501 votes. Murphy also received 73.6% of the votes in Hyde County, with 145 votes compared to Perry's 52 votes.
Dr. Greg Murphy is a Greenville, N.C. resident of more than 20 years, which is where he runs his own private practice. Per his campaign website, he is also a member of the ECU School of Medicine Faculty and a former Chief of Staff of Vidant Medical Center in Greenville.
Murphy was appointed the State Legislature and has twice been reelected to the State House. Per his campaign site, he has "championed the fight against the opioid epidemic, worked on health care reform and been a consistent conservative voice in Raleigh" during his time in office.
For more information on the upcoming September special election, visit https://www.darenc.com/departments/board-of-elections.