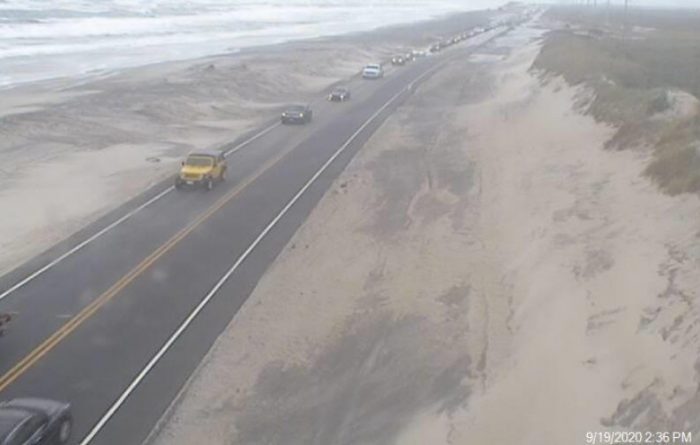 Per a Saturday afternoon update from the North Carolina Department of Transportation (NCDOT), N.C. Highway 12 remains open as of 2:00 p.m. on Saturday. However, a combination of factors including water/sand on the roadway, heavy traffic, and crews working to remove sand is causing very slow traffic between the Basnight Bridge and Rodanthe.
The Island Free Press has received several reports that the drive between Rodanthe and Oregon Inlet is taking 60 minutes or more due to the deteriorating road conditions, traffic, and ongoing work by NCDOT to clear the highway.
Despite these conditions, NCDOT is encouraging anyone who needs to leave or access Hatteras Island this weekend to do so during daylight hours today. Conditions are expected to worsen during tonight's high tide, and road closures are a possibility.
The marine forecast from the National Weather Service shows the potential for 14-17 foot seas on Sunday, which will likely bring even more significant ocean overwash and make some areas of Highway 12 impassable. Travelers to and from Hatteras Island are asked to avoid travel at high tide tonight and on Sunday and possibly Monday.
Guests scheduled to depart on Sunday are advised to consider adjusting plans by departing today, as soon as possible. Those scheduled to arrive on Sunday should check with their accommodations provider and consider delaying arrival.
The following areas are especially prone to ocean overwash:
South of the Basnight Bridge to the Pea Island Visitor Center
Mirlo Beach area, on the northern edge of the tri-villages
South of the Avon Pier along Ocean View Drive
At the north end of Buxton
Between Frisco and Hatteras Village
Along Pole Rd., south of Ramp 55 in Hatteras village
Along the north end of Ocracoke island
The next high tide is around 10:00 p.m. on Saturday.
Impacts will continue this weekend into early next week. The rip current risk is expected to remain elevated for all Hatteras and Ocracoke island beaches for the next several days as well.