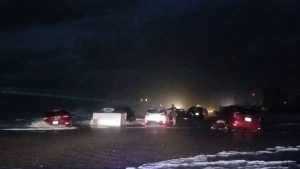 9:50 P.M. UPDATE: N.C. Highway 12 has reopened as of 9:45 p.m. Please remember to drive with extreme caution. There is still sand and water on the road in several places between the Oregon Inlet Bridge and Hatteras Village.
After temporarily opening to traffic, N.C. Highway 12 closed again between Rodanthe and Oregon Inlet at 8:45 p.m. as ocean overwash and flooding inundated the roadway with Saturday evening's high tide cycle.
The road will remain closed until conditions improve and NCDOT crews are able to return to their efforts of clearing sand and water from the roadway. The next low tide is at approximately 2 a.m. on Sunday, and the next high tide is at approximately 8:00 a.m. on Sunday.
Ocean overwash on N.C. Highway 12 throughout Hatteras Island is likely over the next several high tide cycles as Subtropical Storm Melissa moves away from the U.S. East Coast.
NCDOT updates on N.C. Highway 12 road conditions can be obtained by calling 511, or by viewing the Mirlo Beach webcam online at https://tims.ncdot.gov/tims/RegionSummary.aspx?co=28.
Additionally, NCDOT is posting regular status reports on their Facebook page at https://www.facebook.com/NCDOTNC12/.