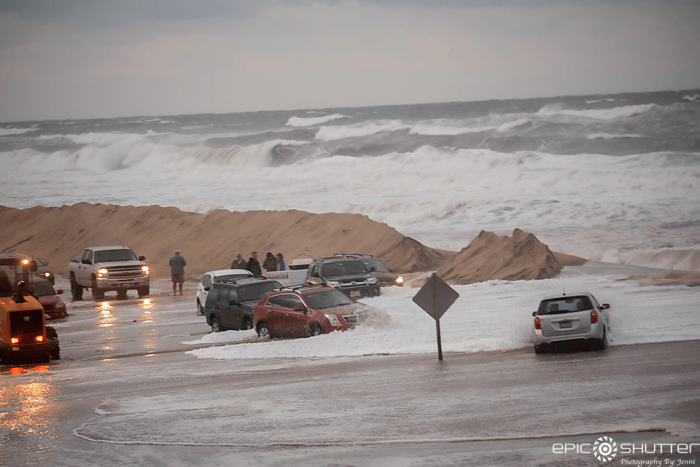 Although N.C. Highway 12 was able to temporarily reopen in northern Rodanthe at around midnight on Thursday, the highway closed again at 6:00 a.m. on Friday from the Oregon Inlet Bridge to Rodanthe due to ocean overwash. NCDOT stated in a Friday morning update that they are hoping to reopen the highway by 6 p.m.
NCDOT crews are clearing sand from N.C. Highway 12, however motorists should use caution when traveling the entire section of the highway from Rodanthe to Hatteras Village. Areas of sand and water remain on the roadway, and overwash will likely continue over the next several high tide cycles.
Significant oceanside flooding that accompanied Thursday evening's high tide led to Thursday night's road closure, and a number of vehicles were stranded on both sides of the closure until the road was able to reopen at around midnight. Approximately eight vehicles were stuck along a section of the highway near the S-Curves, where a dune breach had occurred.
High tide at Oregon Inlet is at approximately 7:15 a.m. and 7:30 p.m. on Friday, and 7:45 a.m. and 8:00 p.m. on Saturday.
Oceanside flooding was also reported at other hot spots on Hatteras Island on Friday morning, including north Buxton and the Ocean View Drive area of Avon, with ocean water spilling over onto the highway.
The ocean overwash is due to a large low pressure system that is lingering off the Mid-Atlantic coast. Dangerous surf conditions, including rip currents, beach erosion and continued ocean overwash are forecast along the Outer Banks into this weekend, with the most significant impacts expected along the ocean side north of Cape Hatteras.
Seas will run between 10 to 14 feet just offshore from the Outer Banks north of Cape Hatteras, and a high surf advisory has been posted until Saturday morning for breaking waves of 6 to 9 feet onshore.
Strong NNW winds of 15-25 mph with gusts of 30-35 mph are forecast for Friday, and winds will diminish by Saturday.
The Island Free Press will post road condition updates as soon as they are available.