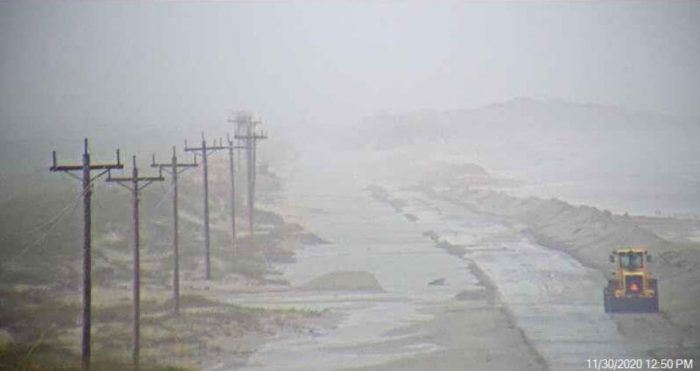 3:00 P.M. UPDATE: Per the North Carolina Department of Transportation, N.C. Highway 12 on Ocracoke has reopened to traffic in between the Hatteras Ferry Terminal and the NPS Pony Pens, with sand and water on the roadway. Per NCDOT, it is possible that the road will need to be closed again at or before tonight's high tide at 7:30 p.m. Please drive with extreme caution in the area. 
Hatteras Inlet ferry operations will resume service with a 3:00 p.m. departure from Hatteras and a 3:30 p.m. departure from Ocracoke.
***
N.C. Highway 12 remained closed in between the NPS Pony Pens and the Hatteras ferry terminal as of 1:00 p.m. on Monday, due to ocean overwash that occurred with the morning's high tide.
While North Carolina Department of Transportation (NCDOT) crews have been working all day to clear the highway and have made progress, N.C. 12 is expected to be impacted by additional ocean overwash with the evening's high tide at approximately 7:30 p.m. Per the NCDOT, the road closure is expected to continue on Ocracoke throughout the rest of the day.
The Hatteras-Ocracoke ferry has been suspended due to the road closure and high winds, and the Pamlico Sound ferry routes connecting Ocracoke to Cedar Island and Swan Quarter have been suspended as well due to the severe weather.
N.C. Highway 12 remained passable throughout Hatteras Island, with no coastal flooding reported, but there are some pockets of standing water due to rain, particularly in Salvo, Avon, and near the Basnight Bridge on Pea Island. Travelers are advised to proceed with caution.
Strong southerly winds with gusts up to 52 mph could result in additional coastal flooding on Monday, particularly for the soundside areas of the Outer Banks from Avon to Roanoke Island. 1 to 2 feet of inundation above ground level is expected in low-lying areas near shorelines and tidal waterways.
Dangerous surf and beach erosion, which could result in additional flooding on N.C. Highway 12, is also possible from Oregon Inlet to Ocracoke, with large breaking waves of 6 to 9 feet expected in the surf zone, and maximum offshore wave heights of 12-15 feet.
Thunderstorms and strong wind gusts could damage trees and power lines, resulting in scattered power outages. A few isolated tornadoes are possible, resulting in locally enhanced areas of damage. Heavy rainfall of 1.5- 2 inches is also forecast for Hatteras and Ocracoke islands throughout the storm.
A Gale Warning, Coastal Flood Advisory, Wind Advisory and High Surf Advisory have all been issued for Monday.
For more information on the local forecast, visit www.weather.gov/mhx for weather information, or the National Weather Service office in Newport / Morehead City's Facebook page at https://www.facebook.com/NWSMoreheadCity/.