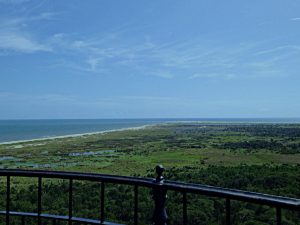 The Cape Hatteras National Seashore (CHNS) announced several recent updates and news items related to recreational activities and seashore conditions on Hatteras and Ocracoke Islands.
News items and events related to the National Seashore for the week of April 11 include the following:
Seashore Updates
On the morning of April 9, an off-road vehicle (ORV) corridor was installed to the west of the tip of Cape Point in order to provide a buffer for a pair of nesting American oystercatchers. The tip of Cape Point and the eastern-facing beach south of ORV ramps 43 and 44 are open. The ORV corridor (0.14 miles long) provides additional access to an area of south-facing beach to the west of the tip of Cape Point.
There will be a ribbon cutting ceremony for the Kite Point parking area once work is completed. More details to be announced soon.
Seashore maintenance staff are adding more utility hookups to campsites at Oregon Inlet Campground. Once finished, the campground will have water and electric at 47 sites. To make reservations at any of the four campgrounds, go to: https://www.recreation.gov/
 The spring nesting season for shorebirds is underway. For current beach access information, go to: https://www.nps.gov/caha/planyourvisit/conditions.htm
Seasonal ORV routes in front of the villages and the Ocracoke Campground will become pedestrian only routes starting April 15. The seasonal routes will reopen for ORV traffic on October 15.
Upcoming Events
Opening Day of Camping Season

Date: Apr 12
Location: Oregon Inlet, Cape Point, Frisco, and Ocracoke Campgrounds
Description: The park's four campgrounds open for the 2019 camping season.

Beach Cleanups on Bodie, Hatteras, and Ocracoke Islands

Date: Apr 13, 8:00 a.m. to 12:00 p.m.

Opening Day of Lighthouse Climbing Season

Date: Apr 19, 9:00 a.m. to 4:30 p.m.
Description: Climb the Bodie Island and Cape Hatteras Lighthouses for free on opening day of the 2019 lighthouse climbing season. Free tickets will be available on a first-come, first-served basis and can only be obtained in person, that day, on site.

Special Cape Hatteras Lighthouse Move Interpretive Program

Date: May 3, 10:30 am to 11:00 a.m. (daily through October 14)
Location: Hatteras Island Visitor Center Pavillion
Description: To celebrate the 20th anniversary of the Cape Hatteras Lighthouse move, park rangers will present daily interpretive lighthouse move programs beginning May 3 and continuing through October 14. Additional interpretive programming and a special anniversary event will be held between June 17 and July 9, (the same dates as the lighthouse move in 1999). More details to be announced soon.

1st Annual Surf Fishing Heritage Celebration

Date: November 2
Location: Fessenden Center, Buxton
Description: Cape Hatteras National Seashore, along with partner organizations, will celebrate the area's strong surf fishing history at the 1st annual Cape Hatteras Surf Fishing Heritage Celebration. More details about this event will