NCDOT Ferry Division Ends Ocracoke Evacuation Operations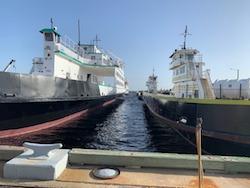 Due to impending weather conditions related to Tropical Storm Isaias, the N.C. Department of Transportation's Ferry Division has ended evacuation operations for Ocracoke Island.
Over the course of the evacuation that began Friday, the North Carolina Ferry System evacuated 3,538 people and 1,710 vehicles from Ocracoke on the Hatteras, Cedar Island and Swan Quarter routes. Ferries and ferry employees will now be staged in safe harbor areas to await the resumption of service once the storm passes.
Ferry Division managers will monitor weather conditions and resume service as soon as it is safe to do so. Hyde County Emergency Managers will then determine when to lift the evacuation orders for Ocracoke residents and visitors.
For real-time updates, follow the Ferry Division on Twitter at @NCDOT_Ferry.