NWS Releases Hurricane Isaias Summary; 72 MPH Wind Gust Recorded in Avon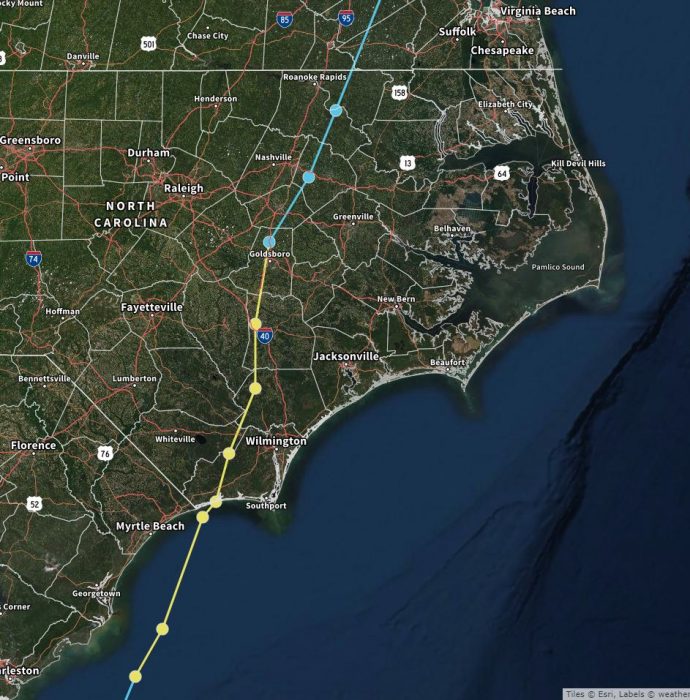 The U.S. National Weather Service (NWS) Newport / Morehead City released its summary on the development and impact of Hurricane Isaias, which made its U.S. landfall near Ocean Isle Beach, North Carolina, at 11:10 p.m. on August 3 as a high-end Category 1 hurricane.
Hurricane Isaias originated from a vigorous tropical wave off the coast of Africa that was first identified by the National Hurricane Center on July 23, 2020. The tropical wave gradually became more organized, and became Tropical Storm Isaias on July 30. Isaias marked the ninth earliest named storm on record, surpassing 2005's Hurricane Irene by eight days.
Isaias strengthened into a Category 1 hurricane the next day, reaching a peak intensity of 85 mph. On August 1, the storm made landfall on North Andros, Bahamas, and subsequently weakened to a tropical storm before paralleling the east coast of Florida and Georgia and impacting the Carolinas.
Isaias produced heavy rainfall, minor storm surge and tornadoes throughout Eastern N.C., but with the exception of minor soundside flooding, the Outer Banks had few impacts from the storm.
Highest Wind Reports for the Outer Banks from Isaias are as follows:
Avon – 72 MPH at 4:12 a.m.
Manteo – 68 MPH at 5:35 a.m.
KHK Resort – 63 MPH at 6:32 a.m.
Oregon Inlet Coast Guard Station – 63 MPH at 5:42 a.m.
Frisco – 59 MPH at 4:09 a.m.
Hatteras – 58 MPH at 4:08 a.m.
Rodanthe – 56 MPH at 5:54 a.m.
Buxton – 54 MPH at 4:11 a.m.
Kill Devil Hills – 48 MPH at 4:55 a.m.
Nags Head – 48 MPH at 4:51 a.m.
Storm Total Precipitation from Isaias for the Outer Banks is as follows:
Manteo – 0.76"
Dare Bomb Range – 0.74"
Frisco – 0.56"
Buxton – 0.50"
Manteo – 0.37"
Rodanthe – 0.35"
Kill Devil Hills – 0.27″
Southern Shores – 0.23"
For more information on the local forecast, visit www.weather.gov/mhx for weather information, or the National Weather Service office in Newport / Morehead City's Facebook page at https://www.facebook.com/NWSMoreheadCity/.