Record tied for number of named tropical systems in the Atlantic Basin at one time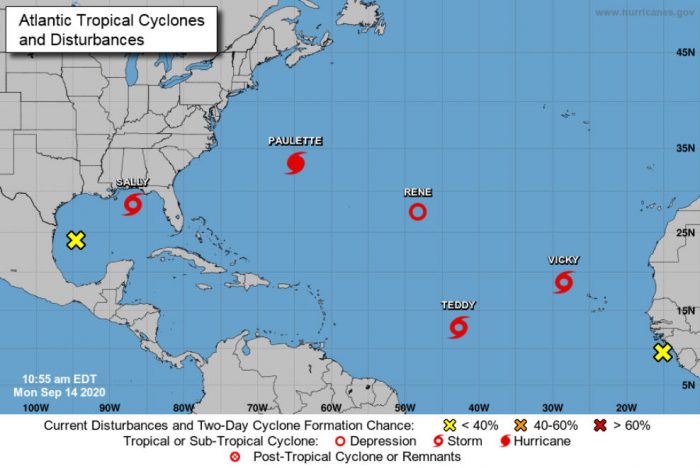 With the recent formations of Teddy and Vicky on Monday morning, (and with Sally, Rene, and Paulette still active), the five tropical cyclones currently in the Atlantic Basin tie the record for the most number of named storms in the Atlantic at one time.
From September 11-14, 1971, there were also five named storms in the Atlantic at once, according to data from the National Hurricane Center (NHC) and the National Weather Service (NWS.) In late August of 1971, there were also seven tropical systems recorded simultaneously in the Atlantic Basin, however, not all of the systems had yet been named.
2020 is shaping up to be a record-breaking year for hurricane activity, with two named storms forming before the official start of the hurricane season began on June 1.
Historically, only two named storms form on average by early August, and the ninth named storm typically does not form until October 4.
Per NOAA, the oceanic and atmospheric conditions that create an extremely active hurricane season are warmer-than-average sea surface temperatures in the tropical Atlantic Ocean and the Caribbean Sea, reduced vertical wind shear, and weaker tropical Atlantic trade winds. All of these conditions have been present for the duration of the 2020 hurricane season, leading to the record-breaking year.
On August 6, the National Oceanic and Atmospheric Administration (NOAA) revised their annual hurricane outlook for 2020 to include a total of 25 named storms, 7-11 hurricanes, and 3-6 major hurricanes.
There is only one name remaining for the 2020 season. After that, storm names will follow the Greek alphabet, which has only happened once before in 2005.