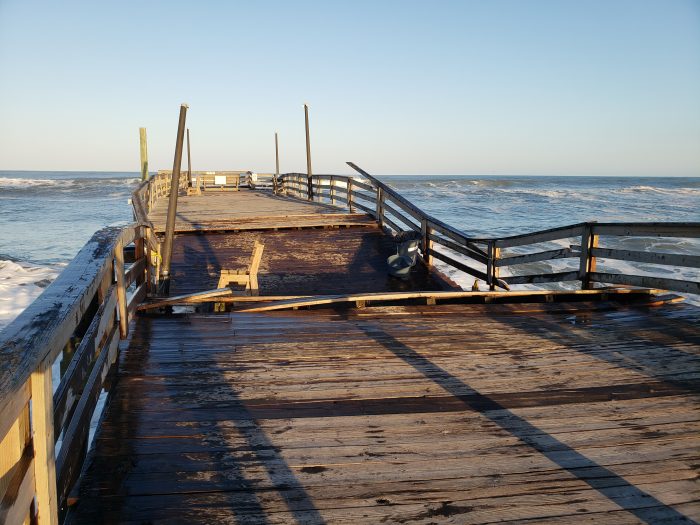 After suffering significant damage from Subtropical Storm Melissa, staff are working hard to reopen a roughly 300 ft. section of the Avon Fishing Pier, as well as the Avon Pier House, by the middle of this week, per an update from pier operator Joe Thompson.
Days of battering waves caused a split towards the end of the pier, and two steel beams are being installed as a temporary Band-Aid before long-term work can begin. The first half of the pier – or roughly 300 ft. – had minimal damage, and this section will be able to reopen within days. The second half of the 670 ft. pier, however, will be closed for the remainder of the 2019 season as more intensive repairs are required.
"We need to determine how we can make the pier safe," said Thompson. "We'll need to put in [new] pilings in the ocean, and Mother Nature has to allow us to do that. But we hope to reopen the first part of the pier and the pier house within a couple of days."
On Monday, staff worked in sunny conditions as the ocean waters had noticeably calmed down since Subtropical Storm Melissa moved away from the East Coast over the weekend. Just 48 hours prior, however, the pier was continually inundated by pounding surf, and huge waves that spilled over onto the main pier deck.
"That went on for days," said Thompson, "which is what caused [a section of] the pier to split in two… And we had to wait for the ocean to calm down before we could start assessing the total damage."
Currently, Thompson is working with the National Park Service, which owns the Avon Pier, to determine the appropriate next steps in terms of future repairs and a concrete timeline for reopening.
The Island Free Press will continue to post updates on the status and operation of the Avon Pier as soon as they become available.