Severe damage to N.C. Highway 12 on Ocracoke, but minimal impacts to Hwy. 12 on Hatteras Island; Buxton Power Circuits Activated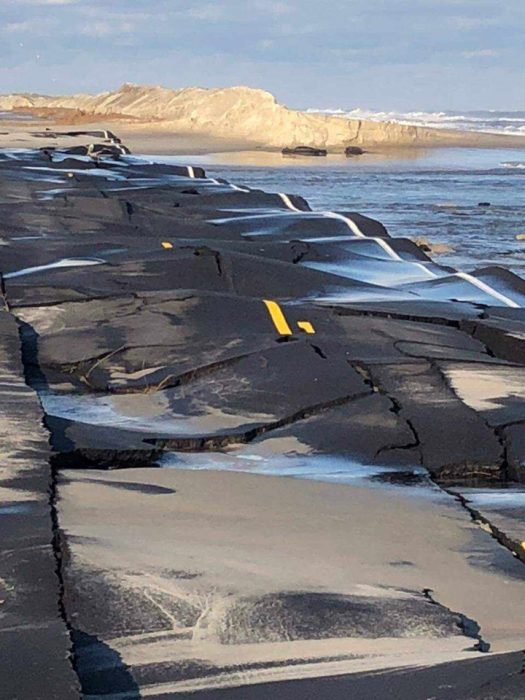 Per a Friday evening update from the North Carolina Department of Transportation (NCDOT), engineers have been able to make some initial assessments on hurricane damage to N.C. Highway 12 on both Ocracoke and Hatteras Islands.
There are two 500 foot sections of road that are severely damaged on Ocracoke Island which will take some serious repair work, per NCDOT.
On Hatteras Island, while there is a lot of sand and standing water in multiple locales as well as a few dune breaches, initial assessments reveal no apparent damage to the roadway. For now, travel on N.C. Highway 12 on Hatteras Island is hazardous, but NCDOT reports that crews will be out first thing on Saturday morning to address any issues.
The Cape Hatteras Electric Company (CHEC) also reported on Friday evening that CHEC crews have energized both Buxton circuits with the diesel plants. Lee Electric crews will be on the island in the morning to assist with repairs to restore power to the transmission line.
Per the 8 p.m. update from the National Weather Service, Hurricane Dorian still maintained maximum sustained winds of 90 mph, but had moved far from the North Carolina coastline and was located 275 miles south-southwest of Nantucket, Massachusettes. Dorian is moving toward the northeast near 24 mph (39 km/h), and this general motion with an additional increase in forward speed is expected through Sunday.
Emergency air transportation units have been dispatched to Ocracoke Island as of Friday afternoon to help evacuate residents. Officials are hoping to have the ferry routes evaluated tomorrow, and will continue the evacuation via ferries as soon as possible. Commodities and additional personnel have also been dispatched to Ocracoke Island. Per a statement made by Governor Roy Cooper on Friday, as many as 800 people could have stayed on Ocracoke Island during the storm.
Storm surge reached record levels on Ocracoke and Hatteras islands on Friday morning, with soundside surge of approximately 7 feet in Ocracoke, and roughly 6 feet on southern Hatteras Island, within a maximum timeframe of two hours. Water levels have diminished drastically as Dorian moves away from our area, but standing water remains a concern for multiple sections of N.C. Highway 12.
The eye of Dorian made landfall over Cape Hatteras at 8:35 a.m. on Friday. There have been no fatalities reported so far, however, property damage is extensive throughout the islands.
The Island Free Press will continue to post updates as soon as they are available.