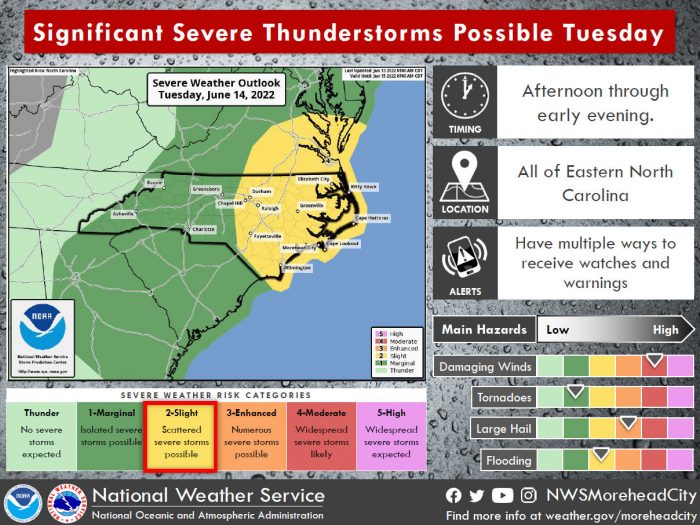 Severe weather is possible for the Outer Banks on Tuesday afternoon and evening, while excessive heat will impact coastal North Carolina on Monday and Tuesday, per an update from the National Weather Service (NWS) Newport / Morehead City office.
An increasingly hot and humid air mass will spread across the Outer Banks region starting today, and peaking on Tuesday. The combination of heat and humidity will produce heat index values in the mid-90s on Monday, and the heatwave culminates on Tuesday, with heat indices 100 degrees or higher for much of the eastern North Carolina area.
An extremely unstable atmosphere will accompany the dangerous heat and humidity on Tuesday, and there is a threat for a significant damaging severe thunderstorm outbreak to occur sometime in the afternoon to early evening hours.
At this time, the storm prediction center has upgraded the region to a 'slight risk' for severe storms, but if confidence increases that this outbreak will indeed occur, later upgrades may be necessary. Strong damaging winds of 60 to 80 mph, large hail, very heavy downpours with localized flooding, along with very frequent lightning, may all occur if storms develop Tuesday.
For more information on the local forecast, visit www.weather.gov/mhx for weather information, or the National Weather Service office in Newport / Morehead City's Facebook page at https://www.facebook.com/NWSMoreheadCity/.