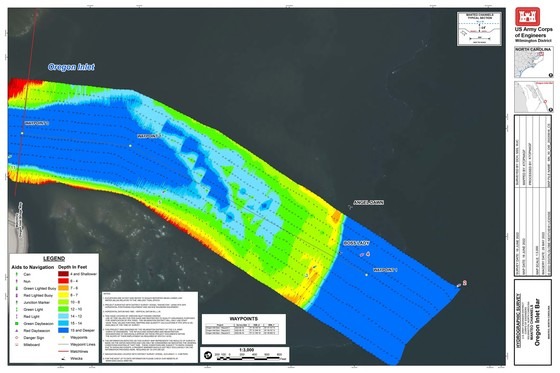 The U.S. Coast Guard (USCG) has realigned the channel for vessels through Oregon Inlet, after a May 2022 survey revealed that the previous channel on the east side of Bodie Island had become too shallow, per a recent update from the USCG.
M.J. Baer, U.S. Coast Guard Captain of the Port, released the following Marine Safety Information Bulletin on Wednesday, June 15, regarding the realignment:
A U.S. Army Corps of Engineers survey on May 19, 2022, identified severe shoaling spanning the width of the channel between Oregon Inlet Buoy #4 (LLNR 27990) and Oregon Inlet Buoy #6 (LLNR 28003), indicating depths as low as 4 feet at MLW.
As such, the existing Oregon Inlet Channel along the east side of Bodie Island and northward out to sea is no longer viable to safely mark or maintain with aids to navigation. These conditions have prompted the U.S. Coast Guard to disestablish the previous channel and establish a new channel northeast of Pea Island.
The U.S. Coast Guard will begin moving the larger seaward buoys on June 16, 2022, to the new entrance located to the northeast of Pea Island. The remaining smaller buoys will be relocated and/or discontinued soon thereafter.
If you have questions, please email the Sector North Carolina Waterways Management Division at ncmarineevents@uscg.mil or contact the Sector North Carolina Command Center at 910-343-3882.