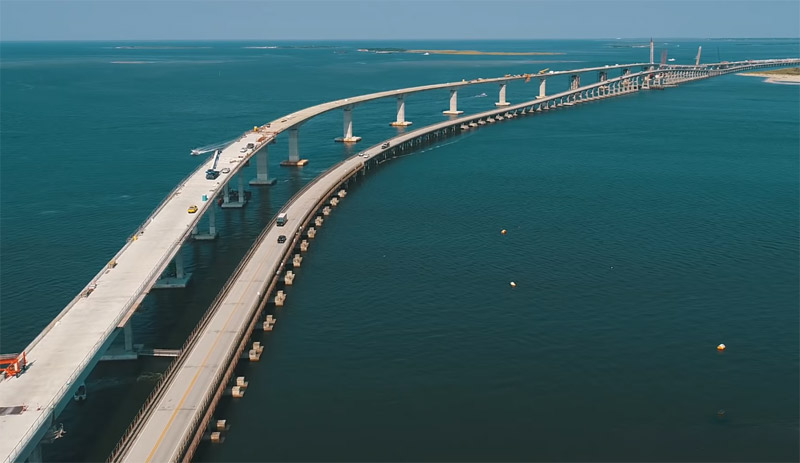 The Dare County Board of Commissioners (BOC) voted to name the bridge across Oregon Inlet the "Marc Basnight Oregon Inlet Bridge," at their February 4 meeting, however, they were unable to reach this decision unanimously, and an official name change is not a certainty.
The motion received three out of five votes, with Ervin Bateman, Chairman Bob Woodard, and Vice Chairman Wally Overman supporting the new name. Commissioners Steve House and Danny Couch opposed, and Commissioner Jim Tobin recused himself from the vote. (Commissioner Rod Ross was absent at the meeting.)
The vote initially stemmed from comments made at a January 7 meeting by County Commissioner Ervin Bateman on changing the name to honor the longtime Senator and Board of Transportation Member, Marc Basnight.
From there, an online form was created by the county to garner the public's input on a potential name change of the Bonner Bridge.
The results of the form were also in favor of naming the bridge after March Basnight, with 309 votes for Basnight, 266 votes for Herbert C. Bonner, and a handful of votes for other options, such as Oregon Inlet (74 votes) or Capt. Toby Tillet (64 votes), the original ferry captain over Oregon Inlet.
Commissioner Couch noted that he voted against the name change due to the feedback he received from his constituents on Hatteras Island. Commissioner House stated that he preferred the name Bonner-Basnight Bridge, per the Outer Banks Voice, which honored both individuals who had a role in building the original, or the new, bridge over Oregon Inlet.
Marc Basnight served as a Democratic member of the North Carolina State Senate for the 1st District from 1984 through 2011. Basnight was born in Manteo, and graduated from Manteo High School in 1966. Basnight chaired the Dare County tourism bureau from 1974 to 1976, was a member of the North Carolina Board of Transportation from 1977 to 1983, and is famed for his Outer Banks restaurant, the Lone Cedar Café.
Herbert Covington Bonner was a Democratic U.S. Congressman for North Carolina from 1940 until 1965. Born in Washington, North Carolina, Bonner served in the United States Army during World War I, and later as secretary to Congressman Lindsay Warren from 1924 to 1940. He served for twelve full terms in Congress until his death on November 7, 1965, and along with Warren, promoted the building of the bridge and the establishment of the Cape Hatteras National Seashore throughout his career.
The new bridge is slated to open by mid-February at the earliest, and a Community Celebration is scheduled for February 9, where the public will be able to walk on the new structure for the first time.