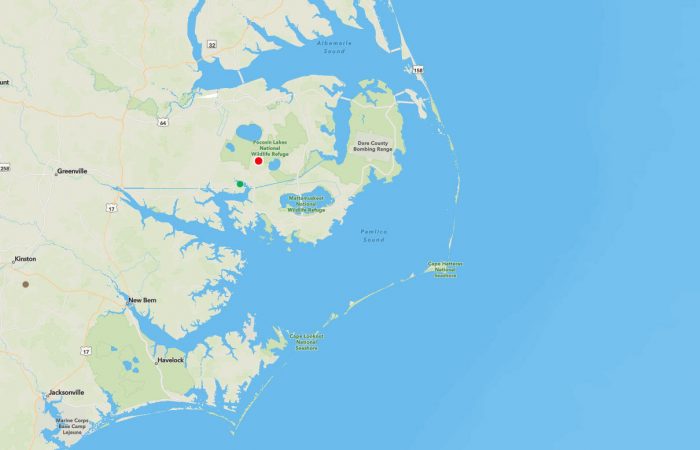 Work continues to extinguish a fire in mainland Hyde County which has resulted in visible smoke in the northern Outer Banks, and reports of smoke odor on Hatteras Island. As of Wednesday morning, June 22, the Ferebee Road Fire encompassed 615 acres and was 25% contained, per an update from the N.C. Forest Service.
"Smoke production is increasing daily, indicating ground fire is well established," stated the N.C. Forest Service in their Wednesday afternoon update. "Crews continue strengthening firelines and moving water to the area. Updated information will be shared as it becomes available."
The fire started at around 4:30 on Sunday afternoon, June 19, near the Ponzer community in Hyde County. Initially encompassing 500 acres, the fire grew on Monday to roughly 800 acres.
A representative of the Carolina Ranch in Hyde County, where the fire has burned an estimated 500-800 acres of the property, released additional details on June 20.  The ranch is a 15,000-acre farm with 80% of the land consisting of Peat Shrubland, and the site is managed as a carbon farm.
Carolina Ranch stated that the fire started as a result of a lightning strike, and the fire has remained within the 15,000-acre site. It has not spread to public lands, and no structures or injuries have been reported at this time.
The fire is being responded to by teams from the N.C. Forest Service, with support from the N.C. Fish and Wildlife Dept., Hyde County Emergency Management, and Hyde County Sheriff's Office.