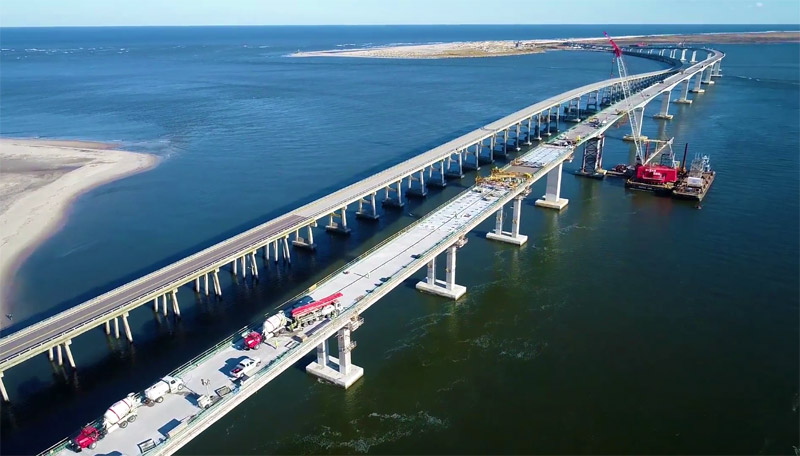 Community event planned for Feb. 9; Traffic shift expected in February
The new bridge that will replace the Herbert C. Bonner Bridge over Oregon Inlet is expected to open to traffic as early as mid-February, thanks to mild weather and an accelerated pace of activity by contractors.
"The list of work left to do is shrinking rapidly," said NCDOT Division Engineer Jerry Jennings. "It's now down to a matter of days."
NCDOT and local officials are planning an informal community day on Feb. 9 to celebrate the new bridge. Traffic is expected to be shifted in the days following the event. A more formal celebration for the new bridge is tentatively slated for early April. Details of the events will be announced at a later date.
The new bridge will replace the 55-year-old Bonner Bridge.
Contractors are currently installing guardrails and expansion joints as well as adding traction grooves to the bridge's deck, while workers from Cape Hatteras Electric Cooperative are finishing work to attach power lines to the new structure. Once all the finishing touches are complete, workers will paint lane markings on the new bridge and traffic will be shifted. After the new bridge is open, crews will begin dismantling the old bridge.
The opening date could still be pushed back by inclement weather or other factors, but engineers still expect the new bridge to open to traffic in February.
The Bonner Bridge Replacement Project began in March 2016. The new $252 million bridge is 2.8 miles long, 90 feet high at its apex, and is designed for a 100-year life span.
For real-time travel information, visit DriveNC.gov or follow NCDOT on social media.