Have A Weather Plan
Outer Banks weather can be as wicked and mercurial as it can be lovely, a reality that at times is overlooked by eager brides-to-be.
Situated as they are near the Gulf Stream, Hatteras and Ocracoke islands are especially vulnerable to the whims of fast-moving fronts and the wind and rain that accompany them. Not to mention hurricanes.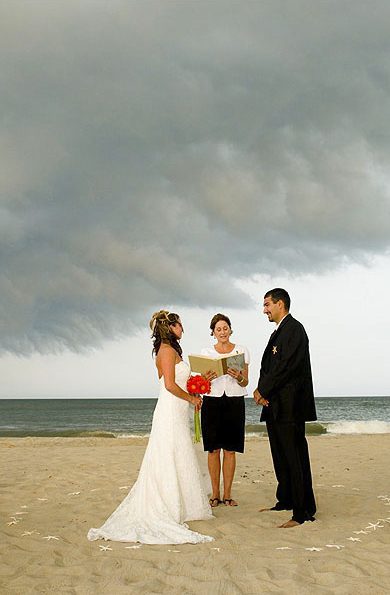 Buxton photographer Daniel Pullen took a shot of a groom two summers ago that perhaps best illustrates the need to plan ahead for unwelcome weather.
"As he was getting ready, he was looking at the TV with a Cat 3 off the coast," Pullen recalled.
Pullen, owner of Daniel Pullen Photography with his wife, Kate, said that less-than-ideal conditions can be the downside of getting married on the beach. But a little planning ahead can prevent disaster.
"When we're meeting with the bride and groom, we always lay that out," he said.
Besides the obvious worse-case scenario with a mandatory hurricane evacuation, there's the risk of ocean overwash and soundside flooding from a tropical storm or a nor'easter. Even if Highway 12 is not closed, it could be a challenge for an out-of-town bridal party that is unfamiliar with the effect of weather on road conditions.
Then there's the beach, which looks idyllic in those Internet photos, but as every Outer Banker knows, can quickly turn into a hostile setting for gatherings. From winds sand-blasting guests or ripping skirts into immodest angles to tides soaking the wedding party's feet, beaches can sometimes be a little too natural.
Brides always need to have an inside location available to locate the ceremony.
"People need to be aware, " Pullen said, "because we're out in the middle of the Atlantic and things can change in five minutes."
Kate Pullen added that more venues and event rental homes are now planning for weather by including pavilions.
Tropical systems unfortunately tend to brew off the coast around the same time that couples like to get married at the beach.  Wedding industry professionals on the Outer Banks keep a close eye on the weather during hurricane season and try to give their clients a heads-up if a system looks threatening.
John Harper, a Manteo-based wedding disc jockey, remembers one couple planning a Hatteras wedding who beat him to the punch when a storm threatened.
"A few days before," he recalled, "they said,  'We're going to move it to Wilmington'."
Then the entire celebration was relocated— photographer, minister, caterer, florist.
"They put us up for the night," Harper said. "It was a fun wedding."
But rain and wind are not all that can put a damper on an outside occasion.
"Once there is lightning, I'm done," Harper said, "because I can get zapped. The equipment can get zapped."
Sometimes a bride just doesn't want to hear that her dream wedding might need to adjust to the weather.
Hurricanes can Interrupt an Outer Banks Wedding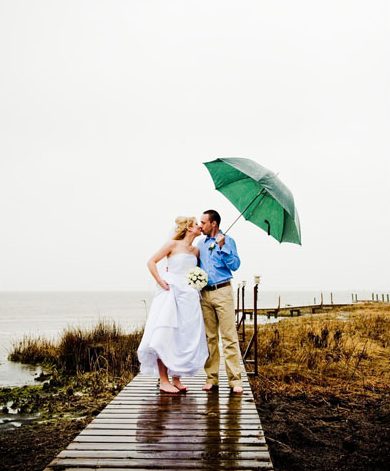 Although Sydnee Roberts Slaughter, owner of Sun Flowers Florist in Hatteras, told one bride that Hurricane Earl last summer looked like trouble, she said that the woman insisted she would go through with the wedding.
"I contacted her when she got to town and said, 'Do you have an alternate date?'" Slaughter recounted.
"And she said, 'For what?'"
"I said, 'Your wedding.'"
"She said, 'My boyfriend said it would be fine.'"
Needless to say, it did not turn out fine.  Slaughter said that, despite her numerous warnings to the bride, she still said she wanted her flowers and she was going to have the wedding.  With the event scheduled for the weekend, the flowers were delivered during the day on Wednesday, even as the storm lurked off the coast.
That night, the bride-to-be called Slaughter and informed her that the couple got married that afternoon and were leaving.
Apparently, someone in real estate management had advised the bride to stay, despite the mandatory evacuation that had been issued. But as far as Slaughter was concerned, she said she went "above and beyond" to do what the bride had wanted, and she declined to refund her for the flowers — which were wasted.
"It was just a mess," Slaughter said. "I don't know why they decided to go. Maybe they turned on The Weather Channel."
Florist Jinny McBride, owner of Every Blooming Thing in Frisco, had a different kind of Hurricane Earl stress. With 10 weddings on the schedule and her flowers already delivered, McBride scrambled to store the blooms in coolers at local markets. Meanwhile, her husband was cutting out the walls at her home to deal with 14 inches of tide.
As it turned out, McBride's effort paid off.  Each of the weddings —including two on the northern beaches — went off as planned.
McBride recalled another year when a storm affected two weddings, but thanks to the Outer Bankers' ingenuity and generosity, both had positive outcomes.
The reception was supposed to be held at the old Sea Robin Restaurant in Avon. Part of the wedding party was in Nags Head. The other part was on Hatteras Island. The ocean was across the road at Rodanthe.
So McBride gathered as many flowers as she could and handed them to the wedding group loaded into a vehicle that carried them through the overwash to Nags Head, where the wedding was held at a hotel. Deli trays from Seamark provided the food.
Back on Hatteras Island, McBride gave the rest of the blossoms to a local bride-to-be who couldn't afford flowers, and the Sea Robin gave her the food for the reception.
Passionate locations can mean passionate weather, and McBride said she always warns a destination wedding party to have an alternate location, such as a church.
"I tell them anyway, even when it freaks them out," she said. "And they all want beach weddings, of course."
Bonnie Williams, owner of Hatteras Wedding Ministries in Avon, said that about 80 percent of the weddings she conducts are held on the ocean beach or the sound.
Williams said she advises brides and grooms with a big guest list to make sure they rent an "event house" as a backup, otherwise they risk paying a large fee to the rental agent if there is surprise weather.
In the four years Williams has been marrying couples, she said there have been only two times where everyone had to go inside. That doesn't mean, however, that there weren't issues with the weather, especially wind —chilly, salt-laden, or whipping.
"But for the most part," Williams said, "it just amazes me that when the couples come over the sand dune, they're just happy."