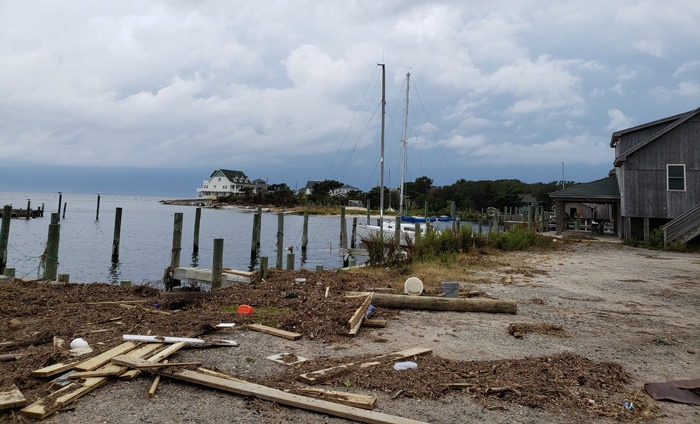 This will be a brief blog, because at the Island Free Press, our work is currently better spent providing as much updated info as possible on the status of services, reentry to Hatteras Island, and where to go to get help.
In that vein, if you know of any resources available to residents of Hatteras or Ocracoke islands that have NOT been listed in our regular updates, please let us know. We are happy to share any essential information as needed, and appreciate any insight as new streams of assistance and donations trickle in.
This is certainly no longer news, but we were hit hard by Dorian. This is especially true for southern Hatteras Island and Ocracoke Island.
Piles of ruined furnishings, appliances, and random debris are accumulating along the sides of N.C. Highway 12, as well as all of the roads that spider-web from our main highway. Big clumps of brown grass and scattered dead fish are everywhere. Despite the heat, household doors are wide open to air out that cat-urine smell that always accompanies flooding, days after a storm departs.
I could write thousands of words on our current local landscape that would make anyone's heart sink into their stomach.
But I could also write an equal number of words on the sheer generosity and resilience of our community, as well as the generosity of folks who feel connected to our islands, despite living hundreds of miles away.
Stop by any of our local fire departments on Hatteras Island, and you'll see exactly what I mean. (The Buxton Fire Station is the lone exception, and this is a strategic move so that there's a station that can immediately respond to a fire, with no possible delay.)
The fire stations on Hatteras Island are hotbeds of activity right now. Hatteras Island CERT members, Cape Hatteras United Methodist Men, and other organizations and everyday volunteers are doling out supplies, and sitting down with residents one-on-one to determine how they can best help with their needs. New volunteers are stopping by regularly to offer to clean out sludge-filled homes and yards, and cleaning kits and other essential supplies are compiled in stacks, and are readily available to anyone who needs them.
But the generosity extends well beyond our natural inlet borders.
Throughout the island, and even in villages that were hit especially hard by Hurricane Dorian like Hatteras village, Hatteras Island residents are looking to the south, and are collecting supplies to shuttle over to Ocracoke via boats.
In fact, at the Hatteras Village Fire Station, volunteers are collecting detailed lists of items that are truly needed in Ocracoke – like storage totes and boot socks to relieve wet and blistering feet – and are making an island-wide plea to drop these items off at the station as soon as possible.
Keep in mind that these people in Hatteras village who are asking for Ocracoke donations are local folks who suffered nearly six feet of storm surge, and who should justifiably be looking at what needs to be done at their own homes to fully recover.
But they're not doing that. They are "counting their blessings, because things could have been worse," as more than one Hatteras resident has told me today, and they are more worried about the Ocracoke residents – many of whom they have never met.
Sadly, storm recovery is a scenario that we have all been through before. This collective experience with devastating storms, (as recently as 2016's Matthew), may explain our islanders' salt-in-the-veins response to just forget about their own clean-up efforts, and to instead focus on other people who may need help even more.
But if that's not a mindset to be proud of and grateful for, I don't know what is.
We bounce back. We always do. And I truly believe that our ability to bounce back is because of this "help our neighbors first" philosophy that's just inherent in our community, and which is currently and blatantly visible in every single village on Hatteras Island.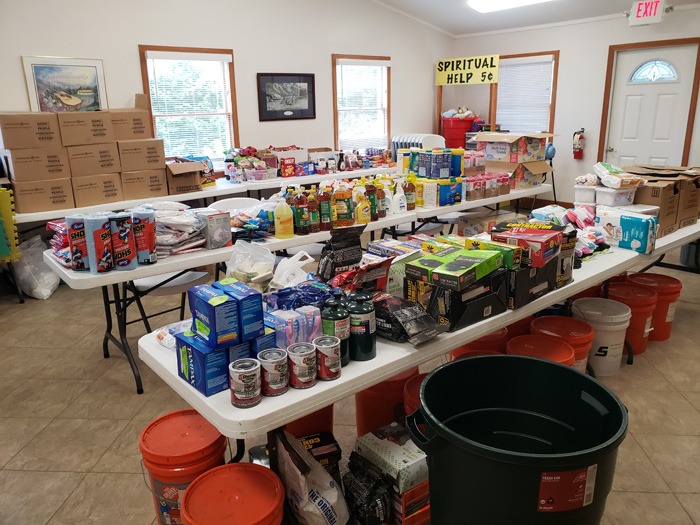 On a personal note, I took a ride through Avon Village today – (Kinnakeet is my hometown) – and it was devastating to see the trash, and the water, and the overall landscape of mud and brown. Like every other storm, I had a moment where I thought to myself, "How will we ever get past this?"
And then I stopped by the St. John's United Methodist Church in the heart of Avon village, and saw the clean, spacious room that was overflowing with supplies for anyone who stopped by. All of the essentials were there, (like bleach, trash bags, and cleaning products), but so were boxes of food, feminine products and toiletries, and even Girl Scout Cookies – which is a must when you are eating your feelings, and are in desperate need of comfort food.
During my brief visit, Pastor Gina Miller asked me to please share with the public the availability of all of these supplies, so that residents knew that help was right around the corner, and they could help themselves.
It takes a village to recover after a storm. But we're lucky, because we don't have just one village helping to clean up Hatteras Island – we have seven, and they're firing on all cylinders.
Granted, at this moment, our island residents are exhausted. They are physically and mentally drained. The adrenaline-fueled and terrifying experience of riding out a storm like Dorian is never the end of the story, and it's followed by days and weeks of wondering what to do next, and how on earth to get back to normal.
But we will get back to normal, because we live in a place where helping your neighbor isn't just a good idea – it's an everyday practice.
So when you start to get depressed and anxious about what has to be done, please, go and get help. It's waiting for you, right now, and our community wants you to take advantage of what's available. After all, this generous community mindset doesn't work if the people who need help do not ask for it.
We're proud, and we like to take care of things ourselves, for sure. No shame in that. But please, remember that there's also no shame in asking for assistance when you need it.
So go to your local fire department or church, (the Frisco Fire Department is an especially good spot to start), and get the resources you need.
We'll get through this, because we always do, and because it's my personal belief – as trite as it sounds – that we live in the strongest, most generous community on earth.
I don't know about you, but that's the exact reason why I have lived here for 25+ years, and have absolutely no intention of leaving, come Hell or high water… (likely, high water.)