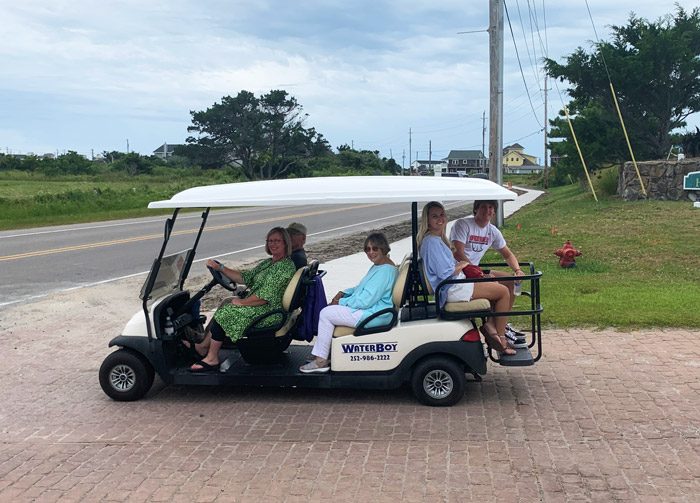 The Outer Banks is breaking records when it comes to visitation, and this is a trend that has been going strong for months.
The first six months of 2021 saw the highest number of visitors to Hatteras and Ocracoke Islands since data started being collected decades ago, and this popularity shows no sign of slowing down. Do a search for vacation rentals in the weeks and months to come, and you'll find that the island's major vacation rental companies are almost fully booked until October.
In many ways, this is a wonderful problem to have.
For one thing, it's lovely that so many people have realized how inherently awesome we are. In the last several months, I have chatted with first-time visitors from New York City, Chicago, Boston, and even Los Angeles, who told me that they saw the Outer Banks highlighted in a national news article as the best spot to visit during a pandemic, so they decided to check it out for themselves.
For what it's worth, out of the 20 or so people I talked to who fit into this category of "Big City First-timers," only one said that they wouldn't return, and that's only because our entertainment, food, and Uber options after midnight are somewhat lacking. Clearly, we are not a bustling metropolis, but the other 19 folks said that they are definitely coming back, and likely again and again, in the years to come.
This influx of visitors is a boost to our businesses, which can expect to welcome customers well into the fall, barring a hurricane. (I am knocking on my old wooden head as I type this.)
It's also a boost to our real estate prices, our prestige, and our reputation as one of the best vacation destinations on the East Coast. Most of us already knew that we are an amazing place to visit, but it's nice that the rest of the world is starting to catch on as well.
Of course, newfound notoriety brings new challenges, and this somewhat unexpected boom in our population has brought some issues, which is an understandable development when a sleepy community becomes a tourism hot spot.
Business is booming, but the staff shortage is the worst it has been in years, (if ever), and folks who are already used to working hard during the summer months are now in the midst of a season with 12-hour days and no time off.
In addition, you can expect a little more of a wait wherever you go. Whether it's the grocery store, your favorite restaurant, or even the post office, there's a solid chance that there will be a line in place when you arrive.
But one of the biggest issues that we've heard about in recent weeks at the Island Free Press is the influx of traffic.
With a new wave of visitors that changes weekly comes a new wave of people who are obviously unfamiliar with our sometimes-unusual traffic laws, and who need a little time to adjust.
On Saturday afternoons, when folks are traditionally arriving for a weekly vacation, stop-and-go traffic can extend from the village of Salvo to Pea Island and beyond. And while this steady stream of traffic may get spread out throughout the island in the days that follow, it doesn't really subside.
And this is when living on an island can get really, really annoying.
I should preface anything that comes next by admitting that I am a horrible driver. I got my driver's license in Massachusetts at the age of 16, two years before I moved full-time to Hatteras Island, and during my road test, I ran a stop sign and constantly went 10 miles over the speed limit. My designated tester gave me a barely-passing score, as well as a driver's license, and he told me I'd get better with time. (He was wrong.)
Also, as a born-and-raised Yankee driver, I have an inherent need for speed… (Within the legal limits, of course, although my North Carolina driving record may suggest otherwise.)
So it is ridiculously frustrating, (at least for me personally), to consistently drive under 40 mph from Avon to Hatteras or Nags Head, or to wait for three minutes or more to make a left turn on N.C. Highway 12.
But the fact is that, right now, there are a lot of people on the road, and it's time to slow down and pay more attention.
There have been several incidents on the Outer Banks recently involving pedestrians or cyclists being hit by vehicles, including one just north of Avon that occurred in June, and these accidents have the potential to be avoided if more people – visitors and residents alike – have a better grasp of the local rules of the road.
So with that long and super unnecessary introduction in mind, below is a list of the major rules that newcomers and residents alike should be aware of to keep our roads, (namely N.C. Highway 12), a safer place to be for all travelers involved.
For vehicles: Please adhere to the rules of crosswalks and passing on the right… Especially passing on the right.
On N.C. Highway 12, it is mandatory to stop at any and all crosswalks if pedestrians and bicycles are attempting to cross the street.
Arguably more important, it is also against the law on Hatteras Island to pass on the right. I know it's commonplace in the rest of the world, but keep in mind that on our island, we have an influx of bicycle and pedestrian traffic that is continually on the side of the road through every village. When you pass on the right, you run the risk of hitting one of these folks, which has historically happened more than once.
So if someone is turning left, and you are behind them waiting to continue on your way, just wait.
This is a big pet peeve for locals, and you'll save yourself a lot of grief if you just forego the passing-on-the-right maneuver during your island vacation.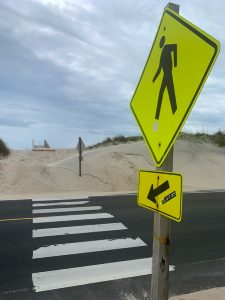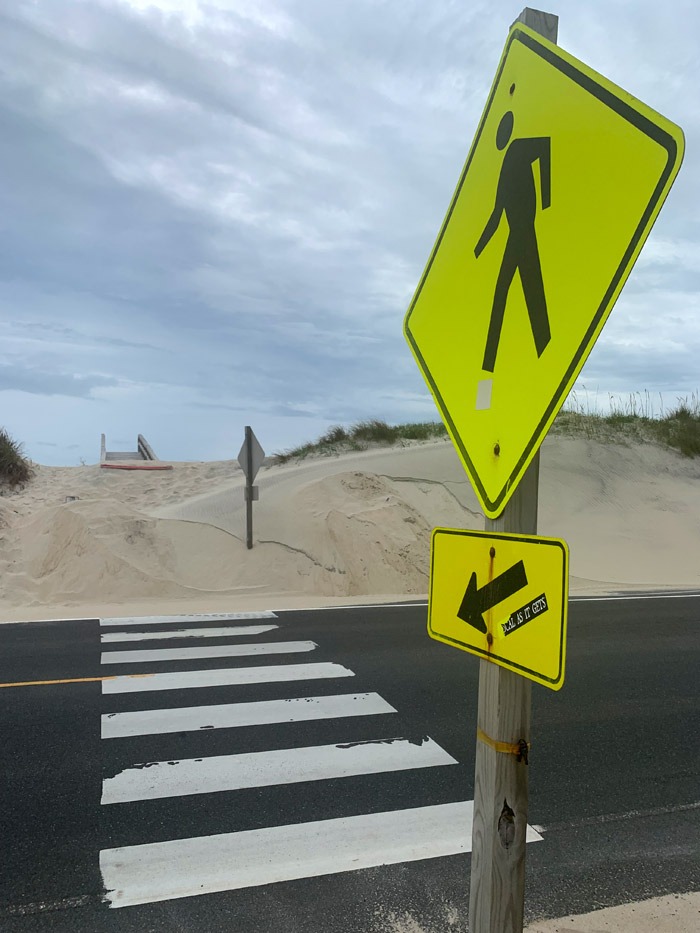 Hey pedestrians and bikers, there are rules for you, too…
The Outer Banks has a variety of multi-use pathways that allow cyclists and pedestrians to steer clear of the highway. Specifically, these pathways are located throughout the Tri-villages, Avon, and most recently, Hatteras village. (There are plans in the works to add a pathway in Buxton and Frisco as well, but no timeline yet on when it will come to fruition.)
Always use crosswalks when crossing N.C. Highway 12, whenever possible, and make sure all traffic is stopped before you start hoofing it across the street. Vehicles aren't always paying attention, and/or might not be aware of the "stop at the crosswalk" rule.
Pedestrians should always travel against traffic, per Dare County and N.C. laws, while bicyclists must ride in the same direction as traffic.
In addition, while there is no law that requires bicyclists to ride single file, there is also not a law that gives cyclists the right to ride two or more abreast. So just keep this in mind, and ride responsibly and courteously, so that cars may pass safely.
When riding at night, equip your bicycle with a front lamp visible from 300 feet, and a rear reflector or flasher visible from a distance of 200 feet. Lights are required by law from sunset to sunrise and when there is insufficient light to clearly see a person on the highway 400 feet ahead, and that pretty much describes all of Hatteras Island. (General Statute 20-134.e)
Bicyclists and bicycle passengers under the age of 16 are also required by law to wear a helmet securely fastened to their head by straps. (General Statute 20-171.7b)
Finally, bicyclists must yield the right-of-way and avoid colliding with pedestrians who are walking on a roadway, sidewalk, walkway, or in a crosswalk. Also, bicyclists should not pass a vehicle that is stopped at a crosswalk to permit a pedestrian to cross the highway. (General Statute 20-173 and General Statute 20-174)
OK, golf carts, it's your turn –here are the rules, and where golf carts are legal on Hatteras Island.
In 2010, the Hatteras Village Civic Association presented a measure to regulate golf carts to the Dare County Board of Commissioners. The ordinance was passed that summer, and since then, golf carts have been allowed on all streets and roads in Hatteras village west of and including Austin Road and Austin Lane, in areas where the speed limit is 35 mph.
Hatteras village is certainly the most golf cart-friendly village on the island, which is also why it easily has the most carts cruising the streets.
But in addition to Hatteras village, there are other areas of Hatteras Island where golf cart use of any kind is allowed. These areas include the following:
Golf carts may be operated in the Village of Avon on the followings streets where the speed limit is 35 mph or less:

Harbor Road west of North End Road and the streets connected to Harbor Road located west of North End Road.
The streets connected to North End Road, McMullen Road, Reef Drive, Old Main Road and Williams Road. (Adopted 12-2-2013)

Golf carts may be operated in Waves village in the St. Waves subdivision on Sea Vista Court and Sea Vista Drive, where the speed limit is 35 mph or less. (Adopted 8-1-16)
So the above areas are legally solid for golf carts, but wait, there's more!
Because throughout Hatteras Island, golf carts of all varieties may also be used on streets which are not state maintained.
Essentially, on the street sign, stop sign, or other signage on the end of a street, a state-maintained road will have a four-digit number listed. A private road will have no number visible on the sign, and may even have more decorative designs which indicate that they are part of a private community.
For example, in Avon, the soundside area of Kinnakeet Shores is primarily comprised of private roads, while the oceanside portion of the subdivision, or Ocean View Drive, is a state road. And technically, in communities that have private roads on both the soundside and oceanside, it would be illegal to use N.C. Highway 12 to cross from one portion of the subdivision to another. It should also be noted that golf carts are not legal on federal property, (aka NPS land), like Lighthouse Road, which leads to the Cape Hatteras Lighthouse and Cape Point.
And there's also one more layer to the complicated web of golf cart regulations, because street legal golf carts, (or golf carts that have been properly licensed, are insured, and have all required safety equipment), can be used pretty much everywhere, including N.C. Highway 12, so long as they stay in 35 mph zones.
So suffice it to say, with the exception of designated areas which have concrete rules in place, the rules surrounding golf cart use on the island are complicated. It varies from street to street, and from cart to cart, and it can be hard to identify from a glance whether a golf cart is operating within local and state laws, or if it's skirting the rules.
As a general rule of thumb, if you're cruising down a state road and your cart isn't licensed, (and you're not in Hatteras village), then there's a pretty good chance that you are doing it wrong.
The bottom line…
It's completely OK if you're new to our island, and are unfamiliar with any or all of these rules – our inherent uniqueness that drew national attention in the first place also includes traffic regulations.
So when in doubt, just go with as much common sense as you can muster. (I know my common sense tends to be in short supply, but you got to work with what you have.) Take it slow, pay attention, and just be courteous when facing the crowds – both on and off the road. Hatteras Island is bursting at the seams with visitors right now, but it doesn't have to be an unpleasant phenomenon, so long as everyone adheres to a bit of patience. There's always an empty stretch of beach somewhere when you need to get away from it all, as well as a 3,000-mile-wide body of water on the eastern edge of N.C. Highway 12 that you can jump into whenever you get overwhelmed. (I believe it's called an "ocean.")
People are perpetually discovering how amazing our island is, and generally speaking, that's a great thing. So let's ride out these growing pains, and enjoy our busy summertime and storm-free landscape for as long as it lasts.
Stay tuned: We'll be doing an upcoming blog on rules of the road for Ocracoke Island, too, in the not-so-distant future.