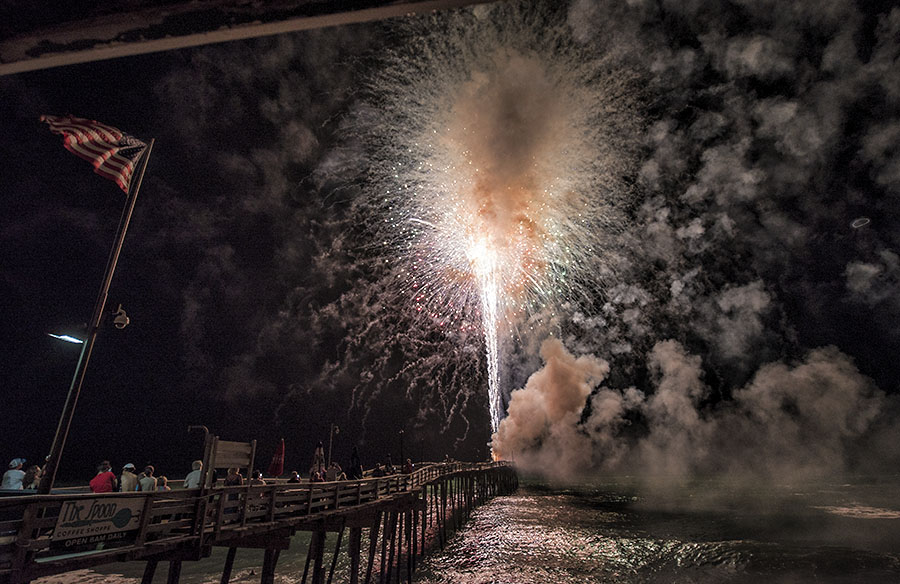 Independence Day is just around the corner, and there are a number of patriotic events lined up on Hatteras and Ocracoke Islands to celebrate the holiday. A closer look at the festivities is listed below by community.
Avon
The Avon Fishing Pier will once again host the fireworks display on Hatteras Island, which is scheduled to launch on July 4.
The fireworks display, permitted by and in cooperation with the National Park Service, will begin about 9:15 p.m. from a launch site at the end of the pier.  The ensuing show, orchestrated and presented by PYROTECNICO, lasts about 20 minutes.
Avon and Hatteras Island's annual Independence Day celebration is sponsored by the Avon Property Owners Association and funded in part by the Outer Banks Visitors Bureau. This event is additionally made possible through donations from the Hatteras Island business community and its residents, property owners, and guests.
The fireworks are visible all along the Avon beach and parking adjacent to the launch site is limited, so visitors are encouraged to walk, bike or carpool to their closest beach access.
In addition, the adjacent Koru Beach Klub will be hosting an Independence Day Party with the Tom Petty Tribute band Southern Accents. Tickets and details can be found online at http://www.koruvillage.com/tickets-events-koru-beach-music/.
Hatteras Village
7th Annual Golf Cart Parade.
Hatteras Village's celebration will launch Thursday evening with the 7th Annual Golf Cart Parade. Any and all golf carts are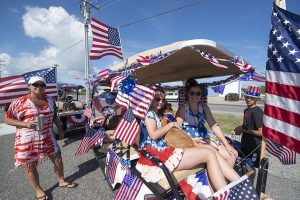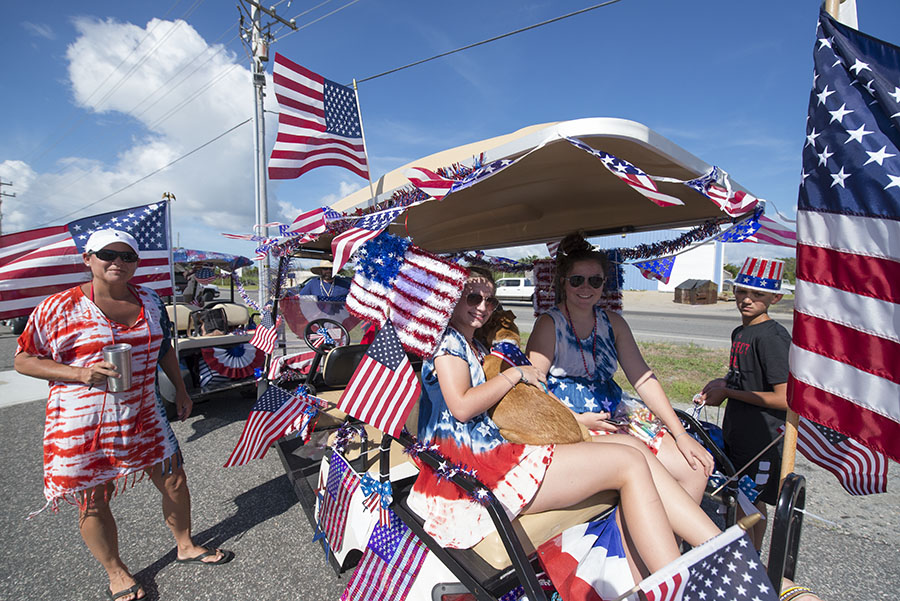 welcome, and participants are encouraged to deck out their cart with plenty of patriotic flair.
Email hatterasevents@yahoo.com to join or just show up at Teach's Marina by 5:15 p.m. The Golf Cart Parade is free to enter, and spectators can watch the fun along N.C. Highway 12 from the Teach's Marina to Eagle Pass Road.
Community Cookout and Free Concert
Hatteras village residents and visitors alike are invited to come get a fresh-off-the-grill burger or hot dog at a free community cookout at the village center immediately following the parade at 6:00 p.m. Chips and drinks will also be available, as well as optional additional beverages for purchase. A free concert will also be held from 6 p.m. to 8 p.m. with local musician Mary Joy McDaniel.
Virtual Fireworks
They're not real, but the experience is! Hatteras village will be projecting a fireworks display outside for all who desire the experience but don't feel like leaving the peace of Hatteras Village to seek it. All post-parade events take place at the village center in the heart of Hatteras village.
Hatteras Island-Wide
Radio Hatteras will broadcast patriotic "Music for Fireworks" from 9 until 10 p.m. and "Red, White & Blue" music until Midnight at FM 101.5 in southern Hatteras Island and 99.9 in northern Hatteras Island.  Tune in at 9 p.m. to hear about the origin of fireworks and offer a brief history lesson about the celebration of Independence Day, then watch the sky light up to a very familiar Galactic tune, followed by a selection of patriotic music. To stream Radio Hatteras live on your computer, go to www.radiohatteras.org.
Ocracoke Island
Ocracoke Island boasts a multiple-day celebration for Independence Day, and the festivities kick off Wednesday, July 3, with the famous Ocracoke Square Dance and a fireworks show over beautiful Silver Lake Harbor. The fun continues July 4 with a full day of activities, featuring the Sand Sculpture Contest, newly-added island-wide scavenger hunt, a traditional hometown parade and then back by popular demand—a Glow-in-the-Dark Laser Effects Show and Dance Party. Festivities conclude Friday, July 5, with a Community Beach Bonfire finale.
July 3
Wednesday, July 3, begins with a traditional Ocracoke Island Square Dance with caller Philip Howard at the Berkley Barn from 6 to 8 p.m. with music from band Molasses Creek. At 8 p.m., Emerald Owl Productions' deejay will spin dance tunes and patriotic songs at the NPS docks for the pre-fireworks gathering.
At 9:15 p.m., a spectacular firework show will be launched from the large National Park Service parking area (closed for the fireworks), located at the southern end of the island. Hyde County sponsors the show in conjunction with the Ocracoke Civic & Business Association and the National Park Service. Spectators are encouraged to arrive early and gather anywhere around the harbor for awesome waterside viewing.
July 4
The celebration continues Thursday, July 4, with events scheduled throughout the day:
8 to 10 a.m.: Meet "Captain," the newest stallion at Ocracoke's pony heard at the NPS Pony Pens. Public can feed the rest of the herd and also view ponies from another deck.
9 a.m.: "Flag Raising and the National Anthem" – Ocracoke School Flag Circle on School Road
9:30 a.m. – Noon: "40th Annual Sand Sculpture Contest" at the NPS Lifeguard Beach, with cash prizes. Register online at: http://business.visitocracokenc.com/form/view/17195
10 a.m. to 2 p.m.: "Classic Car Show" – on the Pony Island Lawn, sponsored by Jimmy's Garage
10 a.m. to 2 p.m.: "Ocracoke Lighthouse Viewing" – all are welcome to see inside; no climbing.
10 a.m. to 2 p.m.: "Scavenger Hunt" – compete individually or as a team throughout the entire village. Start at the Books to Be Red stage.
4 p.m.: "Old Time Independence Day Parade" – featuring a procession of floats, walkers, decorated golf carts and bicycles. This year's theme is the "Enchantment Under the Sea." Ms. Julia Hutcherson, longtime owner of the Ocracoke Variety Store, will be the grand marshal. All are welcome to enter the parade to vie for cash prizes. Register online at: http://business.visitocracokenc.com/form/view/16664.
5:30 p.m.: "Awards presentation for Parade and Sand Sculpture Contest" – Books to be Red lawn
5:45 to 6:30 p.m.: "Storytelling with Donald Davis" – Books to be Red lawn
7:30 to 11:00 p.m. "Glow-in-the-Dark Laser Show and Dance Party" – Ocracoke Community Park. For all ages! Wear your glow-in-the-dark gear and dance to music from the last five decades, all with laser special effects, games, contests, giveaways and fun for all ages. Foam party: 7:30 to 9 p.m.; Ocra-Glow: 9 to 11 p.m. $7 admission. Glow items and concessions will be available for purchase. Partial proceeds benefit Ocracoke Youth Center. Rain date is July 5.
July 5
Friday, July 5, join in the finale event at the "Community Beach Bonfire Under the Stars" from 7 to 9 p.m. at the Ocracoke Day Use Area/NPS Lifeguard Beach. Bring your beach blankets, chairs, marshmallows, roasting sticks. S'mores will be provided for first 80 attendees.
Plan your visit at www.visitocracokenc.com, the official website for Ocracoke Civic and Business Association. For information about the ferry schedules and fees, please visit ncdot.gov/ferry.