Red hot winter OBX real estate market
Normally in January realtors and others associated with the business of real estate get to take a breather. Sales would have cooled off, much like the weather. Those thinking about selling in early spring are getting their properties ready and inventory is ramping up. Not this year!
January unit sales were up 81% over last year, 324 versus 179 in 2020. Residential sales were up 73%, the highest number of unit sales and total volume since… well… ever! Lots and Land were up 125%, the highest since 2006.

Available inventory, instead of ramping up, continues to diminish with total inventory down 51%. Lots/land is down 26%. Residential inventory is down 67% compared to last year, 70% from two years ago. In January of 2019, there were 1,496 residential properties on the market compared to 447 in 2021.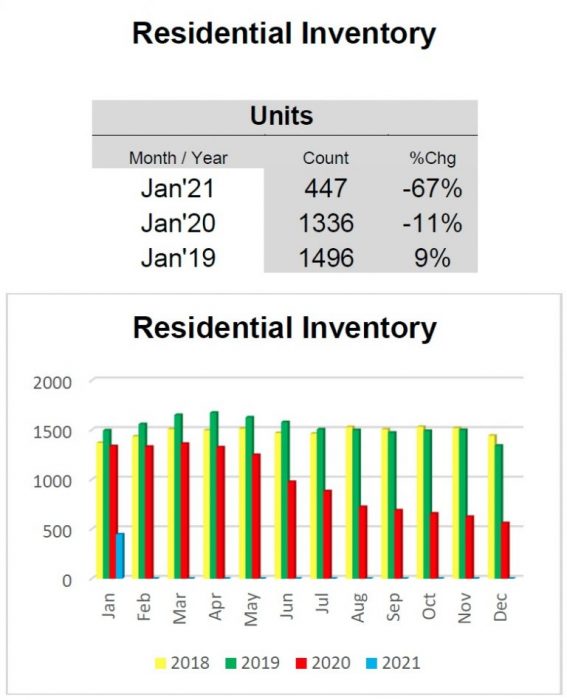 Properties are going under contract very quickly; in certain price ranges, when priced correctly,  in a week or less. Many of them end up in multiple offer situations. Quite a few are all cash. Some are waiving appraisals. Many people have the idea that this is an easy market for sellers to navigate. Experts will tell you it is not. One of the difficult aspects for sellers is weighing the multiple offers to see which one is the best for them, and it is not always the offer with the highest price.
For buyers, it is being realistic with what you can afford, making the offer as clean as possible by reducing/eliminating contingencies, and patience. You may need to have certain contingencies to meet your goals.
Your REALTOR is the person you should turn to for expert advice whether you are buying or selling. They can guide you through the process and help make sure your real estate goals are met.
Here are the residential sales stats for the individual areas. Yearly sales, in this case just January, are:
Up 76% in Corolla – Median Price up 35% to $644,500
Up 20% in Duck – Median Price up 40% to $735,000
Down 36% in Southern Shores – Median Price up 29% to $540,000
Up 225% in Kitty Hawk, 13 homes vs 4 last year – Median Price down 10% to $355,000
Up 200% in Colington, 18 homes vs 6 last year, Median Price down 21% to $318,450
Up 68% in Kill Devil Hills – Median Price up 21% to $375,000
Up 150% in Nags Head – Median Price up 71% to $565,000
Up 121% in All Hatteras – Median Price up 21% to $393750
Up 25% on Roanoke Island – Median Price up 49% to $480,000
Up 91% Currituck Mainland – Median Price up 14% to $315,100
Up 100% on Ocracoke, 1 home vs 2 last year – Median Price up to $411,250
Information in this article is based on information from the Outer Banks Association of REALTORS® MLS for the period January 1, 2019, through February 5, 2021.
Mike is a long-time "Outer Banker", both as a vacationer and a full-time resident. You may also know him as "Moose", his nickname since he was 15 years old, and his on-air radio name for decades in Raleigh, Greensboro/Winston-Salem, Norfolk, and formerly on Beach 104 every morning on the "Moose & Jody Show" for over 14 years. Michael has built successful businesses on the Outer Banks. He is active in the community as well as a founding board member of "Outer Banks Forever", Past President of "The First Flight Society", a founding member of "The Outer Banks Bicycle & Pedestrian Coalition", and Past President and current member of "First Flight Rotary. Moose shares your love of the Outer Banks and understands the uniqueness of the area. Learn more at mooseobx.com