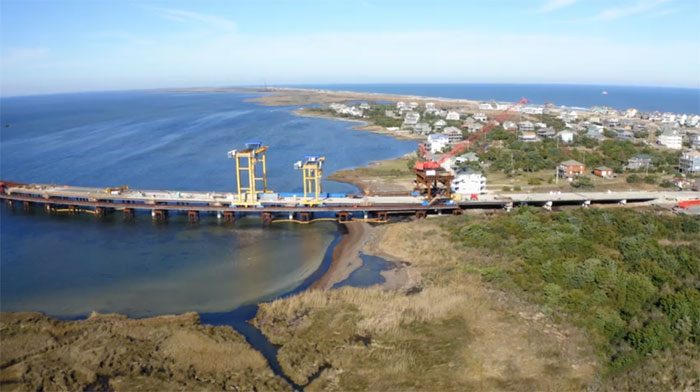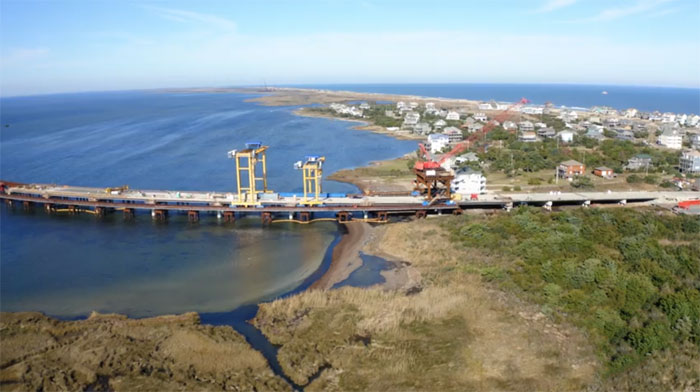 We're on the verge of a new decade, and as such, it's time for our annual wrap-up of stories to keep an eye on in 2020, which will likely pop up in the headlines in the weeks and months to come.
Most of these topics are leftovers from 2019 that are drifting into the New Year as well, but considering that it can take decades to build a bridge, (ahem), it should come as no surprise some of our most anticipated stories on the horizon are effectively reruns.
So with lingering topics in mind, (as well as bridges), let's start with one of the more obvious and hard-to-miss projects on Hatteras and Ocracoke islands.
The Potential Completion of the Jug Handle Bridge
2019 began with the opening of a new bridge, and 2020 may very well close the same way.
The 2.4-mile-long Jug Handle Bridge was 24% complete as of early December 2019, and progress continues rapidly on this final phase of the three-pronged Bonner Bridge Replacement Project.
Lane closures on N.C. Highway 12 could be more frequent in the future, as the first roundabout on Hatteras Island is constructed in Rodanthe. But per the most recent progress update from NCDOT Resident Engineer Pablo Hernandez, the Jug Handle Bridge remains on track for a late 2020 or early 2021 opening. Considering that this bridge bypasses the S-Curves north of Rodanthe, which is prone to flooding, this is a story that many islanders are going to follow closely until its completion.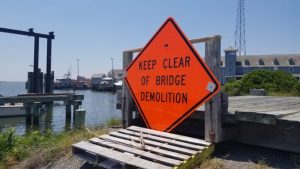 Bonner Bridge Demolition
As one bridge inches closure to completion, another one is disappearing from the Outer Banks landscape.
The demolition of the Bonner Bridge is yet another project that will continue well into the New Year, with an estimated completion date slated for mid-2020.  The discarded bridge material is being removed by cranes, and is being transported through Oregon Inlet by barge in order for the debris to bolster artificial reef sites near the inlet.
Not all of the Bonner Bridge will disappear from the Oregon Inlet scenery, however. 1,000 feet of the bridge on the southern end, (close to the existing pedestrian bridge), will remain standing to serve as a fishing pier and a pedestrian walkway for visitors.
So if nothing else, you can look forward to checking out the new "Bonner Fishing Pier" in the months to come, and hopefully just in time for the summer fishing season.
2020 Elections
Friday, December 20, marked the end of the filing period for the 2020 election cycle, and this November will certainly be interesting on a national level, as well as close to home.
Four of the seven seats on the Dare County Board of Commissioners (BOC) are up for grabs, although several incumbents are running unopposed, including Hatteras Island's commissioner, Danny Couch. More competitive races will occur between District 2 Republican representative and BOC Chair Bob Woodard, (who will face a general election challenge by Democrat Amanda Hooper Walters), and between District 3 BOC incumbent Steve House who will battle primary challenger Paul Wright, and eventual general election opponent Kathy McCullough-Testa.
The District 1 N.C. Senate race is also one to watch, with incumbent Republican Bob Steinburg facing off against Democrat Tess Judge, while District 6 incumbent Bobby Hanig, (who beat Judge in 2018 for his current seat), will have a primary challenge from Republican Rob Rollason, and a general election challenge from Democrat Tommy Fulcher.
Though the primaries are still months away, expect the local, state, and even national elections to be big stories come the spring, as well the fall.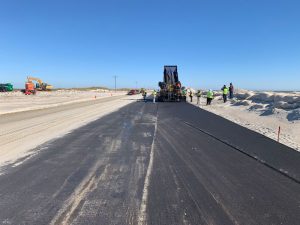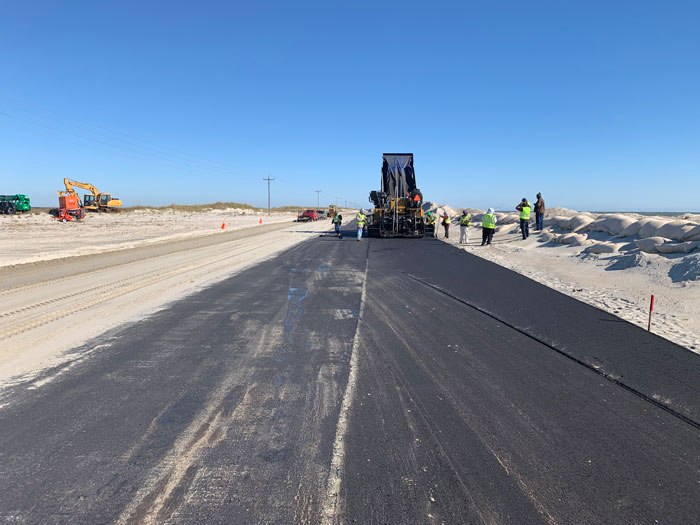 Ocracoke's Recovery
Though everyone on the islands would prefer to leave Dorian in the dust with 2019, Ocracoke Island still has a long ways to go towards recovery after this devastating storm caused roughly seven feet of storm surge on September 6.
Closing Ocracoke for nearly three months, the island is still in a perpetual state of clean-up and rebuilding, with many local businesses still working nonstop for a hopeful spring 2020 reopening.
But as Ocracoke Islanders have proven again and again in the months following Dorian, these islanders are hardy, tenacious, and they don't give up easily. This is exactly why the spring and summer months of 2020 may give us good news as more island businesses are able to rebuild and reopen their doors, and waves of tourists are able to return. And as local businesses, beach accesses, and other landmarks open, the Island Free Press will be delighted to write about their post-Dorian return.
Ocracoke Passenger Ferry's Second Season
The launch of the first-ever NCDOT passenger ferry, with service from Hatteras to Ocracoke, was not without its hiccups.
Originally scheduled to be in operation in 2018, construction issues with the state's own ferry resulted in the temporary use of an existing rental ferry in 2019, the M/V Martha's Vineyard Express, which was leased by the NCDOT Ferry Division from the New Jersey-based ferry company Seastreak Marine. Despite the unintended replacement, nearly 30,000 passengers rode the new ferry during its inaugural year, and the passenger ferry service will return once again for the summer season of 2020.
The only lingering question is whether the state's ferry will be completed come late spring, or whether another rental ferry will once again be used for 2020's seasonal operations. Though it's still too soon to tell, expect this answer to become clearer as we approach the summertime.
Erosion and Potential Solutions
Erosion and the regular flooding of N.C. Highway 12 is yet another story that we'd all love to leave behind with 2019, but which will likely pop up again with the next winter or spring nor'easter.
Alarmingly, with dunes breached in multiple locations during several nor'easters that hit Hatteras Island in the fall of 2019, the highway appears more vulnerable than ever for many longtime residents, and only time will tell if future weather conditions will naturally rebuild the beaches, or will cut away more from our already deteriorating shorelines. (As a scientist with decades of experience once eloquently explained, "southwest winds will build 'em up, northeast winds will tear 'em down.")
But in the meantime, there are other options being explored to address our pressing erosion issues.
Avon was recently granted up to $250,000 to perform a beach nourishment study to protect the vulnerable stretch of N.C. Highway 12 that borders Ocean View Drive, and long-term planning and talks will likely continue between local and state officials as the issue of protecting N.C. Highway 12 potentially becomes more pressing, and more immediate.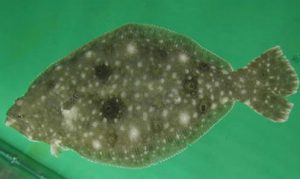 Southern Flounder Amendment 3, and Commercial Fishing Questions
Our commercial fishermen have spent years, if not decades, struggling with their backs against the wall, and unfortunately, 2020 will likely be no exception.
There are several management changes to pay attention to in the months to come, which includes two current and ongoing sets of proposed changes to reduce blue crab harvesting, and to reduce the bycatch of non-target species in shrimp trawling.
But the big doormat in the room is the upcoming Draft Amendment 3 to the Southern Flounder Fishery Management Plan, which will be in development for the majority of 2020, and will go into effect, per the current schedule, by May 2021.
Draft Amendment 2 to the Southern Flounder Fishery Management Plan, which was adopted in late August of 2019, placed a number of hefty restrictions on southern flounder fishing. But with the recent 2019 revival of the Dare County Commission for Working Watermen, there's hope that local fishermen will have more of a say in management policies going forward.
Looking Forward…
Now keep in mind that there are plenty more stories we'll be keeping an eye on for 2020 that we simply don't have the answers to yet.
Will this be the year that Hatteras village starts construction of its multi-use pathway? What about the new Dare County flood maps? What will the 2020 hurricane season bring, and will islanders be able to handle future storms with the same tenacity and saltiness that they have with all of the blows of 2019? (Spoiler alert: The answer to that last question is "yes.")
All of us at the Island Free Press look forward to diving into these questions and more in the year to come, (with the exception of hurricanes), and we assure you that we'll continue our founder Irene Nolan's tradition of passionately covering any and all stories that affect our islands.
In the meantime, here is hoping that the start of your year is full of joy, happiness, and – as always – no flooding or overwash. (You can read all about our collective exhaustion of the word "overwash" in our 2019 wrap-up here.)
Happy New Year!