How to Select the Best Grill for the Outer Banks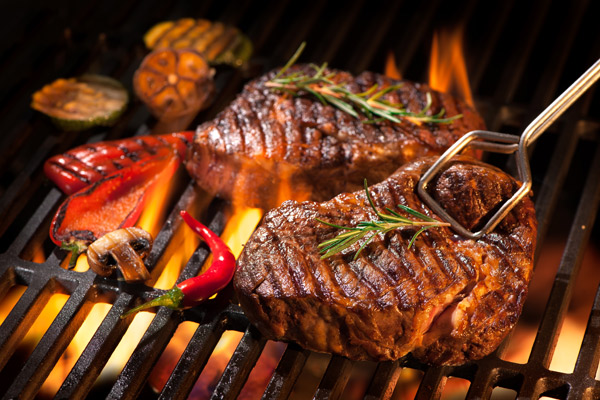 Summer is just around the corner, and for Outer Banks locals and visitors with taste, this means it's the official start of grilling season.
The Outer Banks is the perfect spot for grilling aficionados. The abundance of fresh local seafood tastes better over the coals, (or wood, or gas burner, or smoker), and a portable grill combined with a few burgers or hot dogs can turn a beach trip into an effortless barbecue party on the sand. Virtually all vacation rental homes offer grills on the premises for families who like to cook their own outdoor feasts, and even the Cape Hatteras National Seashore's campgrounds come complete with grill stations at every campsite.
The summertime on the islands arguably revolves around grilling, but newcomers may want to do a little research on the best grills for the Outer Banks before they start cooking.
So start your Outer Banks grilling expeditions by determining the best grill for your crew, and by examining your many options available.
Selecting an Outer Banks Grill
The type of grill you'll purchase and use for your Outer Banks culinary adventures generally depends on the length of your day. Vacationers will likely want to look at a quick and easy grill that can be used to feed the family during their OBX getaway, while residents will want to keep an eye on durability and ability to withstand regular exposure to the salty weather conditions.
Outer Banks Ace Hardware has grilling pros on hand, and all the top models on the market to make your decision a little easier. Big name brands like Weber, Traeger, Big Green Egg, Charbroil, Masterbuilt, and Pit Barrel are all available at your local Outer Banks Ace – along with all the propane, charcoal, accessories and seasonings you'll need to heat things up in no time.
But before you head to your local Outer Banks Ace Hardware store, brush up on your grilling know-how by considering the following options for Outer Banks visitors, residents, and budding grilling pros who want the very best.
For an Outer Banks Vacation…
There's nothing like a cook-out to spice up a family vacation, and a portable grill that can be easily packed away and taken to the beach may be an enticing option for visitors who want to spend ample time on the shore.
Small and portable grills are a solid option for short-term use, as they are very affordable and can feed a crowd. While they don't have a long lifespan, and may need to be replaced annually depending on use, their traditional charcoal nature makes them nicely versatile with a good infusion of smoky flavor. Briquettes and lump charcoal come in a variety of flavors to enhance varying foods, and lightweight and smaller grills, like the Weber Jumbo Joe Charcoal 18 in. W Black Portable Grill can easily be transported to the beach.
Outer Banks Ace Hardware also carries Park Grills. These are charcoal grills on a post that can be cemented into a bucket and placed outside in the sand.  Vacation rental home users tend to purchase these often, because they are affordable and disposable after a long season of usage on the beach.
TIP: Mix up your charcoals!
Like a strong bacon flavor? Need to feed a large crew on the beach? Consider the following flavor guide to help you determine the best charcoal for your Outer Banks grilling.
| Flavor Guide | | |
| --- | --- | --- |
| Wood / Charcoal Type | Characteristics | Best With |
| Hickory | Strong, smoky taste similar to bacon. | Any meat. |
| Mesquite | Spicy, distinctive smoke from Southwest. | All meats, especially ribs and lamb, and veggies. |
| Pecan | Similar to hickory, but milder and sweeter. | Nearly everything. |
| Apple | Sweet, fruity smoke taste. | Beef, poultry, wild game, pork. |
| Cherry | Slightly sweet fruit flavor. | Any meat. |
| Charcoal Briquettes | | |
| Pros | | Cons |
| Good to use when cooking for a large gathering or a lot of food | | Contains additives for a better burn |
| More consistent, longer burn than lump charcoal | | Leaves a large amount of ash for clean up |
| Can be left unattended for longer periods of time - great to use when smoking on the grill | | Takes longer than lump charcoal to get the fire going and be ready to cook |
| Cheaper than lump charcoal | | |
| Lump Charcoal | | |
| Pros | | Cons |
| Good to use when cooking for a smaller gathering | | More expensive than briquettes |
| Purest form of charcoal commercially available | | Burns faster |
| Wood burned without any oxygen | | Lump sizes are inconsistent, can contain many pieces in a bag that are crumbled and not usable |
| Leaves behind less ash than briquettes, less clean up | | Can sometimes pop, creating a fire hazard |
| Reaches a hotter temperature - good for searing , and ignites faster | | |
| Temperatures easier to control by adjusting oxygen | | |
For Outer Banks Homeowners and Residents…
Residents and homeowners will need to look beyond the small and portable grills, and instead examine grilling options that can last. Rental homeowners specifically can expect a lot of wear and tear to their grill throughout the vacation season, so having a sturdy grill that is also easy to use with little instruction is key. After all, you want your guests to be able to enjoy and efficiently use this amenity, without causing damage and without wondering how to use or clean your home's grill.
These grills are in the middle tier, and can range in cost from $80 to $1,000. They are more versatile with plenty of options, and tend to utilize either propane or charcoal, with brands like Weber, Pit Barrel and Traeger readily available. Best of all, regardless of whether you are a new cook or a grilling pro, these mid-range grills offer ample flavor and even cooking for your proteins without the hefty professional grilling equipment costs.
Rusty Midgett, professionally trained chef and owner of Rusty's Surf and Turf in Buxton, says that although these mid-tier grills tend to require a little practice before your cooking method is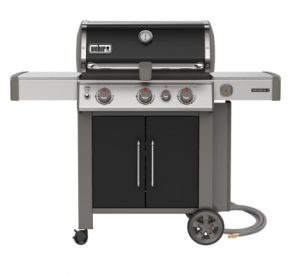 perfected, there are enticing options for not-yet grilling pros.
"Personally, I like the little Weber gas grills," said Midgett. "For a novice griller, it's pretty easy to control the temperature, and it has a pretty even temperature across the grill."
Available in different sizes, gas sources (natural versus propane), and even colors, the selection for mid-range gas grills is nicely varied and can accommodate homes of all varieties.
For a grill that's easy to use and that your rental guests will love, check out the Weber Genesis II E-325 gas grill.  New in 2019 and exclusively offered by Ace Hardware, this grill has three powerful
burners for even and exceptional cooking, and a 10-year lid to wheels warranty.
Just be sure and protect your investment from the salty air by purchasing an equally solid grill cover that can make sure your grill lasts for the long haul, without the rust that the corrosive Outer Banks environment naturally produces.
Tip: Keep safety in mind when grilling!
Grilling gone awry is one of the leading causes of fire calls on the Outer Banks in the summer months, so ensure that your grill has a safe location. Always keep your grill at ground level, and never grill on wood surfaces or exterior decks, where a fire can easily catch and spread.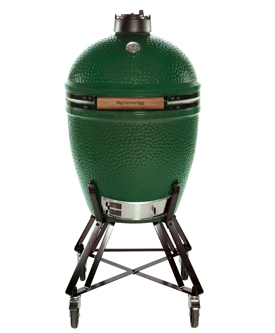 For the Budding Outer Banks Grilling Pros…
For some, grilling isn't just a fun way to cook or an occasional hobby – it's a passion.
Finding that perfect mixture of heat, time, marinade or rub, and cooking method is a continual puzzle, and when solved, the results lead to unparalleled taste.
A perfectly grilled or smoked piece of fresh Outer Banks fish is one of the most delicious meals in the world, and a budding professional will want to up the ante in terms of grilling equipment in order to achieve the best results.
Meet the top line of grills in the industry.
This range of grills last for five years or more, even in punishing environments like the Outer Banks, and this suite of grills and smokers use flavored wood pellets or propane to achieve cooking perfection.
Functionality is also expanded in this top tier of grills to include grilling, roasting, smoking or baking, with popular brands that are also preferred by the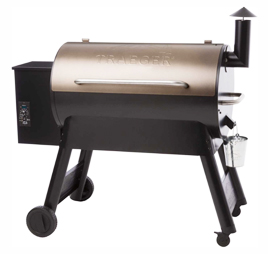 local professional chefs for heightened flavor, such as Traeger and Big Green Egg.
The key to determining the perfect top of the line grill is to keep an eye on versatility. Do you want to try smoking or another cooking method in addition to grilling? Do you want to branch out on your grilling adventures to include more unique grilling fare like vegetables, pizzas, or even smoky desserts? (TIP – grilled peaches with a little mascarpone cheese is a delicious and easy summertime dish!)
If the answer is yes, then this is the line of grills you'll want to explore first. For a brand that's both durable in the harsh Outer Banks weather and which can tackle a wide array of cooking methods and flavors, check out the Big Green Egg. Famous among novice and professional grill masters alike, the Big Green Egg is renowned as one the most versatile barbecue or outdoor cooking products on the market, with more capabilities than all other conventional cookers combined.
TIP: The Outer Banks is the perfect spot for a little smoke on the water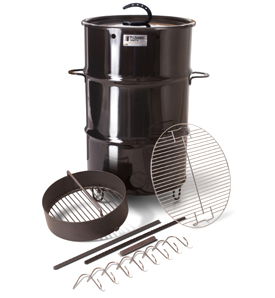 In Coastal North Carolina, smoking is king.
From vinegar-based Eastern N.C. barbecue to smoked fish from our local waters, smoking your proteins adds a depth of flavor with little effort
Outer Banks Ace Hardware's newest grill, the Pit Barrel Cooker, is a combination grill and smoker.  Unlike traditional grills which cook food from a single, direct heat source, the Pit Barrel Cooker's cylindrical shape and "Hook-and-Hang" method places the food in the center of the action, heating the meat from all sides at once, producing consistently great-tasting, perfectly cooked meat every time.  It is reasonable priced and very easy to use.
Grilling isn't just a popular summertime activity on the Outer Banks – for Hatteras and Ocracoke islanders, it's a family tradition.
So start your summer with ample great taste and plenty of reasons to enjoy the great sandy outdoors, and get started on a season full of grilling today with a visit to one of Outer Banks Ace Hardware's six locations. With the Outer Banks Ace Hardware's largest selection of grills and accessories waiting for you, Ace experts are ready to help you get started grilling today!