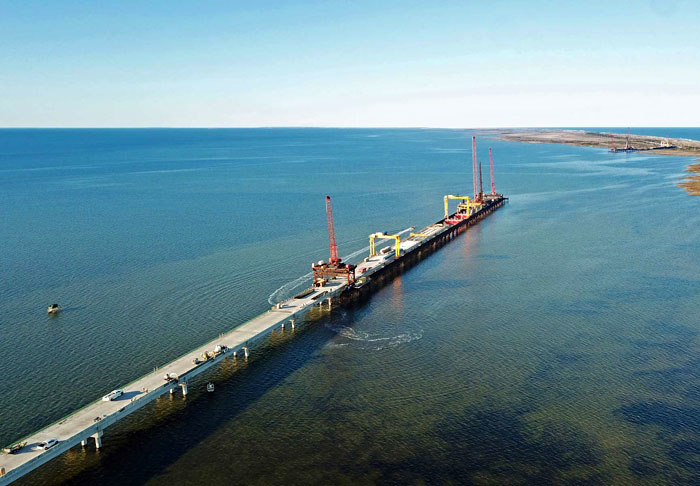 The first few days of 2021 have certainly felt like a chaotic continuation of 2020, with record-breaking COVID-19 numbers, political turmoil, and even a small coastal storm to boot, but there is ample reason to believe that there are bright spots in the future.
From a vaccine that is already being administered on a county level, to a new bridge that is expected to be open to the public by the end of the year, there are opportunities for 2021 to be a better year than its nasty 2020 predecessor – (which, admittedly, is not a terribly high bar to clear.)
So with that in mind, let's take a closer look at some of the headlines that will undoubtedly carry-over into the New Year, as well as some potential new stories that may pop up in the weeks and months to come.
While national and even statewide headlines have been a disturbing mess in recent days, on Hatteras and Ocracoke islands, we do have a good chunk of hopeful stories on the horizon.
Coronavirus, the Vaccine, and the Waiting in Between
Hatteras and Ocracoke islands have had a rough start to 2021 when it comes to the Coronavirus pandemic, with case counts noticeably trending in the wrong direction.
On January 10, Dare County reported a record-high 75 new positive COVID-19 cases, bookmarked by several days where the daily number of new cases reached 50 or even higher.
Hyde County saw similar rises in local cases on the mainland and on Ocracoke Island, with 75 total cases reported to date on Ocracoke Island as of January 10, per the North Carolina Department of Health and Human Resources. As a comparison, the number of cases-to-date on Ocracoke Island on the last day of 2020, (aka December 31), was 43.
But both Hyde and Dare counties have reason to hope. 300 individuals age 75 and older were vaccinated at a January 6 clinic in Kill Devil Hills, and two more clinics are scheduled for the immediate future, including one on January 16 at the Fessenden Center in Buxton. The Hyde County Health Department also recently reported that the Ocracoke Health Center is receiving the vaccine to immunize islanders, and vaccinations are available for individuals 75 and older.
Both counties require advance registration to receive the vaccine, and details to sign up for Dare County can be found here, while Hyde County guidelines can be found here.
The question now becomes whether Hatteras and Ocracoke islands can weather the increasing cases long enough to administer enough vaccinations to slow the spread.
Both counties' health departments have advised patience for folks who are waiting to get vaccinated, as  N.C. counties receive a weekly allocation of the vaccine from the state, and supplies are inherently limited across North Carolina, and the country for that matter.
So now, islanders have to continue to be hunkered down, as the Coronavirus storm isn't over just yet, and based on recent trending numbers, we still have a big blow to go – similar to how the backend of a hurricane tends to cause the most problems.
In fact, the North Carolina Department of Health and Human Services (NCSHHS) issued a Secretarial Directive on January 6 telling North Carolinians to stay home except for essential activities, and to avoid gathering, especially indoors, with people who aren't immediate family. The directive came as the state simultaneously reported that 84 counties are marked as "red" in the COVID-19 County Alert System, meaning that most of the state has critical levels of viral spread.
It's a mixed bag of positive and negative headlines for the time-being, but there is reason to believe that there's some semblance of normal in the future. Just stay safe, be smart, and enjoy the wonderfully and inherently isolated winter landscape until then.
Jug Handle Bridge Slated to Open by the End of the Year
Despite several setbacks in 2020, which included issues with pile installation that slowed progress on the northern end of the bridge, the 2.4 mile-long Jug Handle Bridge is expected to open by the end of 2021, per a December 2020 update from NCDOT's resident engineer for the project, Pablo Hernandez.
"As far as completion, right now we are targeting late 2021," said Hernandez at the Dec. 3 virtual update meeting. "In previous updates, we were targeting the fall of 2021, but unfortunately, we are seeing that completion date slip a little bit."
As of December, the bridge was 54% complete, and CHEC had already begun phase 1 for relocating the transmission lines at the southern end of the bridge by installing underground pipes to run the new lines. At the northern end of the project, CHEC's phase 1 transmission line relocation is also expected to begin soon, and likely in early 2021.
The Jug Handle Bridge is considered part of Phase II of the Bonner Bridge Replacement Project, and is the final bridge of the three new bridges on Hatteras Island to be built. (The Captain Richard Etheridge Bridge on Pea Island was completed in the spring of 2018, and the Bonner Bridge replacement was completed in the spring of 2019.)
Once complete, the Jug Handle Bridge will connect the southern portion of the Pea Island National Wildlife Refuge to northern Rodanthe, bypassing the S-Turns section of N.C. Highway 12, which is highly susceptible to breaches and ocean overwash during storms.
So, hopefully, by the end of the year, at least one of the hot spots on Hatteras Island that is regularly inundated with overwash and flooding will no longer be an issue.
Avon Beach Nourishment
The first few weeks of 2021 should provide more info on whether a beach nourishment project for Avon will be able to officially move forward, and if so, how it will be funded.
The potential beach nourishment project for Avon officially began in late 2019, when the Dare County Board of Commissioners (BOC) first agreed to set aside up to $250,000 from the Beach Nourishment Fund to pay for a study to examine the details and costs of a future beach nourishment project. The study was conducted in mid-2020, and targeted the general Ocean View Drive area of Avon, which is routinely subjected to flooding and ocean overwash during nor'easters and storms.
When these storms occur, the overwash flows onto N.C. Highway 12, inundating it with saltwater and often cutting off access to the southern half of Hatteras Island.
The Avon project is one of two countywide beach nourishment projects being considered for 2022, (the other is for the Town of Southern Shores), and at the BOC's Dec. 21 meeting, Dare County Manager Bobby Outten told the board that the $8.5 million currently in the county's Beach Nourishment Fund was enough to help pay for one of those projects, but not both.
As such, Outten proposed that the county could find an additional $7 million to pay for the two projects by reducing the funds it gives to all Dare County municipalities for beach nourishment. Per the Outer Banks Voice, Dare County, Nags Head, Kill Devil Hills, Kitty Hawk, Southern Shores and Duck were each awarded a roughly $1.4 million grant in the fall from the N.C. Department of Environmental Quality's Division of Water Resources for beach nourishment and other projects to remediate storm damage. In light of those grants, Outten proposed that the county reduce the amount it contributes to each of the five municipalities' recurring nourishment projects by that same $1.4 million — freeing up an additional $7 million for the proposed Avon and Southern Shores projects.
In addition, creating special service districts in Avon is being considered, and could potentially involve taxing properties on the east side of N.C. Highway 12 an additional 40 cents or so per $100 of assessed value in addition to county taxes. (Properties on the west side of the highway could also see a 10-cent levy to help foot the beach nourishment bill.)
So a plan to fund a project is steadily coming to fruition, and upcoming BOC meetings in January and possibly February should provide more insight on the details of how this 2022 goal can be achieved.
Buxton Beach Re-Nourishment
While the specifics of an Avon Beach Nourishment project are in flux, there is similar project that has already been established, and which will likely begin sometime in 2021.
At an early June 2020 meeting, the BOC approved a $19.8 million project to re-nourish the beaches that were addressed during the 2017 Buxton Beach Nourishment Project, as well as restore three groins in the area, which were constructed in 1970, before a 2003 ban of "hard structures" along our islands' shorelines.
At the same June 2020 meeting, representatives from the firm that conducted the 2017 work, Coastal Science & Engineering (CSE), provided an overview of the impact of Hurricane Florence in 2018, after which there was a total loss of about 342,000 cubic yards of sand, with 303,732 cubic yards of loss attributed directly to the 2018 storm. As such, FEMA found Dare County eligible for funds to replace the lost sand attributed to Florence, and FEMA is footing the bill for nearly $6 million of the project's $19.8 million cost. (This includes $4,337,150 from the FEMA federal share, and $1,445,717 from the FEMA state share.)
Combining Buxton beach re-nourishment with restoration of the groins is expected to achieve maximum longevity for the bolstered shoreline, with lower costs for further maintenance. The overall deadline to complete the project is October 2022, and the current plan is to hopefully complete the work a year in advance, so you may see some unusual Buxton beach activity in the year to come.
Hatteras Village Pathway
With a late 2020 approval by the BOC to award a $342,640 Tourism Impact Grant for the Hatteras Village Multi-Modal Pathway, hopes are high that actual construction on the years-long project can begin soon, and as early as February of 2021.
"The engineers have told us it will be a three-to-four month project, so we're hoping to start February 1, and by Memorial Day, it will be ready to roll," said Chairperson for the Hatteras Village Community Center District (HVCCD) and longtime advocate for the project, Ricki Shepherd, in a late 2020 interview.
Years in the making, the initial planning for the multi-use pathway in Hatteras village began with a corresponding project to establish the Outer Banks Scenic Byway, which was officially launched in 2016.
In 2013, while the Scenic Byway project was in the works, similar pathways were constructed in Avon and the Tri-village communities of Rodanthe, Waves and Salvo, with a pathway for Hatteras village, (as well as Buxton and Frisco), also on the list of future endeavors.
However, funding for the Hatteras project encountered several hurdles and a little red tape in the years that followed. But the recently acquired $342,640 represents about a third of the total pathway project cost, (estimated at around $1 million), and Shepherd stated that there is also an additional $342,000 or so that has already been collected through the village's designation as a special tax district.
The project itself entails a 3.75-mile paved pathway that will stretch from the Hatteras ferry docks to the northern town borders, and which will include a loop along Eagle Pass Road, making all areas along the route safer and more accessible.
And regardless of whether additional funds trickle in or become immediately available through a potential new loan or grant award, with 66% of the funding now at hand for the project, confidence is high that construction can start in the very near future.
Erosion, Overwash, Storms, and N.C. Highway 12
Early in 2020, (after yet another nor'easter in a few months' time), I told my IFP colleague, Rory Kelleher, that I was so tired of typing the word "overwash" over and over again, and I would give anything to repeatedly write another word, or repeatedly cover a different topic.
Then the Coronavirus happened, and I totally and wholly ate my words.
But just as the Coronavirus is not going away anytime soon, overwash and erosion concerns for Hatteras and Ocracoke islands aren't going away either, and will likely stick around even longer.
Back when the Bonner Bridge replacement and Jug Handle Bridge were initially being planned a decade or so ago, the islands did not have as many N.C. Highway 12 "hot spots" that now routinely become flooded with any given storm, and which now need to be addressed.
One of the major portions of roadway of imminent concern is the stretch of N.C. Highway 12 on Ocracoke Island between the Pony Pens and the Hatteras Ferry Docks. Though our NCDOT personnel are rock stars at clearing this stretch when it gets flooded, (and every stretch of island highway for that matter), the fact remains that this section of Ocracoke continues to be inundated with saltwater when a storm occurs, and there is nowhere else for the road to go. Bordered immediately by the ocean and the Pamlico Sound, the stock solution of "moving" the road, (which was utilized in the 1990s and 2000s for several stretches along Hatteras Island), is no longer an option.
And this Ocracoke portion of N.C. Highway 12 shares a similar problem with other hot spots, too, including northern Hatteras and Pea Island. Simply put, in some areas of our islands, there is nowhere for the road to be moved to.
Long-term plans are continually discussed, and constantly ongoing, and multiple plans have been considered and volleyed in recent years to try to find a solution.
But the fact is that 2020 was the busiest hurricane season in recorded history, even though the Outer Banks was mostly spared. With rising sea levels and climate change, and the inherent locale of our barrier islands and our subsequent vulnerability when it comes to East Coast storms, it would be silly to think that this isn't a crisis that will only grow more urgent with time.
Expect the conversation about what to do, long-term, for N.C. Highway 12 to continue, and to continue with greater ferocity as our roadway steadily becomes more endangered.
The Bottom Line…
It's always impossible to gauge which stories will be the biggest topics of the coming year. Though subtle signs were there, we didn't see Shelly Island becoming the biggest story of 2017, and we didn't see the Coronavirus taking up the bulk of headlines in 2020… not at the start of the year, anyways.
But we'll be here to cover all of the above stories and many more, and we sure hope that you'll stick with us to see what 2021 has to offer.