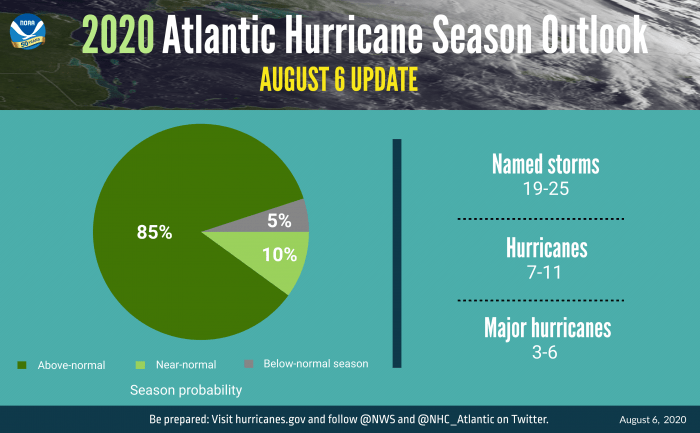 On August 6, the National Oceanic and Atmospheric Administration (NOAA) revised their annual hurricane outlook for 2020.
Initially released in May, NOAA's revised report stated that the Atlantic Basin could have noticeably more named storms than expected, leading to an "Extremely Active" remainder of the 2020 hurricane season.
Certainly, the days and weeks that followed the August update had some heightened activity, (like last week's Laura, which made landfall in Louisiana as a category 4 hurricane), but local storm watchers have noted that the predicted "extreme activity" hasn't quite come to fruition yet – at least, not along the Outer Banks.
So why did NOAA forecasters bump up their 2020 hurricane forecast, and should Hatteras and Ocracoke island residents be concerned?
Here's a closer look at why the number of storms predicted for this year have increased, and what islanders should watch for in the remaining weeks of the official hurricane season.
First off, here's the new hurricane outlook verbatim, per the August 6 update from NOAA.
 "The updated outlook calls for 19-25 named storms (winds of 39 mph or greater), of which 7-11 will become hurricanes (winds of 74 mph or greater), including 3-6 major hurricanes (winds of 111 mph or greater). This update covers the entire six-month hurricane season, which ends Nov. 30, and includes the nine named storms to date.
A comprehensive measure of the overall hurricane season activity is the Accumulated Cyclone Energy (ACE) index, which measures the combined intensity and duration of all named storms during the season. Based on the ACE projection, combined with the above-average numbers of named storms and hurricanes, the likelihood of an above-normal Atlantic hurricane season has increased to 85%, with only a 10% chance of a near-normal season and a 5% chance of a below-normal season."
So why the increase? For one thing, we had a busy start to the season.
One of the main reasons why the August estimate increased substantially from the original May outlook is simply because we had an early start to the hurricane season.
Historically, only two named storms form on average by early August, and the ninth named storm typically does not form until October 4.
Well, by the time early August had arrived, (when the revised forecast was issued), the Atlantic Basin already had nine named storms – which included two that occurred before the hurricane season even began on June 1.
As such, an increase in the number of early storms simply results in a higher number of storms throughout the year. Especially when there has been such a high number of storms forming before August even arrives, which has indeed been the case in 2020.
Second, optimal conditions for hurricane development are sticking around.
Per NOAA, the oceanic and atmospheric conditions that create an "extremely active" hurricane season are warmer-than-average sea surface temperatures in the tropical Atlantic Ocean and Caribbean Sea, reduced vertical wind shear, and weaker tropical Atlantic trade winds.
These conditions have all been present since the 2020 season began, and are expected to continue for the next several months. A main climate factor behind these conditions is the ongoing warm phase of the Atlantic Multi-Decadal Oscillation, which reappeared in 1995, and has been favoring more active hurricane seasons ever since.
According to NOAA, another contributing climate factor this year is the possibility of La Nina developing in the weeks ahead. Indicative of cooler-than-average sea surface temperatures in the equatorial regions of the eastern Pacific Ocean, La Nina can further weaken the wind shear over the Atlantic Basin, allowing storms to both develop, and intensify once they have formed.
Finally, it's 2020, and nothing is apparently easy.
Ah, 2020. The year that brought us Australian wildfires, Puerto Rican earthquakes, a global pandemic, a national hoarding of toilet paper, mystery seeds from China, and the introduction of murder hornets.
To be frank, if we received reports this year that sea turtles were congregating and planning an attack on humans, or that the Cape Hatteras Lighthouse had simply toppled over for no reason, I'm not terribly sure I'd be all that surprised.
Sometimes, you just have a moment in time where nothing seems to go right, and any bad news that trickles in just seems to be par for the course.
That moment in time is apparently 2020, so it inherently feels like a hurricane or four is almost inevitable, and is totally appropriate for our current era.
So is it time for islanders to invest in a generator, and to start hoarding batteries, water, and beer?
Maybe. It's important for folks to keep in mind that NOAA's hurricane season outlook is for overall seasonal activity, and is not a landfall forecast. Landfalls are largely determined by short-term weather patterns, which are only predictable within a week or so of a storm potentially reaching a coastline. This is why in the days leading up to any storm's landfall, Outer Banks residents keep a constant eye on a storm's "cone of uncertainty," which can drastically shift from one update to the next.
And while we have gotten through August unscathed, (which is when several big storms have impacted the Outer Banks in the past), historically speaking, September can be an active month for our islands.
The memory of 2019's Dorian, which made landfall on September 6 on Cape Hatteras, is still fresh, and September is also when 2018's Florence, 2003's Isabel, and 1999's Dennis and Floyd all paid our region a visit. October has been known to throw the Outer Banks a couple of surprises as well, such as 2016's Matthew or 2012's Sandy.
(For reference, Dare County has a nifty recap of historical hurricanes for the Outer Banks on their website, which is found at https://www.darenc.com/departments/emergency-management/hurricanes/hurricane-history.)
But like every hurricane season, it all boils down to just enjoying the summer and the fall – (and the fall is gorgeous on the Outer Banks!) – and being prepared in case the not-so-unexpected occurs.
Again, Dare County Emergency Management is a fantastic resource when it comes to coming up with a long-term game plan for hurricane preparation, and they have helpful links such as the FEMA Family Emergency Plan Checklist, Emergency Planning for Pets, and FEMA Emergency Preparedness Resources for Businesses. 
In addition, you'll find links and contact info for all of the websites and organizations that will provide essential updates if a storm arrives, which you can go ahead and store in your phone and laptop now. (Better add https://islandfreepress.org/ in there too, just for good measure, because I promise that if a storm does threaten our area, we'll be working 24/7 to make sure you're continually informed.)
Let's be honest. In 2020, worrying about future hurricanes that do not even exist yet almost seems quaint.
There are a lot of actual problems that easily demand our more immediate attention, and since we all have full plates with the challenges we're facing now, bringing a few more concerns to the table seems kind of silly, and kind of excessive.
But NOAA knows their stuff, and if they have revised their 2020 hurricane season outlook – and caution against "extreme" activity in the weeks to come – it's worth paying attention to.
So go ahead and stock up on extra water, extra batteries, and some emergency beers. Hopefully, the next 12 weeks or so will be quiet and dull, and will have all the gorgeous attributes that naturally accompany fall on the Outer Banks.
If not, a little preparation will go a long way, so that if a storm does arrive, we can focus on the important and immediate steps required to protect our properties, and ourselves.
Regardless of what happens, and whether or not we do have a storm that shakes the island in the weeks to come, I promise that we'll all jump off that bridge together when we get there.