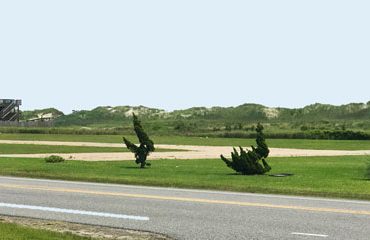 Controversy exploded on social media this week regarding the proposed construction of a new hotel in Hatteras village. Technically, the issue stemmed from the growing awareness of an upcoming Dare County Planning Board meeting, where the board will consider a text amendment to the C2-H General Commercial Zoning District in Hatteras village. But it grew from this minor announcement into a heated debate about whether or not Hatteras needed a new hotel in the first place.
A bigger conversation about any new development project that affects the landscape and economy of Hatteras Island is always a good thing. But the problem with this growing awareness is the potential spreading of misinformation, and the formulation of opinions without having all the facts at hand.
So with that in mind, let's shed a little extra light on this hot topic, and take a closer look at some of the details.
About the Upcoming Dare County Planning Board Meeting
The Dare County Planning Board will hold their monthly meeting on June 10. As part of their new business at the meeting, they will consider a request to amend the C-2H General Commercial Zoning District in Hatteras village.
It is the very first step in the process, and is an opportunity for the Planning Board, (a seven-member advisory board for the Dare County Board of Commissioners), to review the proposed amendment to the current commercial standards in this specific zone.
"It's not a request for a new use in and of itself, and it's not asking for an introduction of new uses that aren't currently allowed in C2-H," said Dare County Planning Director Donna Creef.
Essentially, the request is to expand lot coverage for this project from an estimated 60% to 70%, and to extend the height limitation from four stories to six stories with a proposed rooftop amenity.
After the upcoming and initial June 10 discussion, the Planning Board will likely schedule a public hearing sometime in July before proposing a recommendation to the Dare County Board of Commissioners, who are not involved in the conversation until the Planning Board has made their determination.
"There is no reason to believe that they will not have a public hearing," said Creef. "Typically, when there are projects of this magnitude, [the Planning Board] will schedule a public hearing because they want to recommend the most informed decision possible."
There is a public comment period at the beginning of all Planning Board meetings, and all meetings are open to the public. The upcoming June 10 meeting will be held at the Dare County Board of Commissioners Meeting Room in Manteo at 6 p.m.
About the Hotel Project
A potential hotel in Hatteras village has been in the discussion stage for more than 18 months, and the exact plans for the hotel are still fluid, and depend a lot on community input.
Sumit Gupta is the Chief Executive Officer, Co-Founder, and Principle Partner of SAGA Construction, Inc., which purchased the Sea Gull Motel property in the spring of 2016. The motel, which was built in 1955 but which was hit hard and reduced in size by 2003's Hurricane Isabel, is still open for business, but plans are in the works to potentially transform the property into something new.
"[At first], we were going to put 20-25 houses on the property, which would have been easier, execution-wise," said Gupta. "But over the past 18 months, I've been talking to Hatteras residents and trying to understand what people need versus what is easier for us. People brought up that we needed a hotel, and then people talked about a potential [oceanfront] pier, and the concept grew from there."
"When we were looking at boosting the overall economy there, and being a catalyst for more business, [we said] 'Let's do something that's not easy, but what would be more impactful… And let's make sure Hatteras Island is part of the conversation," he added.
Over the past year and a half, Gupta has met with small and larger groups of Hatteras residents and stakeholders in trying to formulate the best path forward, which included a recent May gathering of residents at the Hatteras Village Marlin Club where the overall response to the proposed project was positive.
"I've talked to lot of Hatteras people, trying to get their input, and I'm personally OK if it doesn't get approved," he said. "We want to do something that is good for the area, but if people collectively do not want [a hotel], that will be fine, too. Building houses instead is easier, and is probably what our partners would prefer."
"There's a reason why there hasn't been a new hotel in Hatteras for the last 35 years. It's a very difficult [project] to take on," said Gupta, noting that the project requires extensive thought and planning when it comes to entitlements, sewage, parking, and more.
Currently, the rough plan is to create a six-story hotel with a rooftop amenity – i.e., a top level without rooms, but with ample oceanfront views. The number of rooms is variable, but could be around 100 total rooms in two buildings per an earlier interview. The hotel would effectively be a story higher than the old Kona Kai and later Castaways Hotel in Avon, which was torn down and replaced with vacation rental homes in the early 2000s.
In addition to the hotel, additional amenities and features are being proposed, such as an oceanfront restaurant, more retail spaces, and the oceanfront pier. The prospect of a new pier has especially garnered attention, as since the Frisco Pier was torn down in 2018, the Avon Pier is currently the southernmost pier on Hatteras Island.
"I think it could be a great amenity, and I would love to see it happen," said Gupta. "A pier is certainly a possibility, and we have already talked to different agencies. We're already spending some time designing it, and have put it on the site plan."
And adding a third pier to Cape Hatteras National Seashore (CHNS) land is conceivable where the National Park Service is concerned, as well.
"We are happy to work with Sumit to consider an oceanfront pier that may extend across National Park Service property," said Public Affairs Specialist for CHNS, Mike Barber.
The design for the hotel itself is also fluid, but will likely be miles away from what is prevalent in more populated beach destinations, like Myrtle Beach, Virginia Beach, or even Nags Head.
"We're creating something new," said Gupta. "My goal is to make something that fits a coastal vibe, and which also fits in with Hatteras village. We're trying to do architecture that is fun, coastal, and somehow fits into this environment without you needing to point to another building and say you're replicating it… There's some determent to everything looking the same."
Multiple public meetings and gatherings will be planned in the future to finalize the design and different features, if the potential hotel reaches that stage.
For the record, there are no similar projects in the works, and it's questionable whether any similar or additional hotel projects in Hatteras are even feasible.
"It's not like we're going to see a string of 13-story condo projects up and down the island after this [hotel]," said Danny Couch, Dare County Commissioner for Hatteras Island. "Check the zoning maps – There's essentially only one property that can accommodate that type of project, and it was intentionally zoned to accommodate a project like this."
The Benefits that are Being Overlooked
If you perused informal surveys and posts on social media over the past several days, you might notice a trending opposition against the development of the hotel. A petition was being planned as of Tuesday afternoon, and multiple people noted that they intended to speak out during the public comments period of the Planning Board meeting on June 10.
But – at the very plausible risk of generating all sorts of hate mail – the hotel could be a huge benefit to Hatteras Island, and Hatteras village in particular.
County Commissioner Danny Couch has received some flack in recent days for being in support of the hotel project, but he is standing his ground. As a lifelong Hatteras Island resident, he's seen the hits that Hatteras village has taken over the years – after Isabel in 2003, Irene in 2011, and most recently Matthew in 2016, which shuttered the more than 150-year-old Red & White grocery store for months.
"I am convinced that this is for the greater good, because it's painfully obvious the status quo is not working," said Couch. "Look at what we're dealing with just for fundamental business infrastructure, automotive facilities, household goods… It's a stressful thing to see the economic suffering down there."
"Charter fishing [companies] want and need to increase business. The motor coach industry is exploding. They're spenders, and they want to stay in Hatteras village. The Outer Banks Scenic Byway [Committee] is working on a multi-use path, the Graveyard of the Atlantic Museum is on par for another record-breaking year in visitation. This [hotel] ties in with all of that, and we need places for people to stay for less than a week."
"I am sympathetic that people are fearful of change, but there has to be a measure of responsibility for the generations coming after us," he added. "Based on everything I've seen, [Gupta] has been upfront, has laid it all out there, and he's trying to listen. This guy has bent over backwards. He has made efforts to accommodate the local people, and he won't do [the project] if the community doesn't want a hotel."
Dennis Robinson, past President of the Hatteras Village Civic Association and organizer of the annual Hatteras Village Christmas Parade for years, also supports the project, and sees it as a chance for Hatteras village to recover all the business it has lost over the years.
"I think this is revitalizing what we had, and what we have lost since 2003," he said. "I think this puts us back in the game."
After Hurricane Isabel in 2003, the number of Hatteras Island hotel and motel accommodations dropped from nearly 300 units to 165. That number eventually trickled down to 117 units in 2017, which is in addition to the loss of shops, restaurants, and other amenities and attractions that used to be prevalent in Hatteras village.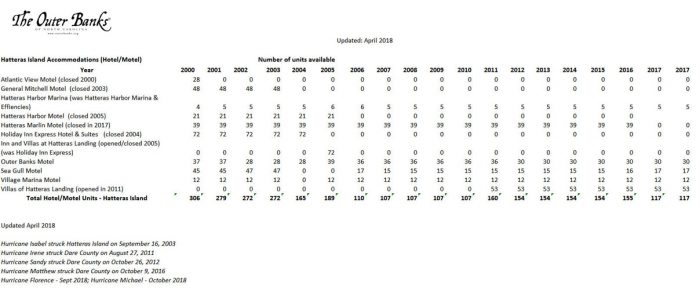 With the addition of 100 hotel / motel units, possible stores, a new restaurant, and especially an oceanfront pier, Hatteras village could enjoy a well-deserved boost to the economy that has not been experienced in years. The old pink building that used to be a restaurant could be transformed into a brand new eatery. The "rooftop amenity" in the proposed hotel could be transformed into an oceanfront deck, bar, or entertainment venue.
And it bears repeating that there's a solid chance that Hatteras village could have a new oceanfront pier.
"The pier would be amazing for Hatteras village," said Robinson. "After we lost the Frisco Pier, we saw a downturn in visitation to the village. The pier was such a gateway to all other [types of fishing] which are prevalent here, so having a pier in Hatteras village would be paramount."
"Hatteras is home. Living here my entire life, I understand the community and why it is so special to all. After serving as President of the Hatteras Village Civic Association for numerous years, I heard many concerns and fears about the welfare of the village and how it has lagged over the last fifteen years. So, my question is, should we sit back and wait, or should we pick ourselves up, accept change, and put back what we had pre-Isabel? Personally, I feel now is the time. Let's seize the opportunity."
The Bottom Line
Hatteras Islanders are used to being the forgotten; the ones who provide so much to the local and statewide economy, but who often feel left behind when it comes to big issues that affect us directly.
Look at the naming of the Marc Basnight Bridge, or the ongoing debate on the availability of programs and funding for our schools versus other schools in the region, and it's easy to see why islanders are instinctively concerned about apparent outsiders interfering with what we have.
But this understandable trepidation is a double-edged sword, because while it may protect us from losing our distinctive charm and identity, it could also prevent us from pinpointing projects and people that might be actually good for our economy, and for our island.
Will the height restrictions need to be adjusted by two stories for this project? Yes. Will traffic and visitation increase in Hatteras village? Yes. Will there be additional factors that the developer has to consider in terms of septic, fire, and other scenarios that naturally accompany a multi-unit structure? You betcha, and it's happening.
And will the project change the landscape of northern Hatteras village? Yes – How could it not?
But this isn't the first time that northern Hatteras village has been drastically changed, as Isabel, Irene and Matthew have readily demonstrated. The difference now is that residents have some control over the change, and have a chance to regain what has been lost over the past 16 years.
"We are revitalizing," said Robinson. "This shouldn't be looked at as new development, but as bringing us back to to where we were before 2003."
"Hatteras village, with its proximity to the ocean and the small town atmosphere, has a lot to offer, and this is going to be another element that's going to attract people here," said Couch. "This is something we can do for the next generation – for our children and grandchildren."
Bottom line? Give the hotel project a second look.
Bypass the knee-jerk reaction that something bad is on the way, (which – granted – is a justifiable response given the aforementioned history), and instead, join in the conversation with an eye towards collaboration as opposed to conflict.
The developer is listening. The project details – and whether it's even going to be built – will be determined by our island voices, and our local input.
And we should not abandon or ignore this unique opportunity to be heard.